San Diego truly has everything. Just 45 minutes away from the beach you'll find natural swimming holes in San Diego's state park. These hikes range in distance and difficulty so there's something for everyone here.
Whether you just moved to San Diego or are a local, this blog post will explain the best swimming holes in San Diego. From personal experience, I offer tips on what to expect, parking situation, AllTrails links, and fees if any. Happy hiking!
In no particular order, here are the best swimming holes in San Diego:
Green Valley Falls: the best San Diego swimming holes for families
Kitchen Creek Falls: the best San Diego swimming holes for the avid hiker
Dead Horse Falls: the closest San Diego swimming holes to downtown
Please note anytime there's natural swimming holes, the rocks around the water are very, very slippery. Always walk with caution around water and keep children close. 

If you're looking for waterfall hikes in San Diego, check out Cedar Creek Falls and Three Sisters Falls. 

Green Valley Falls- Cuyamaca Rancho State Park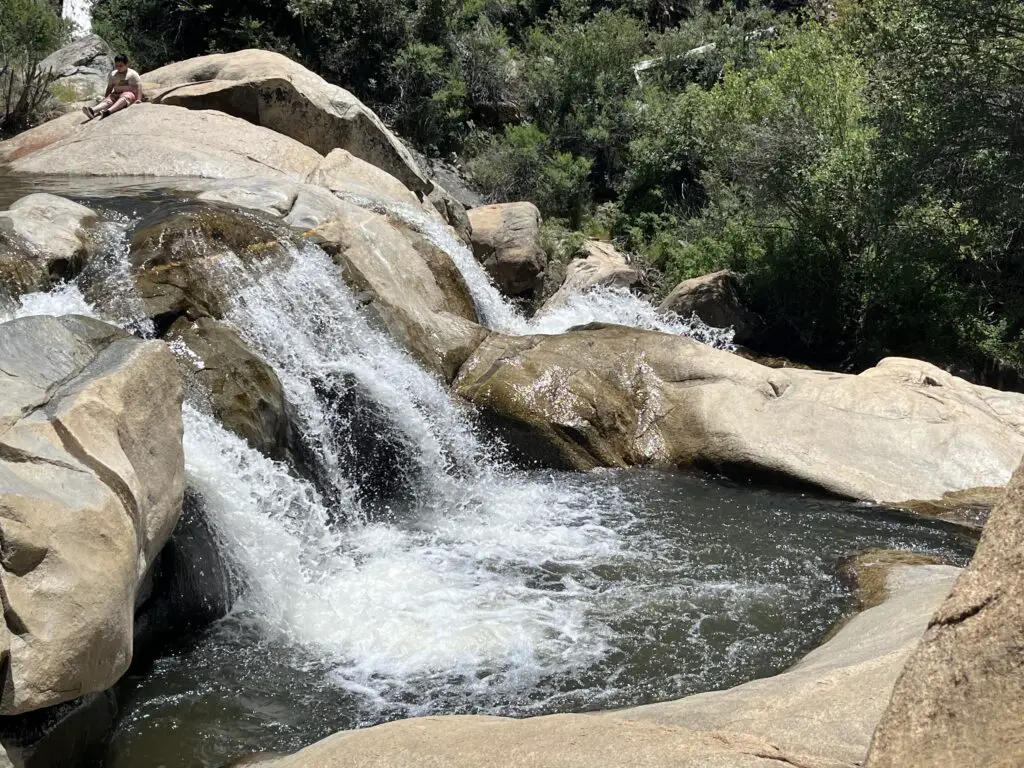 Trailhead: Google Maps Link
Distance: 0.4 mile loop
Difficulty: Easy
Dog Friendly: No
Family Friendly: yes
Stroller Friendly: No
Fees: $10 day use fee
Parking: 2 lots available
Bathrooms: Yes
Green Valley Falls is the best San Diego swimming hole for families or beginner hikers. It's a short and easy hike with very little elevation gain. Located about 45 miles away from downtown San Diego, this hike makes for a great Saturday/ Sunday morning adventure. 
Because of how accessible Green Valley Falls is, you can expect to see other hikers on this trail. It's very easy to follow and well marked with signage. After parking in one of the two lots, look for the trail markers that lead to the falls. You can't miss it! 
You'll go down some steps and soon after starting you'll hear the Sweetwater River. The trail will take you alongside the river and eventually to the small cascading waterfall. There's plenty of swimming holes to choose from. You can choose to go back the same way you came or follow the AllTrails map to complete the loop. 
For a more extensive hiking guide check out Local's Guide: Green Valley Falls Hike
Kitchen Creek Falls- Pine Valley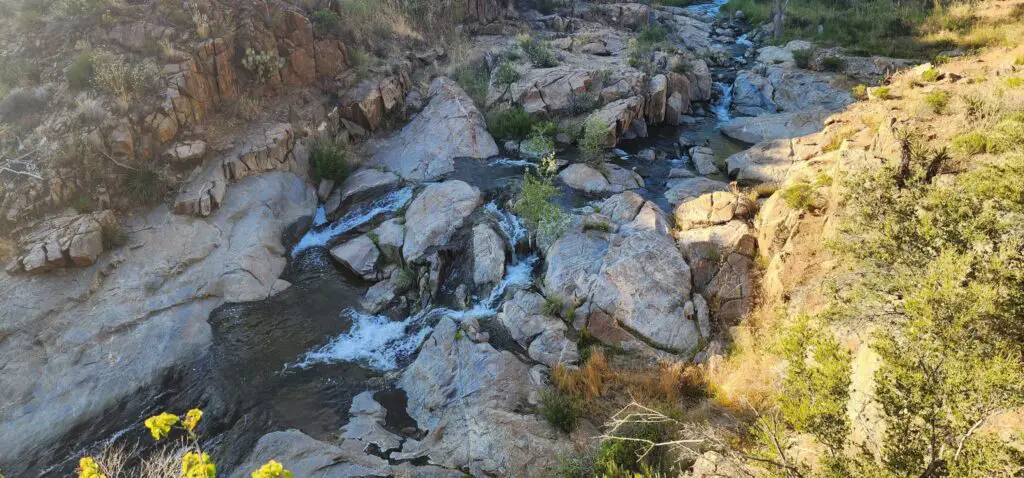 Trailhead: Google Maps Link
Distance: 4.6 miles
Difficulty: Moderate
Est time: 3+ hours
Dog friendly: yes
Bathrooms: none
Fees: none
Parking: On the side of the highway
No shade
This is the best San Diego swimming hole for experienced hikers. It's moderately challenging with 800 ft of elevation gain. All uphill on the way to the falls, making you have to earn your swim! This is not a hike for beginners or kids. 
It's also the only dog friendly swimming hole in San Diego, and it's free! The trailhead is located right off the 8 highway. There's a large gravel shoulder on the south/west side of the road where everyone parks.
Unfortunately, you'll be able to see the highway for the majority of this hike. A small price to pay for a waterfall hike in San Diego. 
Part of this hike is along the PCT. I highly recommend keeping the map handy. There are several splits in the trail that could be easily missed. Note that this hike is completely exposed. Be sure to pack your sunscreen, hat, and bug spray. This hike is notorious for bugs and rattlesnakes during the warmer months.

Dead Horse Falls- Cuyamaca Rancho State Park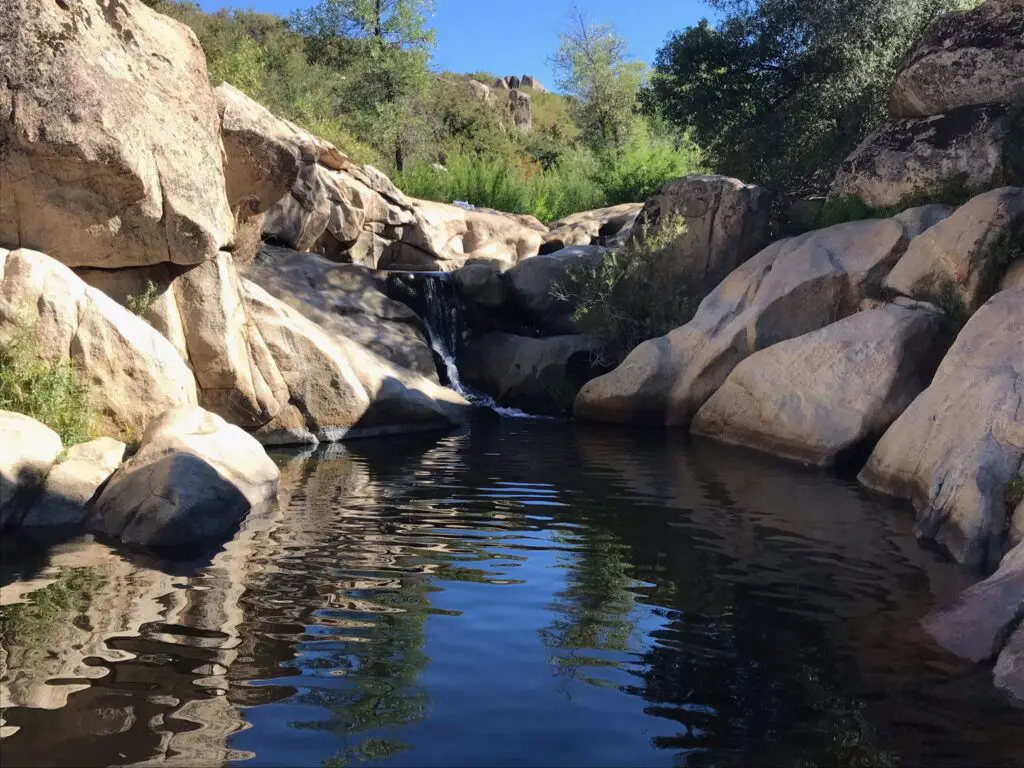 Trailhead: Google Maps Link or coordinates: 32.85955,-116.61093
Distance: 2.5 miles
Difficulty: Moderate
Est Time: 2- 3 hours depending on how long you want to swim
Dog Friendly: No
Bathrooms: None
Parking: $10 fee for the dirt lot (exact cash only)
No shade
This is the closest swimming hole in San Diego to downtown. 40 miles from Gaslamp, lies these natural swimming holes formed by the Sweetwater River. The same river that fills up Green Valley Falls. 
This hike starts on a fire road and eventually trails off into the state park. There's some elevation gain on this trail (300 ft) but it's not overly difficult. AllTrails also rates Cowles Mountain as a moderate hike and Cowles has 3x the elevation gain (900 ft) as Dead Horse Falls. 
While technically it's rated as moderate, I would say this is on the easier side of moderate hikes. 
Which is why it's not uncommon to see families with teenagers or older kids on this trail. It's not stroller friendly. 
The hiking trail will split twice. The first time take a left. At the 2nd split, you can go either way to get to the swimming holes. If you go left, you will have to pass through a stream that's a little less than knee deep. Once we got here, we just took our shoes off. The whole point of us coming here was to go for a swim anyways!
Please note: it's not uncommon for this trail to become overgrown. I recommend wearing hiking pants to navigate through the brush. You can check AllTrails for recent reviews in regards to trail conditions.
During late spring and summer the heat attracts bugs! Bring your bug spray and sunscreen. 
Final Thoughts
Out of these three San Diego swimming holes, my personal favorite is Green Valley Falls. It's a short hike with big rewards. The drive through Cuyamaca Rancho State Park is a beautiful one, especially during spring when the everything is lush and green! 
The best time to visit any swimming hole in San Diego is during spring. The temperatures are cooler and the swimming holes are at their fullest. During summer, these swimming holes will dry up. 
Happy hiking!
Hiking Newsletter
Sign up for my hiking newsletter below. I'll send you info on hiking trails, new blog posts, and any group hikes that I host.