About Big Pine Lakes
After seeing many Instagram photos of the turquoise blue water, I finally decided it was time to check out Big Pine Lakes for myself. I did some research, packed my bags, and headed on a 3 day/ 2 night camping trip to Bishop. We stayed at a campground right by the trailhead and had an awesome time disconnecting in the woods. If you're thinking about hiking Big Pine Lakes, you've come to the right place. Here's what I found while researching and my personal experience camping and hiking Big Pine Lakes. 
Big Pine Lakes is a glacier lake located near Bishop, CA. It's located in the Inyo National Forest. The lakes have beautiful, turquoise water. While hiking Big Pine Lakes, you have the chance to see a total of 7 awesome glacier lakes. It makes for an awesome weekend getaway from Los Angeles (4 hours) or San Diego (6 hours). 
Here are the deets:
Trailhead: Big Pine Creek Campground
Distance: 15.2 miles round trip
Elevation Gain: up to 4,000 ft (depending on how far you go)
Difficulty: Challenging
Dog Friendly: Yes
My 3 Day/ 2 Night Itinerary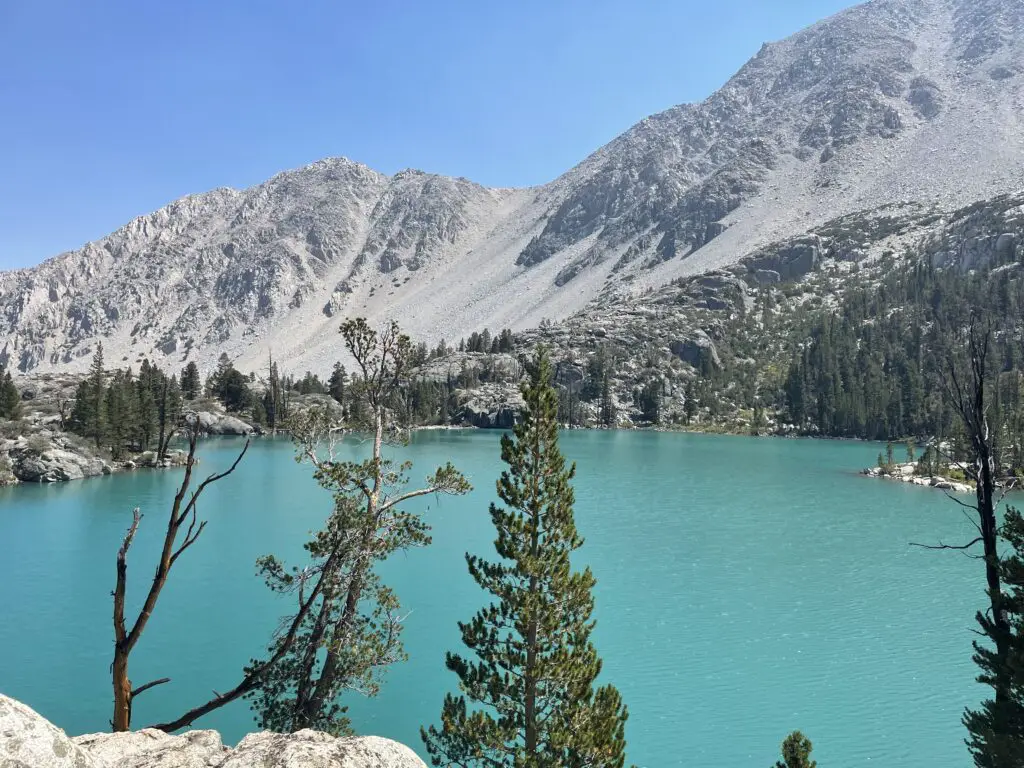 Day 1: Friday (Travel Day)
After work, I packed up my car and was on the road from San Diego at 2:30 PM. We hit traffic going through LA (typical), made a few stops, and finally made it to our campsite around 10 PM. Typically this is a 6 hour drive, but we accidentally went to the wrong campsite in Lone Pine which extended our drive another hour. Traffic didn't help, but eventually we made it to Big Pine Creek Campground. After setting up camp, we went straight to bed.
Day 2: Saturday (hiking & hot springs)
We slept in and started our hike at about 9:30 AM. The hike up was not easy. The incline and elevation gain was a challenge. We stopped at a waterfall and took a quick dip to cool off. The water here is cold, but refreshing. We reached the first lake at mile 5 and ate our lunch here. The second lake is less than a half mile away. 
Lake #2 was our favorite and where most people stop to swim. This is also the lake where people set up their tents for overnight camping/ backpacking. We met a few other hikers from LA and had an awesome time swimming in the cool water and sun bathing.
After swimming, we slowly made our way back. We were in no rush and spent as much time as possible hanging by the lake. 
At our camp site, we cooked dinner then hit the hot springs with our camp neighbors. It was a long drive (1 hour and a half) but the hot springs felt awesome. 
Day 3: Sunday (travel day)
After breakfast, we packed up camp and hit the road. The drive home was much easier. We were home in 6 hours. Such an awesome experience and a great hike! The pictures really don't do this place justice.
Do You Need a Permit for Big Pine Lakes?
Permits are not required for a day hike. A permit is only required if you want to backpack or camp on the trail. Permits can be difficult to get, especially on the weekends. To get a Big Pine Lakes permit, head to Recreation.gov. Big Pine Lakes permit currently costs $5/ person plus a $6 reservation fee (2022). 
What Can You Expect Hiking Big Pine Lakes?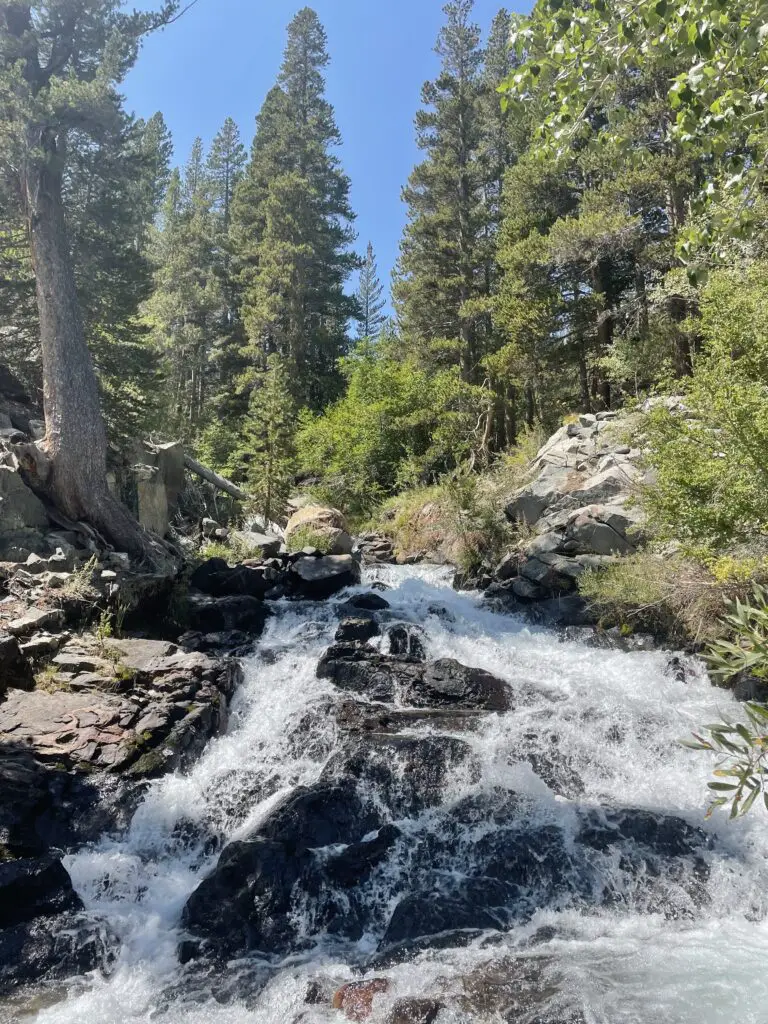 The hiking trail is well maintained and well marked. There's signage along the way. Make sure you follow signs for "North Fork Trail to Big Pine Lakes," if you want to see the 7 glacier lakes. The hiking trail takes you along a beautiful, flowing river. You'll see a few waterfalls along the way. 
A good chunk of this hike is exposed to the sun. So make sure you pack a hat and plenty of water. The earlier you can start the better! It took us about 6 ½ hours to complete the hike from start to finish, with a swim break at Lake #2. We went at the end of August and it was HOT during the day. Thankfully it cooled down at night while we were camping. 
Are Dogs Allowed in Big Pine Lakes?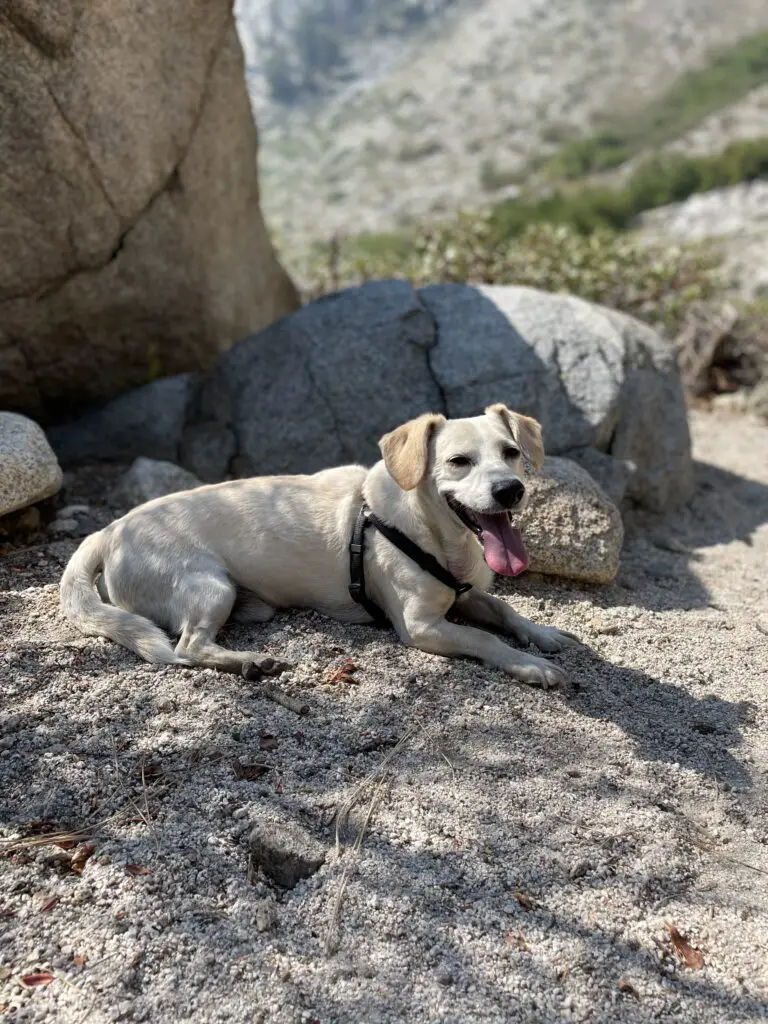 The Big Pine Lakes hike is dog friendly. Keep in mind, this is a difficult hike exposed to the sun for a good chunk of the hike. Do not bring your dog on this hike if you haven't done a similar hike in the past or if they're not fit to do a long, challenging hike. Even if your dog can do it, doesn't mean that they should. This depends a lot on the weather. If it's extremely hot, your dog can overheat. At the end of the day, you know your dog's abilities best. 
Where can you camp near Big Pine Lakes?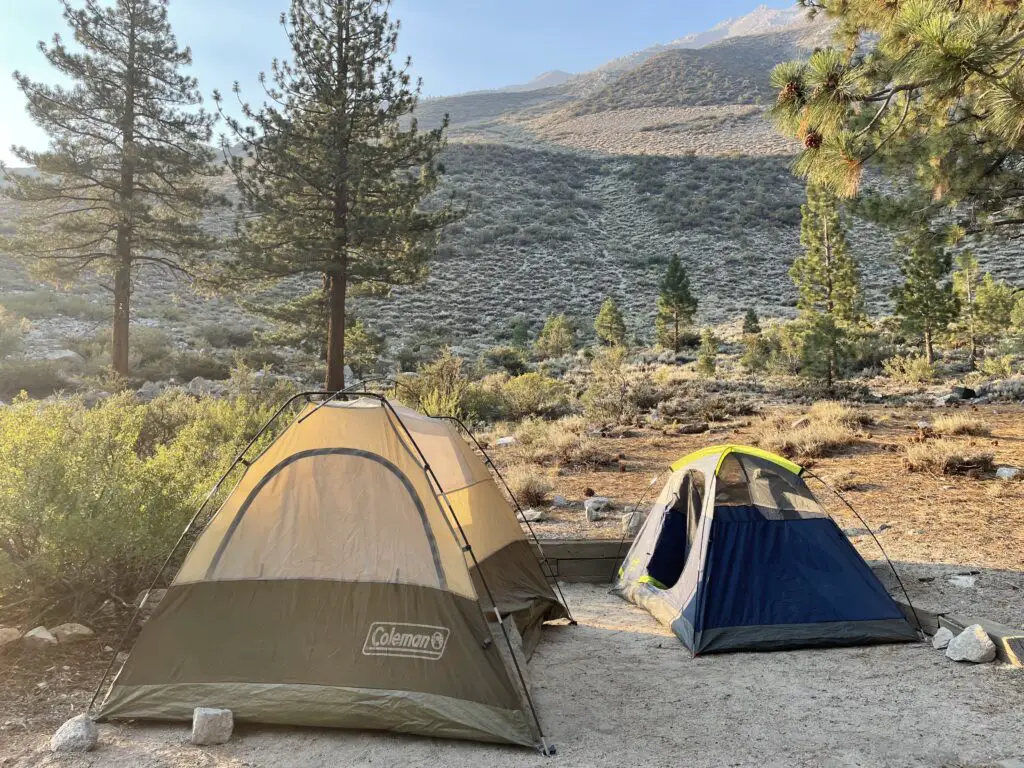 The closest camping spots to Big Pine Lakes are Big Pine Creek Campground and Glacier Lodge. Big Pine Creek Campground is cheaper, but has less facilities. Reservations can be extremely difficult and open up 6 months in advance. They do have some first-come first-serve sites. We were lucky to snag one of the last sites on a weekend. Make sure to bring exact cash if you plan to do this.
Big Pine Creek Campground Deets:
Where to reserve: Recreation.gov
Price: $23/ night
Amenities: Pit toilets, no running water
Dog Friendly: Yes
Glacier Lodge offers camping and cabin rentals. They also have a small cafe and barbeque on Saturdays. 
Glacier Lodge Campground Deets:
Where to reserve: Glacier Lodge website
Price for camping: $38/ night
Price for cabins: $150+
Amenities: Restrooms with flush toilets and electricity. RV hookups are available.
Dog Friendly: Yes, for an additional fee
Another possible campground is Baker Creek Campground. It's only 25 minutes from the trailhead. This was our backup plan in case Big Pine and Glacier Lodge were full. You can reserve a site for $14/ night on Reserve America.
Are there any BLM/ Dispersed Camping Spots Near Big Pine Lakes?
There are BLM/ dispersed camping spots in the area. If your budget is tight, camping at a dispersed site can save you some money. The drawbacks are there's no running water, toilets, or any camp amenities. The benefits are you don't need a reservation, it's mostly free, and away from the crowds. These sites are about an hour from the Big Pine Lakes trailhead, but they are closer to some hot springs. 
Here are a few dispersed camping sites to consider:
Volcanic Tablelands BLM Land 
Buttermilk Boulders BLM Land  
Horton Creek Campground ($5 fee)
Check out Spear Head Adventure for more info on these campsites
Hot Springs Near Big Pine Lakes
After 6 ½ hours of hiking Big Pine Lakes, the hot springs felt absolutely amazing. We chose to go to a hot spring near Mammoth Lakes, which is about a 1 and a half hour drive from Big Pine Creek Campground. It was definitely worth the drive. If you're staying at one of the dispersed camping sites, Rock Tub Hot Springs is only 30 min away. 
The closest hot springs to Big Pine Lakes is Keough's Hot Springs. It's only 30 min from the trailhead. It's a man made hot spring only open during certain hours. They also charge an entrance fee. Personally, this feels more like a big hot tub, which is why we chose to make the drive to Mammoth. But if you're looking for something convenient and easily accessible, then Keough's Hot Springs is your best bet. 
The hot springs were an added bonus to our trip! I wouldn't say it's an absolute must see, but if you have the spare time and are up for the drive then why not?
Must Have Gear
Here's the gear I absolutely needed for this hike and camping:
Tent/ Sleeping Bag/ Sleeping Pad
Camp stove
Skillet
Hiking Boots
Osprey Daylite Pack
3 Liter Hydration Bladder
Hat (it's hot and exposed)
First Aid
Head Lamp (set up camp in the dark)
Check out my list of Hiking Gear For Beginners for specific links.
Tips for Hiking Big Pine Lakes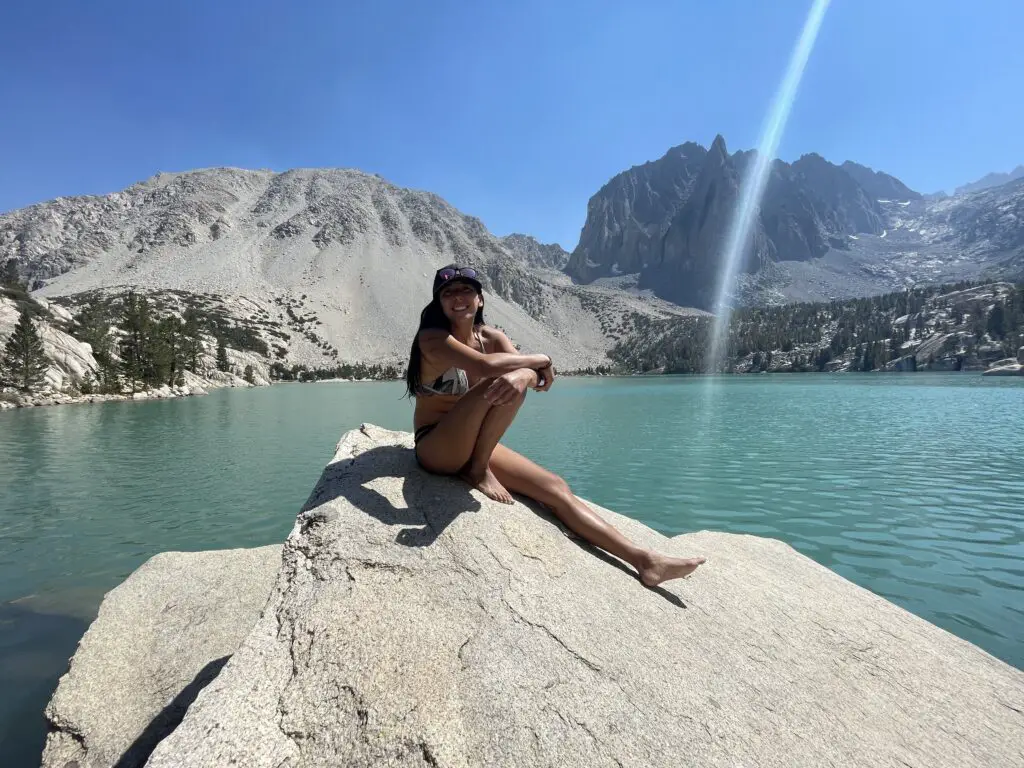 Download the map on All Trails (you'll need the premium version to download)
Plan to have no cell service
Book your campsite ahead of time. Currently sites and permits book 6 months in advance
Bring exact cash for the campground
Check the weather! It was in the high 80's when we went
Pack layers for the evening. The weather dropped so much, we were glad we packed our sweats
Pack some TP and your pooper scooper. No restrooms on the trail.
Make sure you pack plenty of water! I finished my entire 3L and then some.
Check for fire restrictions- especially in summer/ fall
As always, pack it in pack it out
Final Thoughts
Big Pine Lakes is a must-see. It's easily one of my top hikes in southern California. The water is so blue and so clear. Hiking by the river and seeing some waterfalls is always a major plus! You won't see rivers and lakes like this in LA or San Diego. 
I highly recommend camping near the trailhead at Big Pine Creek Campground or Glacier Lodge. It's so much more convenient to wake up and walk to the trailhead vs. having to drive to there. If you can't get a reservation (like us), I would still show up and try to get one of the first come first serve sites. Even on a busy weekend, while Big Pine Creek Campground was pretty full there were some open camping spots at Glacier Lodge. Come prepared with exact cash. 
Always have a plan B though! You never know when a campground will be filled. Drop a pin on your phone for Baker Creek Campground or for one of those BLM campsites. Happy hiking!
You can sign up for my hiking newsletter below. I'll send you info about hiking trails, new blog posts, and any group hikes that I host.