From one local to another, Green Valley Falls is one of San Diego's best hidden gems. Only 45 minutes from downtown, these swimming holes in San Diego make for a perfect Saturday adventure with friends or family. Nestled in our local state park, this is an easy hike with big rewards.
This blog post will go over everything you need to know to have a successful adventure hiking Green Valley Falls including trail stats, fees, best time to visit, what to expect on the hike, and camping accommodations.
Quick Facts
Trailhead: Google Maps Link
Distance: 0.4 mile loop
Difficulty: Easy
Dog Friendly: No
Kid Friendly: Yes but younger kids not recommended
Stroller Friendly: No
Fees: $10 day use fee
Bathrooms: Yes
Be sure to download the AllTrails map, because you might not have service inside the park. The hike itself should take less than 30 minutes. Depending how long you spend swimming and hanging out, I would plan for this hike to be at least half a day due to the drive. Always check the weather before hiking- this area is known to see high temperatures during summer.
There are two paved parking lots that can fill up during peak days/times. Peak season for this hike is spring, when weather is at its best.
Related: Dead Horse Falls (another swimming hole in San Diego).
Green Valley Falls Fees
Cuyamaca Rancho State Park has a $10 day use fee. You can pay with either exact cash or with card. Apple Pay is not accepted. The day use fee is good for the entire day anywhere in the park. You can make this a 2 for 1 adventure by hiking the nearby Stonewall Peak before hiking Green Valley Falls.
While visiting you'll have access to all the amenities including picnic areas, flush toilets, and bbq grills. After paying, keep an eye out for signs that lead to the falls parking lot.
Green Valley Falls Trailhead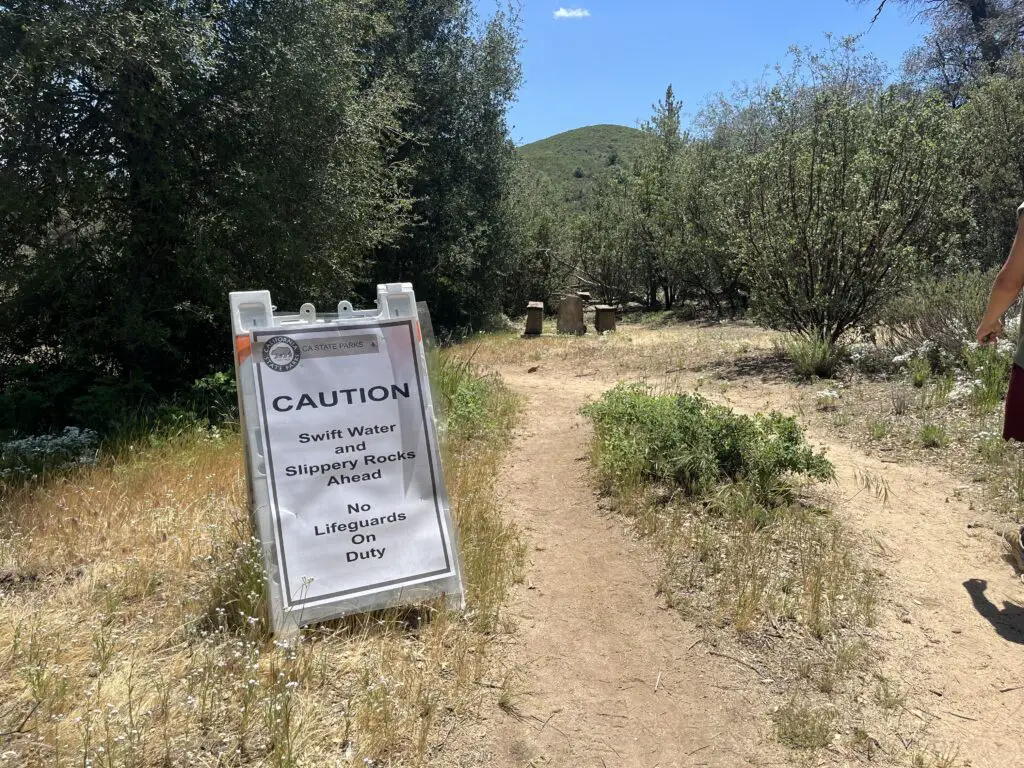 Green Valley Falls doesn't have a big hiking board like some hikes do. Shortly after passing this sign you'll begin your short hike. Along the way you can follow the trail markers. They'll lead you straight to the swimming holes. It's an easy trail to follow, and depending on when you hike there's typically other hikers around in case you need to ask for directions.
What to Expect Hiking Green Valley Falls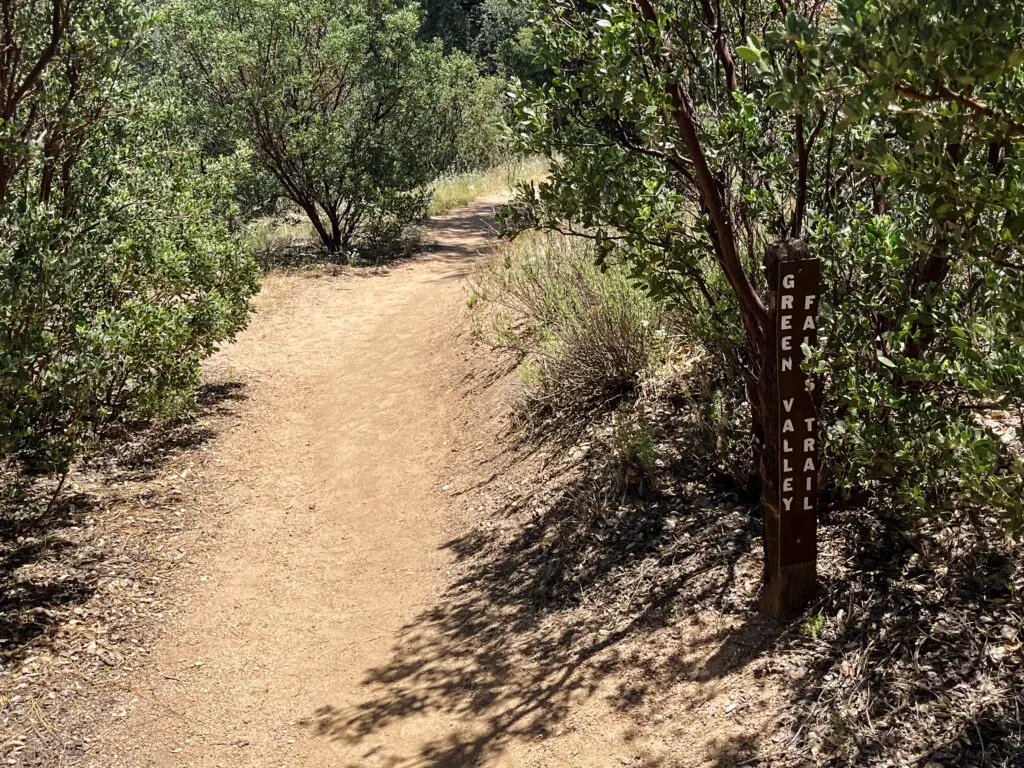 Green Valley Falls is an easy hike with minimal elevation gain. After passing the trailhead, you'll begin to descend down towards the creek. There are some steps at the beginning of the trail, making this hike NOT stroller friendly. The trail is composed of packed dirt and can get narrow in some places.
Right away, you'll hear the creek flowing and soon after starting the hike you'll be able to see it. The trail follows along the creek towards the falls.
There are two viewpoints, the best being about 1/4 mile into the hike. This is also where you'll see the most people.
Best time to visit Green Valley Falls
The best time to hike Green Valley Falls is during the spring, after San Diego has a recent rainfall. This is when the creek and the swimming holes will be at their fullest. The waterfall will be flowing and temperatures won't be too hot yet.
During the summer, Cuyamaca Rancho State Park sees very warm temperatures. Thankfully this is a short hike, but during the summer there won't be as much water. It's not uncommon to see Green Valley Falls practically dry up.
Is Green Valley Falls Hard?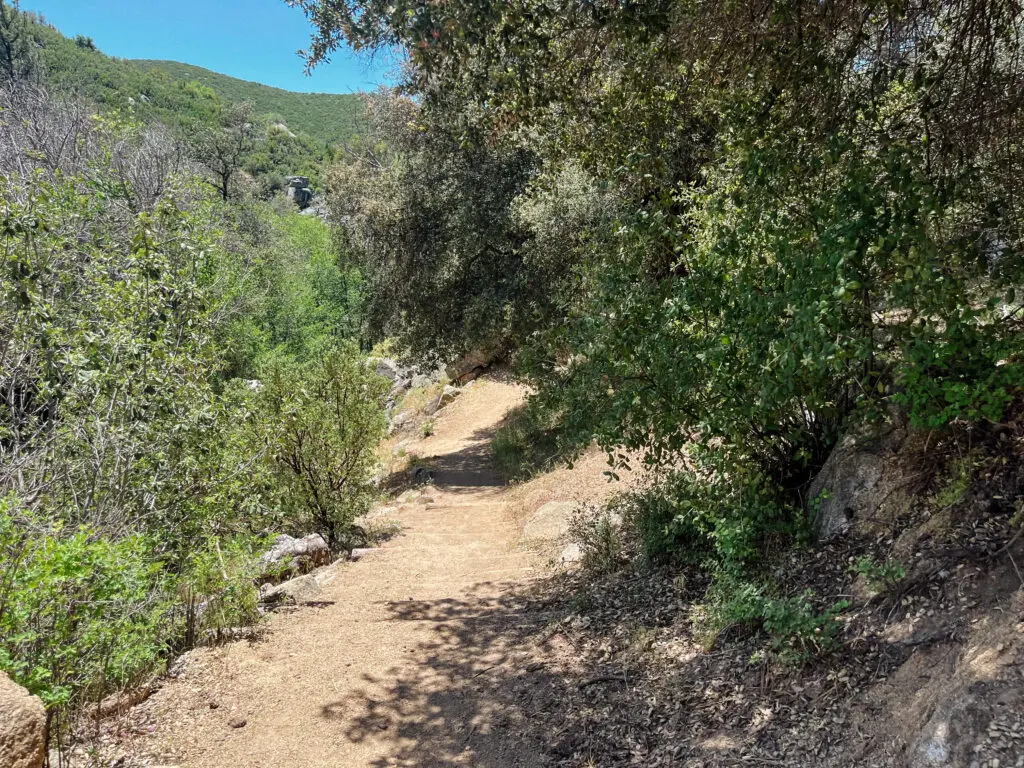 Green Valley Falls is a short and sweet hike that's relatively flat (other than the few stairs descending to the creek). This hike does not require a lot of effort. The hardest part about this hike is not slipping on the rocks by the falls. The granite rocks can be very slippery. It's best to keep children close and always walk with caution by the water.
All in all, Green Valley Falls is an easy hike that's great for beginners and families.
Can you swim at Green Valley Falls?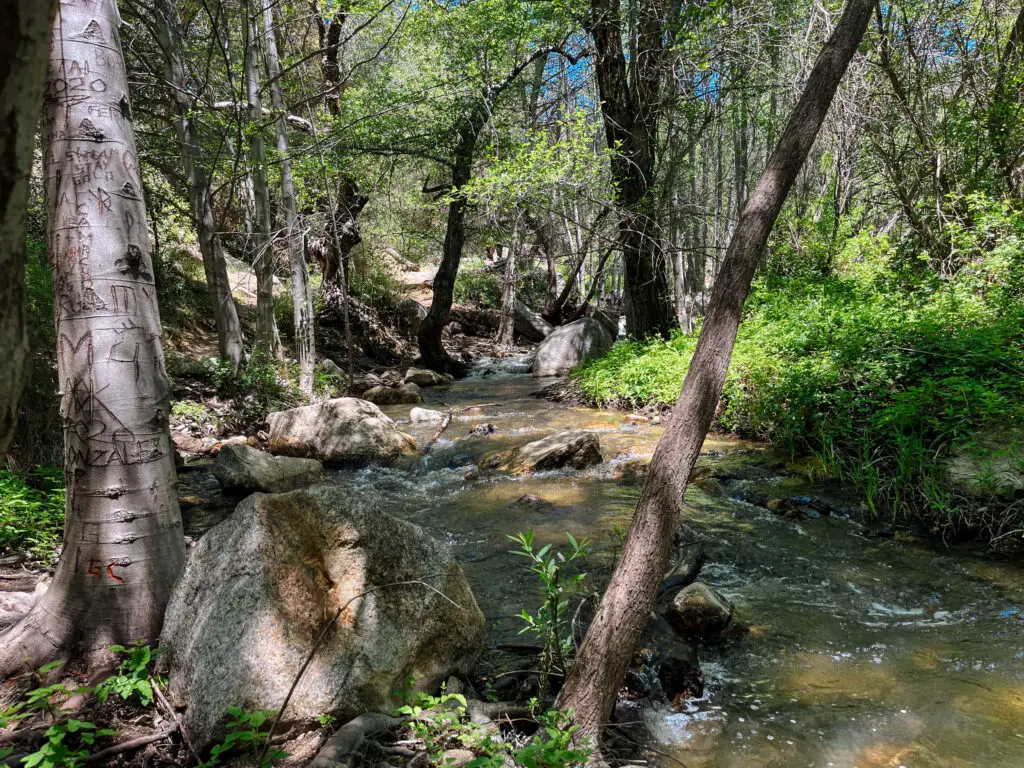 Yes, you can swim in the water! This is the best part of the hike. Rainfall and melting snow fills the Sweetwater River that forms the swimming holes you see here. The water from the Sweetwater River eventually flows all the way to the San Diego Bay!
These swimming holes are very unique for San Diego. There's nothing quite like cooling off in a natural swimming hole while soaking up some sun. Be sure to pack your sunscreen though because it can get hot.
The swimming holes aren't very deep. Most of them being about hip deep. They're good for a quick dip to cool off. Be prepared for cold water.
Green Valley Falls Campground
If you'd like to make this adventure a weekend trip, you can reserve a campground through Cuyamaca Rancho State Park. Green Valley Falls Campground has 81 campsites, each with a picnic table and fire ring. There are bathrooms and pay showers throughout the campground.
Other things to know
Campground fees: $40/ night
Fees include 1 vehicle
Extra vehicles are $10 per night
Max of 8 persons per campsite
Dogs are allowed in the campsite and on paved roads only
there are no hookups
Shared water faucets are available
Reservations can be made online through ReserveCalifornia.com.
An alternative campground about 10 mins away is Paso Picacho Campground. It's also inside Cuyamaca Rancho State Park so the same fees and regulations apply.
Final Thoughts
Green Valley Falls features one of San Diego's few swimming holes. It's a great place for a quick getaway from the city. There's nothing quite like taking a cold dip in our local state park.
Most people in San DIego don't take the time to explore all that Cuyamaca Rancho State Park has to offer. This state park is also home to Stonewall Peak and Cuyamaca Peak. Two moderate to challenging hikes to add to your San Diego bucket list.
Related: Hike Cuyamaca Peak (2nd Highest Peak in San Diego)
Related: Stonewall Peak Hiking Trail
Hiking Newsletter
Sign up for my hiking newsletter below. I'll send you info on hiking trails, new blog posts, and any group hikes that I host.