Lawson Peak hike is one of the most unique hikes in San Diego. Although it's only 5 miles roundtrip, the steep incline and the bouldering make this a challenging but very fun hike. You'll gain 1,600 ft in elevation on your way to the top.
What makes Lawson Peak hike so awesome is the rope climbing at the end and the great views. I have yet to find another hike like Lawson Peak in San Diego!
Here Are The Deets
Trailhead: search "Lawson Peak Trailhead" in Apple Maps or copy and paste these coordinates 32.713601, -116.705741
Distance: 5 miles
Est time: 3 hours
Dog friendly: Yes but not recommended
Difficulty: Challenging
Parking: on the side of the main road
Lawson Peak is located in the Cleveland National Forest. It's about a 45 min drive from downtown. Plan on not having any cell service while you're here. There's no parking lot for Lawson Peak hike, so you'll have to park on the side of the main road.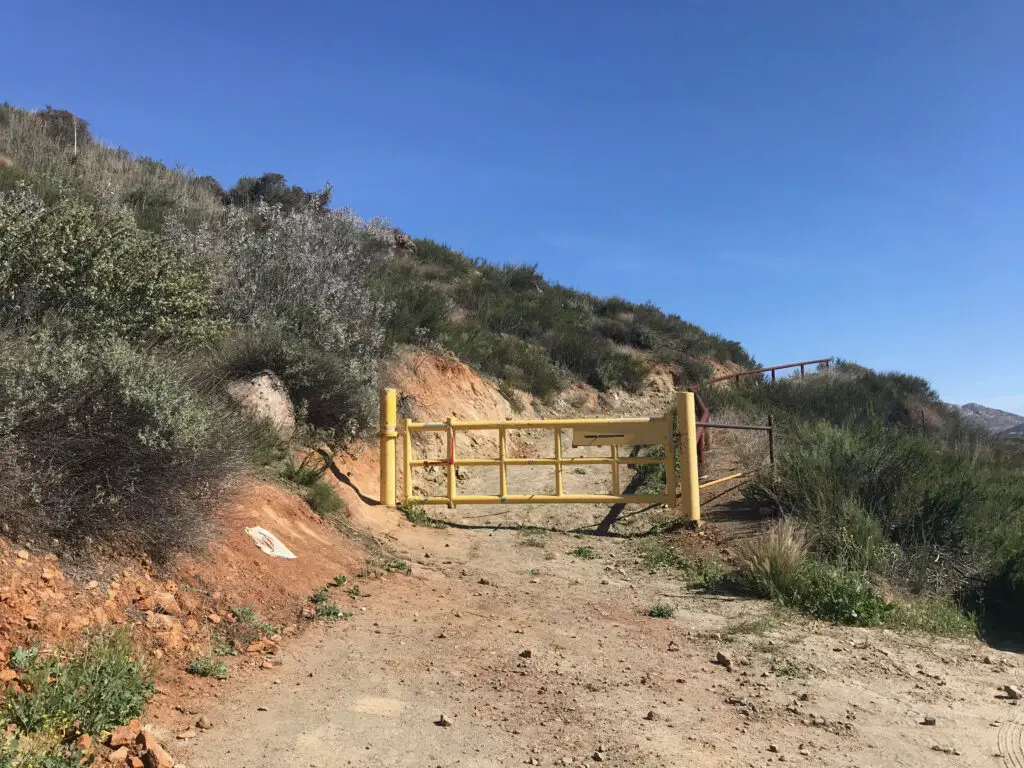 You'll pass the yellow gate and start your journey up to the summit. The All Trails Map lists this hike as 4.2 miles, but it ends up being closer to 5 miles.
For an extra challenge, you can also hike Gaskill Peak which will add another 2 miles roundtrip to your hike. Here's the All Trails map for the Lawson and Gaskill Peak hike.
Lawson Peak Hiking Trail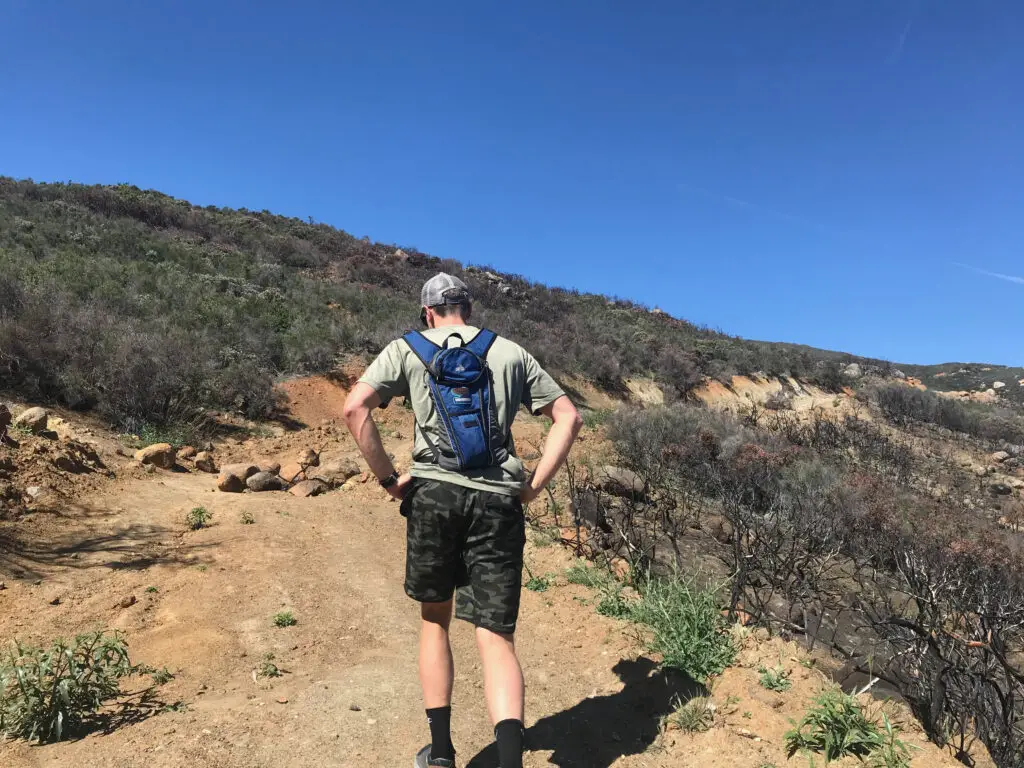 The hiking trail up the summit is not marked so keep your All Trails map handy. A good part of this area was unfortunately burned in the 2020 Valley Fire. As a result, the first 2 miles are pretty boring and bland. At 2.1 miles you'll come across a fork in the trail. When you reach this part of the trail, you'll go straight and continue on up to Lawson Peak.
This is where the bouldering begins. You'll need both hands to lift yourself up over some rocks. You don't need any equipment or bouldering experience to complete this hike. You will need quality hiking shoes. Here are the hiking boots that I use and recommend- Danner Hiking Boots.
From this point on to the summit, it's one big scramble. You'll go over countless boulders and push through brush, until you reach the rope. I only recommend Lawson Peak hike to athletic, experienced hikers up for the challenge.
The Fun Part
My favorite part about hiking Lawson Peak is the rope climb and bouldering at the end. Follow the All Trails Map, and it'll take you to the rope that leads up to the caves and summit.
If you veer off trail you'll end up coming to a section near the summit without a rope. People have somehow managed to get up this way but if you can find the rope it'll be a lot more doable. Use extreme caution when using the rope up into the caves.
This is my first hike in San Diego that took me through some caves! I was so excited to make it to the top. I have yet to find a similar hike. If you know of any, please let me know. I'm always looking for new hikes.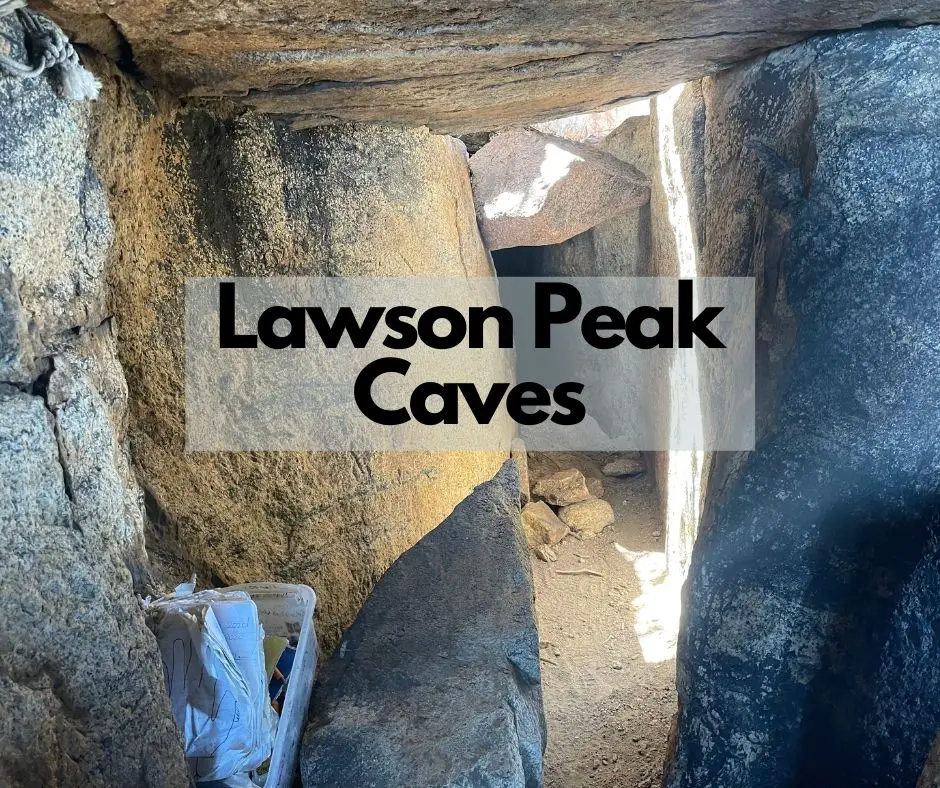 There's a registry in the caves so don't forget to sign your name! This also makes for a great rest stop. It's the only part of the trail with some shade. After your rest break in the caves, continue on up a few feet to the summit. You're almost there!
Lawson Peak Summit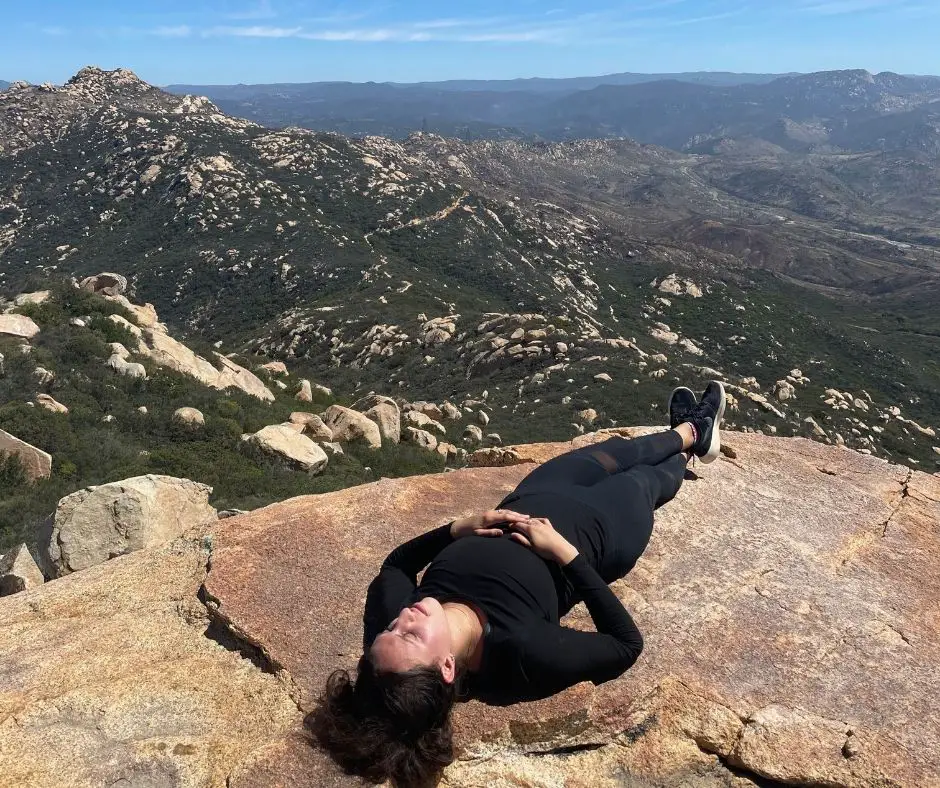 Lawson Peak sits at about 3,600 ft above sea level. The views at the top are awesome! You can spot other peaks from the top including Gaskill Peak and El Cajon Mountain. You'll also be able to see Barrett Lake. After doing your celebratory dance on top of the mountain, head back the same way. We went on a Saturday morning and surprisingly we were the only people at the top of the summit.
About Cleveland National Forest
Lawson Peak is only one of many hiking trails in Cleveland National Forest. With over 400,000 acres, there's so many different activities to do in this forest. Other popular hikes here include:
Cedar Creek Falls (permit required)
You can also do some camping and backpacking. I'm so grateful we have this National Forest so close to us! You can get from the beach to the mountains in less than an hour. Hope you have fun exploring!
Tips for Hiking Lawson Peak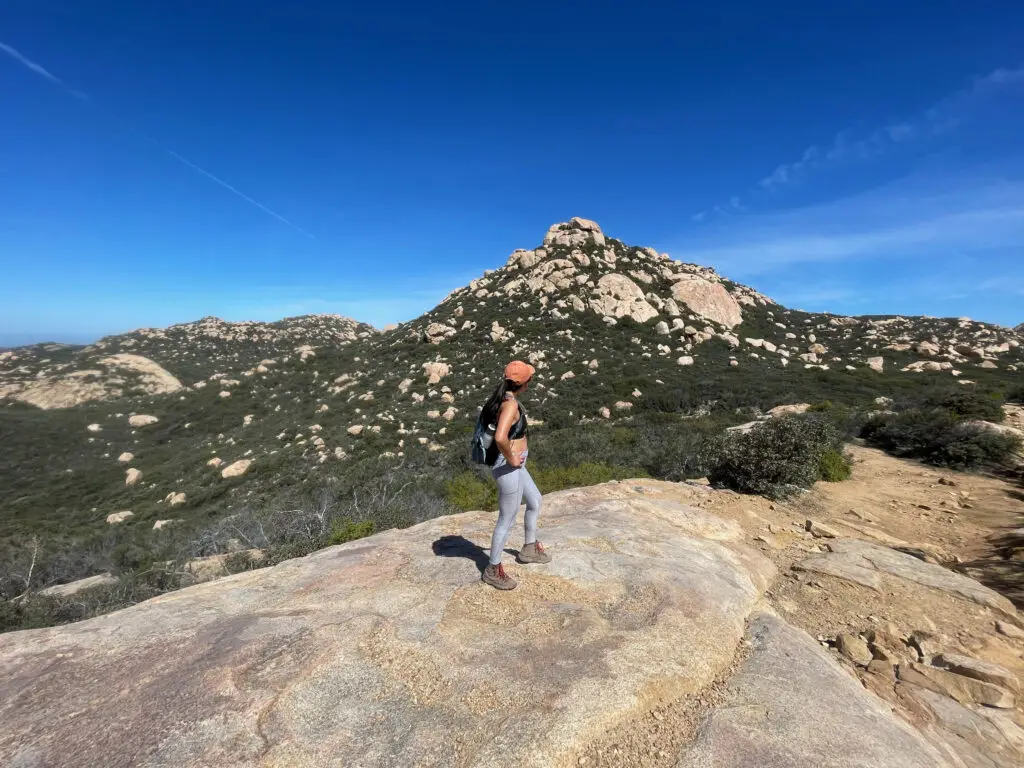 Check the weather– east county San Diego gets a lot hotter than the beach.
Pack a hat and sunscreen– there's 0 shade on this hiking trail. I always use Sun Bum for my outdoor activities.
Leave your dog at home. Although it's dog friendly, it's highly not recommended because of the rope climb at the end. You would have to carry your pup up the rope to the summit.
Pack extra water– no one ever finished a hike upset because they packed too much water. There's no such thing as too much H20.
Pack it in, pack it out! Let's keep our San Diego hiking trails beautiful and clean.