Iron Mountain is a 6 mile out and back hike located in Poway. It's easily accessible, free, dog friendly, and offers great views at the summit. For these reasons, Iron Mountain has become one of the most popular hikes in San Diego. The views at the top don't come easy though. It's a moderate challenge for the average hiker, and you get some great views.
This blog post will explain everything you need to know to hike Iron Mountain successfully. From personal experience, I break down trail stats, what to expect when hiking Iron Mountain, parking situation, and best time to hike Iron Mountain.
Quick Facts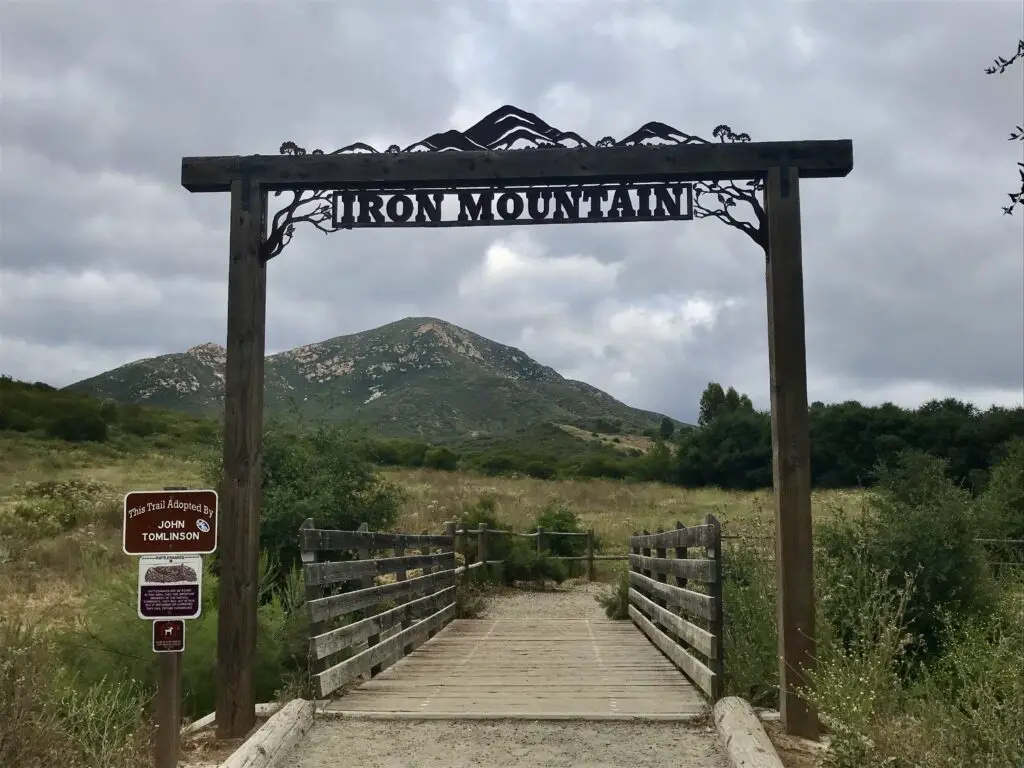 Trailhead: Iron Mountain Trailhead (Google Maps Link)
Distance: 6 miles
Difficulty: Moderate
Est Time: 3 hours
Dog Friendly: Yes 🙂
Parking: There's a free lot available. Overflow parking is on the side of the road
Bathrooms: Yes, vault toilets
Fees: none
There are 2 trails to hike Iron Mountain. Iron Mountain via Ellie Lane is a longer route- about 7.5 miles total and is rated as "hard" on All Trails. Both trails will take you to the same summit. I suggest sticking with the main 6 mile trail if it's your first time.
Keep reading to know all the details for your Iron Mountain hike.
How Long Does it take to Hike Iron Mountain?
Hiking Iron Mountain takes about 3 hours to complete, depending on your pace and how often you stop to take pictures/ breaks. As always, go at your own pace and take breaks when needed.
The drive to the trailhead from downtown San Diego takes about 30 minutes. Depending on your commute, plan to spend about half a day to hike Iron Mountain.
Is Iron Mountain Trail Hard?
Iron Mountain is considered a "moderate" hike, according to All Trails. You'll be climbing over 1,000 ft of elevation gain to reach the summit. The elevation gain combined with the typical heat in this area makes this a moderately challenging hike.
Keep in mind, Iron Mountain is completely exposed to the sun. Other than the 1/4 mile or so of trees at the trailhead, there is no shade. Pack a hat, sunscreen, and plenty of water.
Check the weather before bringing your pup along on this hike.
What To Expect On The Trail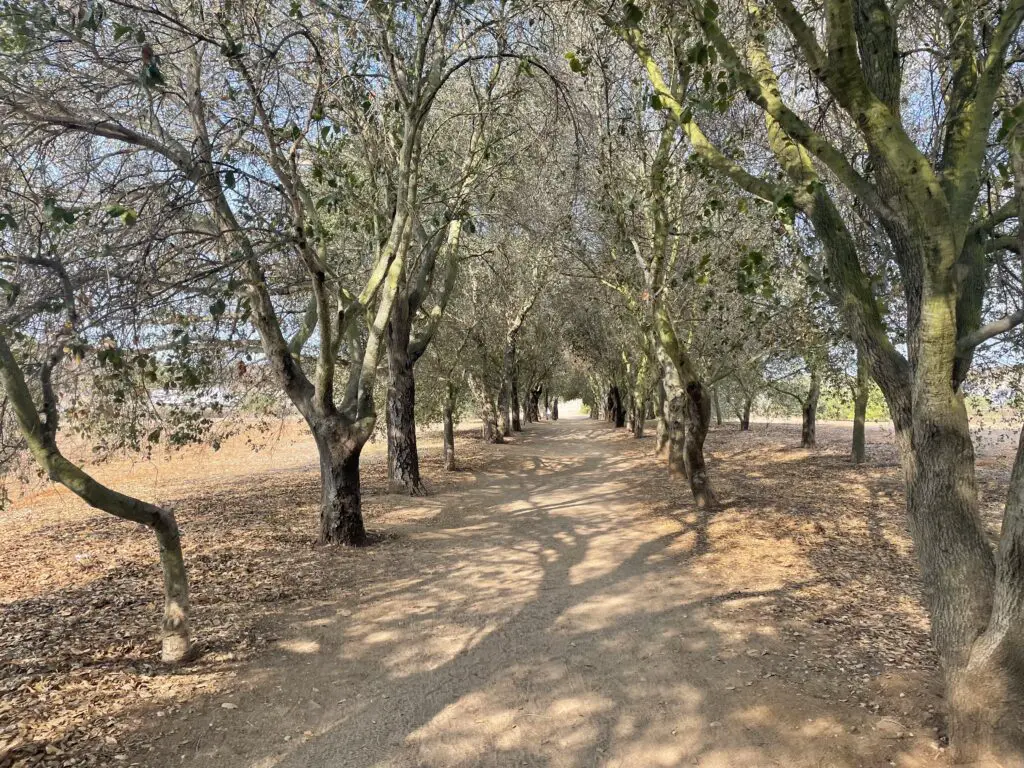 Iron Mountain hiking trail is well maintained and well marked. There are trail markers along the way to the summit to help guide you. Although moderate in difficulty, it's an easy trail to follow with all the signage.
It's a dirt path up until about mile 2 where the trail gets rocky and steep, but nothing crazy. Near the summit you'll come across switchbacks and a narrower path.
At the summit, there are plenty of places to sit and enjoy the view, including a picnic table. There's also a telescope you can look through at the surrounding mountains. On a clear day, the panoramic views are stunning.
If you like hiking at sunset, put Iron Mountain on your list. It's a gorgeous view.
Best Time to Hike Iron Mountain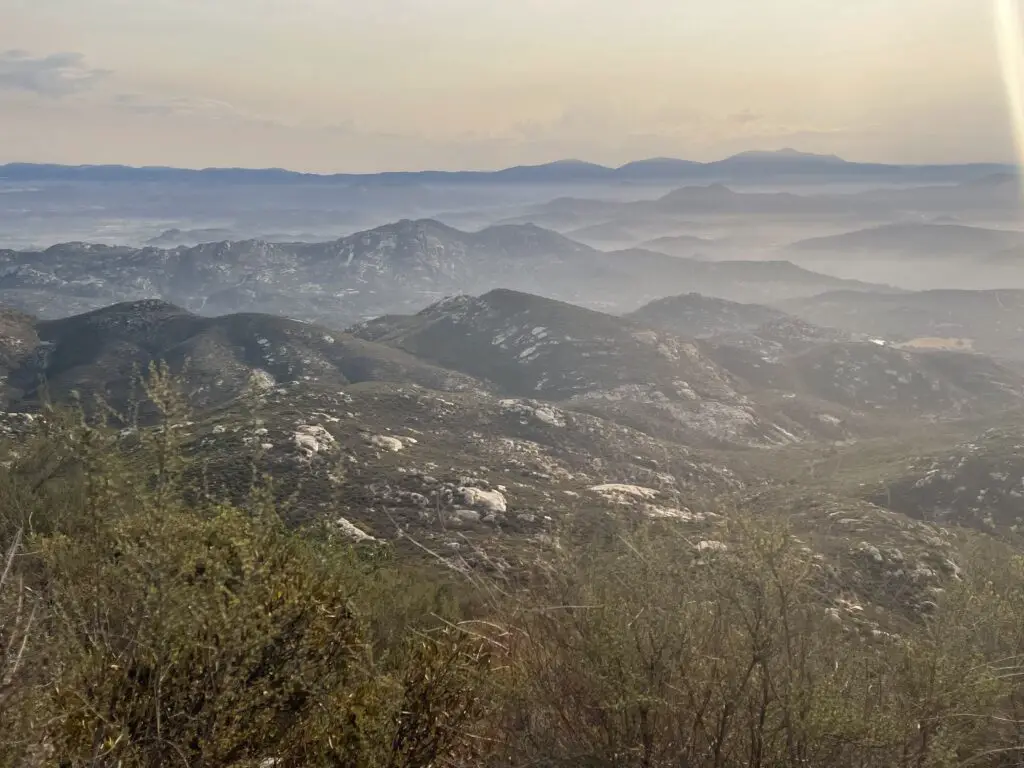 My personal favorite time of year to hike Iron Mountain is during the fall. The temperatures are cooler, making it more enjoyable for myself and my dog.
In the summer, the city of Poway gets really hot. This hike is 30 minutes east of the beach, so do not expect that ocean breeze like Torrey Pines.
Tips for Hiking Iron Mountain
If you decide to hike Iron Mountain in the summer, keep an eye out for rattle snakes. I've personally seen one on this trail before.
After the first 1/4 mile through the trees in the photo above, there is no shade. Bring a hat and some sunscreen. It gets toasty out here in the summer.
Start early. Avoid the heat and the crowds by getting an early start.
Pack a snack for the summit. You'll want to fuel up before the hike down.
If you hike Iron Mountain during sunset, be sure to pack a headlamp.
Keep an eye out for the trail markers on the way up to guide you! The last 1/2 mile is all rocky switchbacks so watch your step. At the summit you'll find a picnic table and a telescope.
Other Hikes in Poway
Another hike nearby is the infamous Potato Chip Rock. Also a moderately challenging hike, due to the length and elevation gain. Potato Chip Rock is longer than Iron Mountain. This hike is 7.4 miles long with 2,100 ft of elevation gain.
Potato Chip Rock is known for a rock formation at the summit in the shape of a potato chip. This thin rock makes for great photo opportunities. In my opinion, it's one of those hikes you only need to do once.
Another hike in Poway is Lake Poway Loop Trail. This is an easier, family-friendly hike. It's only 2.8 miles long. Be aware that there's a parking fee on the weekends for non-residents of Poway.
If you live in north county, check out my list of Best Hikes in North County San Diego.
Post Hike Brews/ Eats
Mainstream Bar and Grill. They have outdoor seating available and it's only 10 min away from the trailhead. It's on your way back to the 15 Freeway.
About the Author (Wendy)
After living and hiking in San Diego for nearly a decade, I've come to know these trails very well. I've hiked countless miles including San Diego's toughest hike- El Cajon Mountain.
Two of my best hiking accomplishments include summitting Mt Whitney in September of 2021 and climbing Half Dome with the cables down in May 2023. In addition to hiking, I have experience camping and backpacking.
The purpose of this blog is to help people get outside by providing the most up to date information on hiking trails. Be sure to subscribe to my newsletter below. Happy hiking!
Sign Up For My Hiking Newsletter
You can sign up for my hiking newsletter below. I'll send you info about hiking trails, new blog posts, and any group hikes that I host.