As an avid hiker, I make it a point to hike Three Sisters Waterfall every year. When it's flowing, it's such a beautiful waterfall. Before doing this hike, there's certain things you should know and prepare for. Preparation is key before every hike. This is not a beginner hike.
It's no secret that Three Sisters Waterfall is one of San Diego's top waterfall hikes. It's a three-tiered waterfall with natural swimming holes. A challenging, but extremely rewarding hike. From your local San Diegan and hiking addict, here is your ultimate guide to help you navigate Three Sisters Waterfall.
Here Are The Deets
Trailhead: 32.984548, -116.677395
Distance: 4.1 miles out and back
Est time: 2.5 hours
Difficulty: Challenging
Parking: Free in the dirt lot. Fills up very quickly!
Dog Friendly: Yes, but not recommended
This is an extremely popular hike in San Diego. The earlier you come the better. I parked at 8:45 AM on a Saturday morning and the lot was already full. Lucky me, I got the last spot. How long does it take to hike 3 Sisters? This 4.1 mile hike takes about 2.5 hours. I tracked my actual hiking time, which was 1 hr and 45 min. The extra 30 min+ comes from our stop at the waterfalls. We were back in the parking lot at 11:15 am.
From downtown it's a 1 hr and 15 min drive. The last 8 miles to get to the trailhead is a dirt road. If you can, leave your Toyota Corolla at home, and come in a vehicle with higher clearance. My friend messed up the bumper of her Corolla driving on this dirt road. There's a lot of ruts in the road making it really easy to scratch the bottom of your car. Drive slowly and pay attention- the road is pretty narrow. Save gas and carpool!
Is Three Sisters Waterfall Hard?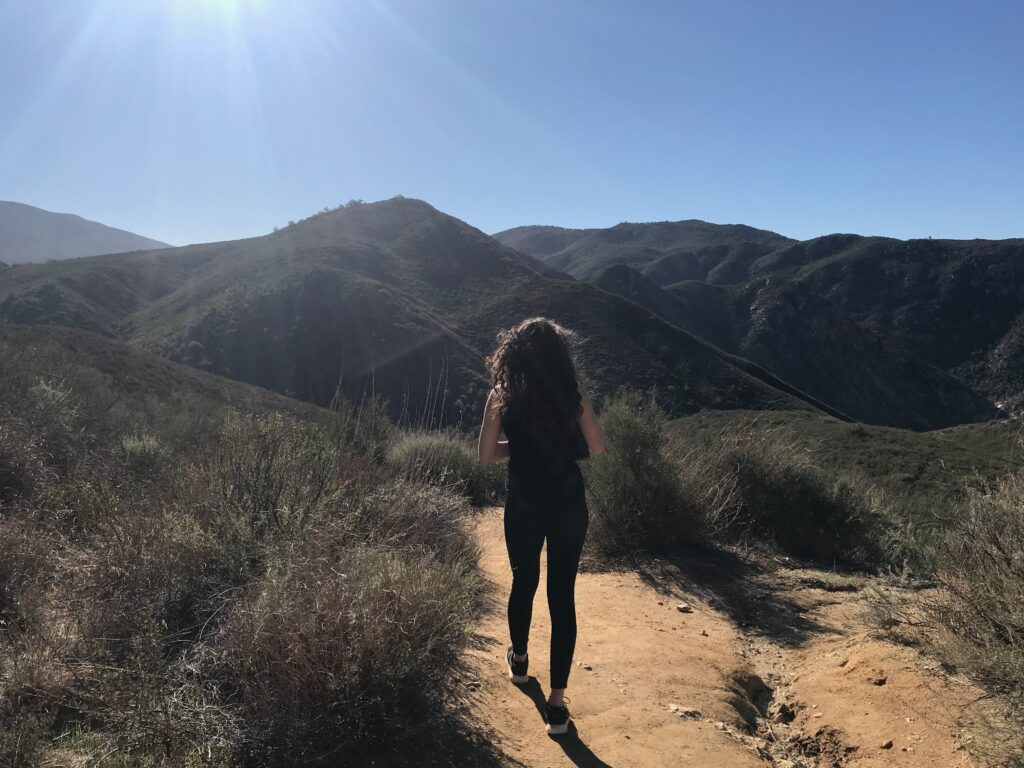 Yes, this is a very challenging hike. So many rescues have occurred for people and dogs. Getting to the waterfalls is an easy 2-mile descent. It's coming back up those 2 miles that makes Three Sisters Waterfall difficult. It's an elevation gain of over 1,000 ft and there's very little shade.
If you're planning to swim, your body will exert a lot of energy. For the average hiker, even if you don't feel it right away after swimming, your body will be tired. And you'll probably be hungry! Use the stop at the waterfall to have some fun, but also refuel before coming back up.
The good thing is there is no more rope climbing. After the trail was redone, Three Sisters Waterfall has become a lot safer to hike. It's still a narrow, rocky trail- that hasn't changed- but it's more accessible than before.
If you want an easier waterfall hike with swimming holes, check out Dead Horse Falls. I know, not the most appealing name but a ton of fun!
Is Three Sisters Waterfall Dog Friendly?
Yes, Three Sisters Waterfall hiking trail is dog friendly. It's not recommended though, because of the elevation gain coming back up. If you have a small dog like mine (20lb beagle mix), they're better off staying at home. It's because I love him, I leave him at home. I know he'd much rather be sleeping haha.
Can you swim at Three Sisters Waterfall?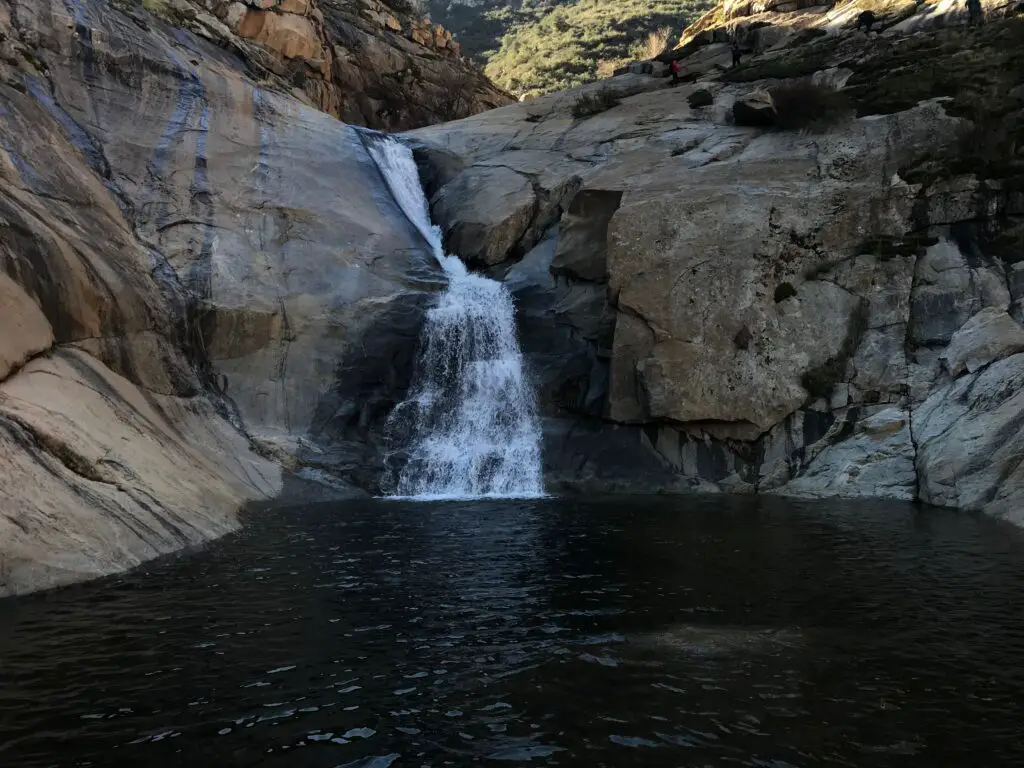 Yes, you can swim at the bottom of the falls! In fact, I highly recommend taking a dip if you're coming on a warmer day. I always hike 3 Sisters Waterfall during the winter, so the water is FREEZING. I'm a big chicken, so I don't swim. But I like to watch all the other crazy hikers jump in and jump out after 5 minutes. All for the gram.
Best Time to Hike Three Sisters Waterfall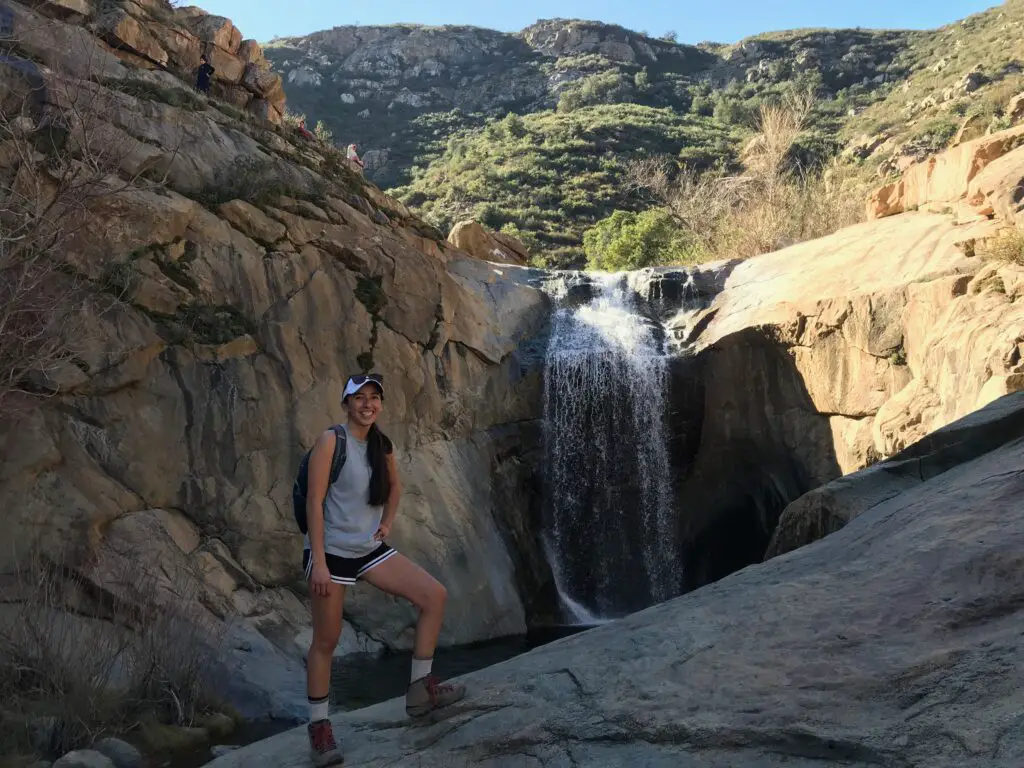 The best time to hike any waterfall in San Diego is during the winter after a good rain fall or snow fall. This ensures that the waterfall is flowing. We don't get a lot of snow in San Diego, but if it does snow, I suggest waiting for that snow to melt before hiking Three Sisters Waterfall. The dirt road leading to the trail can become packed with snow. I've discovered that Three Sisters waterfall is at its fullest during late January/ February.
10 Tips for Hiking Three Sisters Waterfall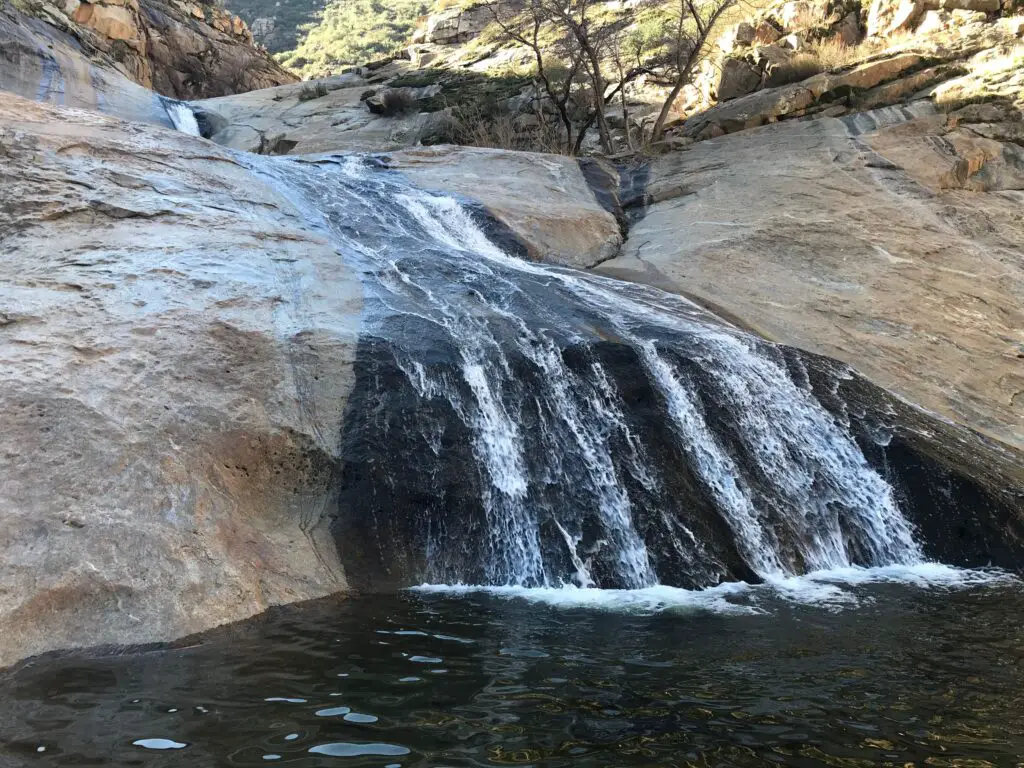 After hiking Three Sisters Waterfall multiple times, here is my list of top tips. Preparation is everything before a challenging hike like this. Over prepared is better than under prepared.
Pack EXTRA water. Seriously. No one ever ends a hike saying, "dang it, I brought too much water."
Wear proper hiking shoes. I love my Danner hiking boots because the amount of support/ traction they provide on a hike, especially one as rocky and slippery as this one. The huge slabs of granite at the waterfall are very slippery. Take extreme caution when walking on these.
Pack a first aid. Better safe than sorry. Three Sisters Falls is notorious for rescues- for both people and their dogs.
Pack extra socks. In case your socks get wet at the waterfalls. Personally, there's nothing I hate more than hiking in wet socks.
Come early! I got there at 8:45 AM and the lot was already full. I took the last available spot in the lot. There are signs along the road that say "no parking," but people were taking the risk anyways. Even at 8:45 AM this hike was PACKED.
Take it slow. If you need a break, then take a break. The way back is all uphill. Go at your own pace. What's the rush?
Check the weather. In the summer, Three Sisters Waterfall will get extremely hot. If it's too hot, then pick another day to come. In the summer, 3 Sisters Waterfall is nothing but a trickle with stagnant water anyways.
Assess your hiking ability.  No one knows your physical capabilities better than yourself. If you've read this far, then you now know this is a challenging hike, with a lot of elevation gain coming back up, and a narrow, rocky, slippery trail. If you prepare properly (with EXTRA water), can you comfortably complete this hike?
Plan for no cell service. Let someone know your hiking plans before you hit the road.
Always remember- pack it in, pack it out! Let's keep our hiking trails beautiful. Don't litter.
Hiking Gear Used
Proper hiking shoes will make this hike so much more enjoyable. It's not impossible with running shoes (nothing is impossible). You risk slipping on your bum or twisting an ankle.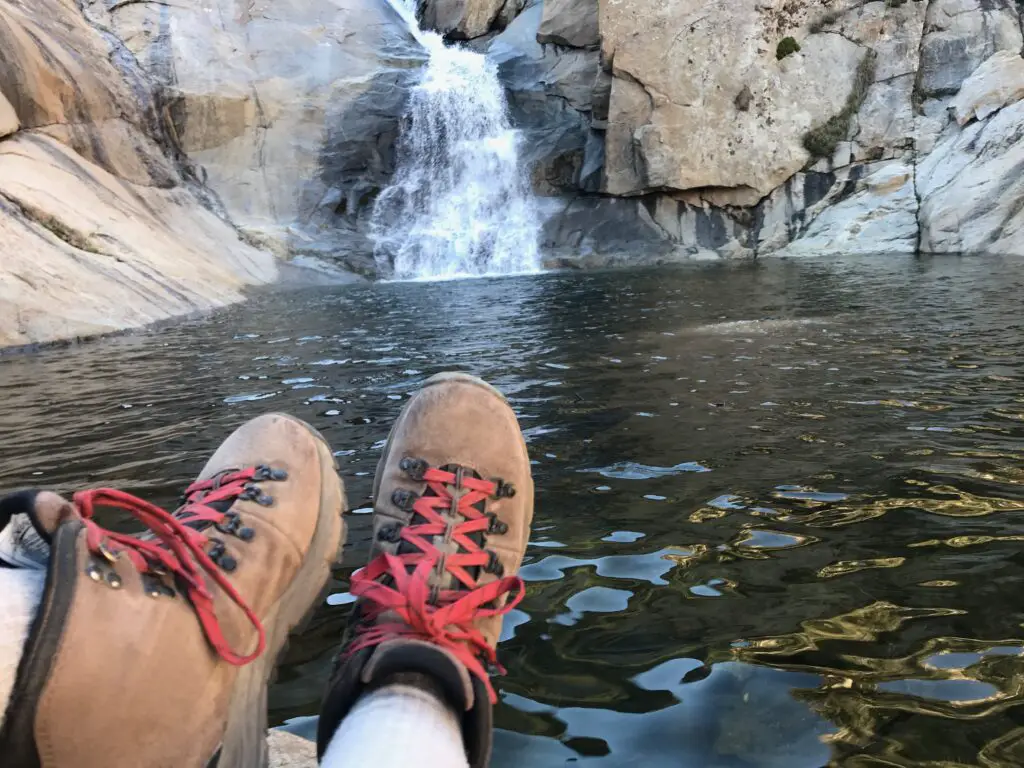 Danner Hiking Boots.  Because they're waterproof, I was able to get to the other side of the waterfall and climb up to the top waterfall. Take extreme caution doing this. There's no walking path to the top waterfall. A lot of rock scrambling and thinking "don't twist an ankle, don't twist an ankle"
Osprey Day Pack. Fits all my snacks, phone, first aid kit, hydration pack, keys, etc. Use it on the daily, when going to the park or beach too.
Trekking poles recommended, but not required. If you have them great bring them.
Final Thoughts
This guide is not meant to scare people away from hiking Three Sisters Waterfall. It's meant to help you prepare for a challenging hike. As long as you're prepared, then you will have a great time! 3 Sisters Waterfall is beautiful. Remember to take as many breaks as you need, and pack plenty of water.
Hiking Newsletter
Sign up for my hiking newsletter below. I'll send you info on hiking trails, new blog posts, and any group hikes that I host.