Torrey Pines Reserve is a beautiful place to hike just off the coast in San Diego. Torrey Pines hiking trails offer endless views of the ocean and cooler temperatures because of the ocean breeze. Out of the 8 well marked hiking trails my personal favorite is the Torrey Pines Beach Trail. Reason being- this hike takes you to the ocean!
Torrey Pines Reserve has a very strict dog policy. Dogs are never allowed at Torrey Pines Reserve. They also don't allow food. I've been asked by staff to put my granola bar away. Check their website for restrictions.
Here are the deets:
Trailhead: Google Maps Link to South Beach Parking Lot
Distance: 2.5 miles
Est Time: 1 hr 30 min
Dog Friendly: No
Difficulty: Easy. You'll walk up a hill and at the end go down a long flight of stairs to the beach.
Parking: Free parking in front of Torrey Pines State Beach or paid parking inside the Reserve
For other top things to do in San Diego, check out The San Diego Scout: San Diego Starter Pack.
What to Expect Hiking Torrey Pines Beach Trail
If you decide to hike the Beach Trail at Torrey Pines, start by parking your car in front of the beach for free, or in the South Lot for a fee. After parking you'll make your way up the short hill leading to the visitor center.
If you wanted to shorten the hike or skip the hill, there's another paid lot right by the visitor center.
From the visitor center you'll see the sign "Beach Trail." Torrey Pines has tons of signs around to guide you on your hike.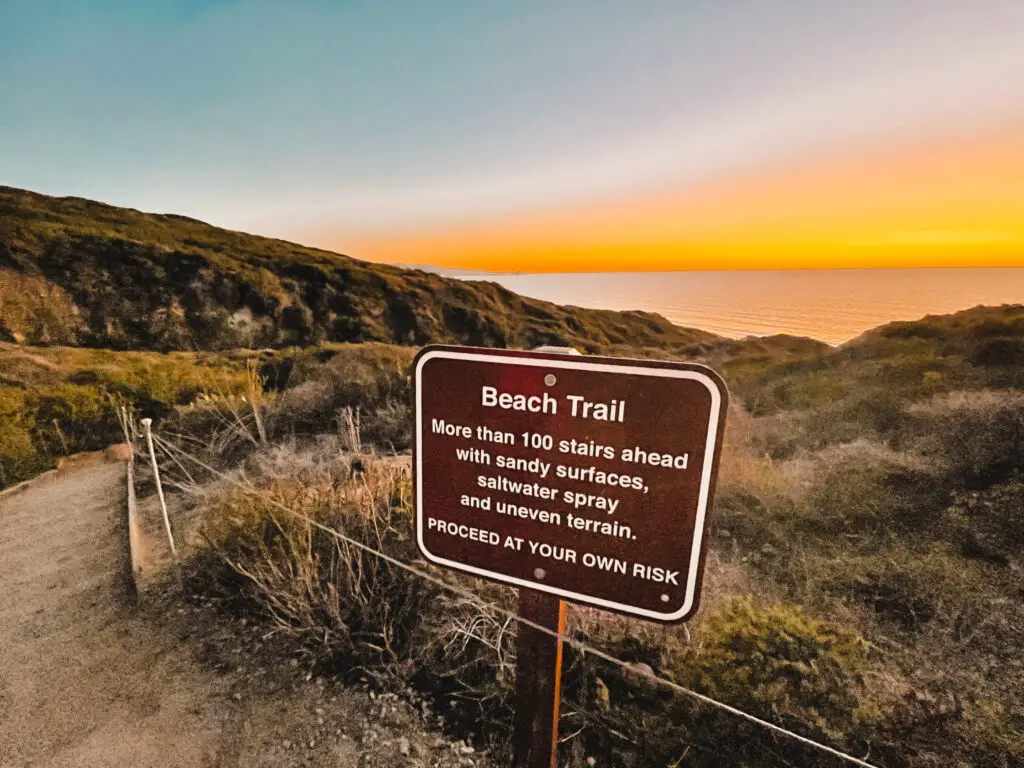 Keep following the path until you reach the stairs. Make your way down the path and you'll soon hit the beach! Walk back to your car along the beach and enjoy the scenery 🙂
There's no shade on this hike. On warm summer days don't forget to pack a hat and some sunscreen.
Pro Tip: Check the tides before hiking Beach Trail. You can only walk along the shore at low tide. If you time it poorly, you'll have to take the long flight of stairs back up and go back to the parking lot the same way you came.
Other Top Hiking Trails in Torrey Pines
Razor Point 
Yucca Point
Trails are very well marked, so you don't need to worry about a map. My 55 year old mom could do this without her GPS, and she uses that for everything! When I have time, I like to do Razor Point and Beach Trail in the same day. Make sure to check Torrey Pines Reserve website for temporary closures due to erosion. Happens more often than you'd think.
Parking Fees
2 Paid lots that costs $15-25. Price varies depending on the day and season. 
Free parking in front of Torrey Pines State Beach. Like most of San Diego, finding free parking is not easy so just be patient (Or skip the hassle and dish out the cash to park in the lot)