Eagle Rock is a great family friendly hike in Warner Springs. With minimal elevation gain, trail markers, views of the mountains, and an awesome rock formation, what's not to love about Eagle Rock hiking trail. Even better, it's part of the historic Pacific Crest Trail. The hiking path that goes all the way from Mexico to Canada. 
Great for all ages, Eagle Rock hiking trail is a well maintained 6.4 mile out and back hike about 1 hr and a half from downtown San Diego and North County. Like the name implies, the hike ends at a ginormous Eagle Rock. Part of the PCT, this hike is dog friendly. 
Related: How to Help Kids Hike Happier
Here are the Deets
Trailhead: Google Maps Link 33.272927, -116.645474
Distance: 6.4 miles
Difficulty: Easy
Est time: 2.5 hours
Family Friendly: Yes
Dog Friendly: Yes
Parking: Side of the main road
Restrooms: none
Eagle Rock hiking trail is a good distance away from central/ downtown San Diego. Although hiking Eagle Rock only takes 2.5 hours, plan for this hike to be a half day trip due to the drive. Eagle Rock hiking trail is rated as an easy trail on AllTrails due to the minimal elevation gain and flat hiking trail. The trail itself
Eagle Rock Trailhead
The Eagle Rock trailhead is located right next to the fire station. Eagle Rock hiking trail starts by passing through a gate. Be sure to lock it properly after you enter. The gates are there to keep cattle from escaping. If you're lucky you might even be able to spot a few on your hike! Eventually, you'll pass through 2 more gates like this. 
What to expect hiking Eagle Rock
The first mile and a half of the Eagle Rock hiking trail goes along a creek with large oak trees providing you with sun coverage. In the summer and late fall, the creek is dried up. It's great scenery nonetheless! Enjoy the shade while it lasts.
Eventually the hiking trail becomes exposed. This part of the hike takes you through flat grasslands with mountains in the distance. It's a whole another scenery from the first part of the hike. During the winter and spring, the grasslands are green and the wildflowers are blooming. Eagle Rock hiking trail is so beautiful in the spring especially.
San Diego is a special place where you get to experience so many different landscapes in the same city. Eagle Rock lives up to that.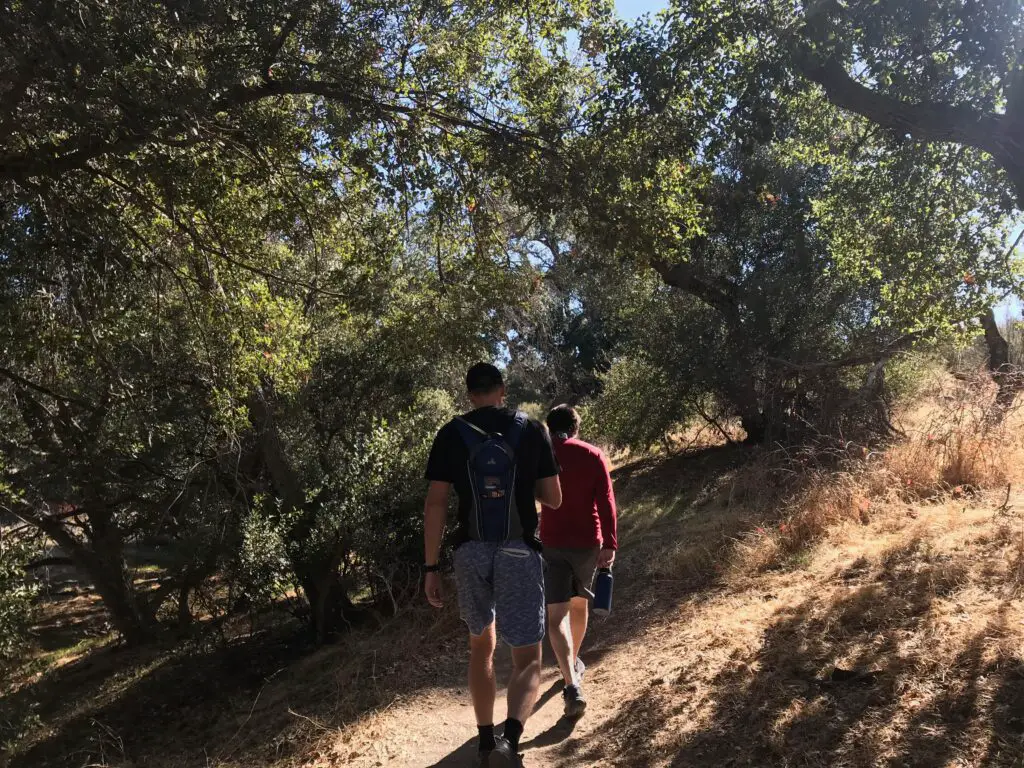 Best Time To Hike Eagle Rock
Best time to do this hike is during the winter months to skip the heat. After some rain, the creek will have some water and in early spring the grasslands will be green with wildflowers blooming. Also in the spring, the rolling hills will be green from the rain. In the summer, these hills are all brown. In the summer this hike can be extremely hot, so start early! 
You'll be able to spot the back of Eagle Rock once you're about 2.75 miles in. Continue to follow the path until you reach the infamous rock. Once you've taken your photos and enjoyed the views, head back the same way you came. 
Why is Eagle Rock so popular?
The obvious reason being to see Eagle Rock! Besides that there's a few more things that make this hike popular:
Easily accessible. You don't need a vehicle with 4WD to hike Eagle Rock. It's a smooth, scenic ride to Eagle Rock trailhead. On busier days the parking may be slim. I always recommend getting an early start while hiking.
Family & dog friendly. Eagle Rock hiking trail has minimal elevation gain. This hike is great for the whole family including fido. For a full list of dog friendly hikes check out this post: Dog Friendly Hikes in San Diego
Partly shaded hike (not the easiest to come by in San Diego). The first bit of this hike is shaded by large oak trees and runs by a small creek. Both the large trees and running water make Eagle Rock all the more scenic.
Great beginner's hike. If you're just getting into hiking, or are tired of the urban hikes in San Diego like Cowles Mountain and Torrey Pines, then Eagle Rock hike might be the next hike for you. Although there's still a decent crowd that comes out for this hike, it's away from the bustling city.  
Part of the PCT. The PCT is such a historic trail. Eagle Rock hiking trail in San Diego is only a small portion but it's fun to say you've walked part of it.
About the PCT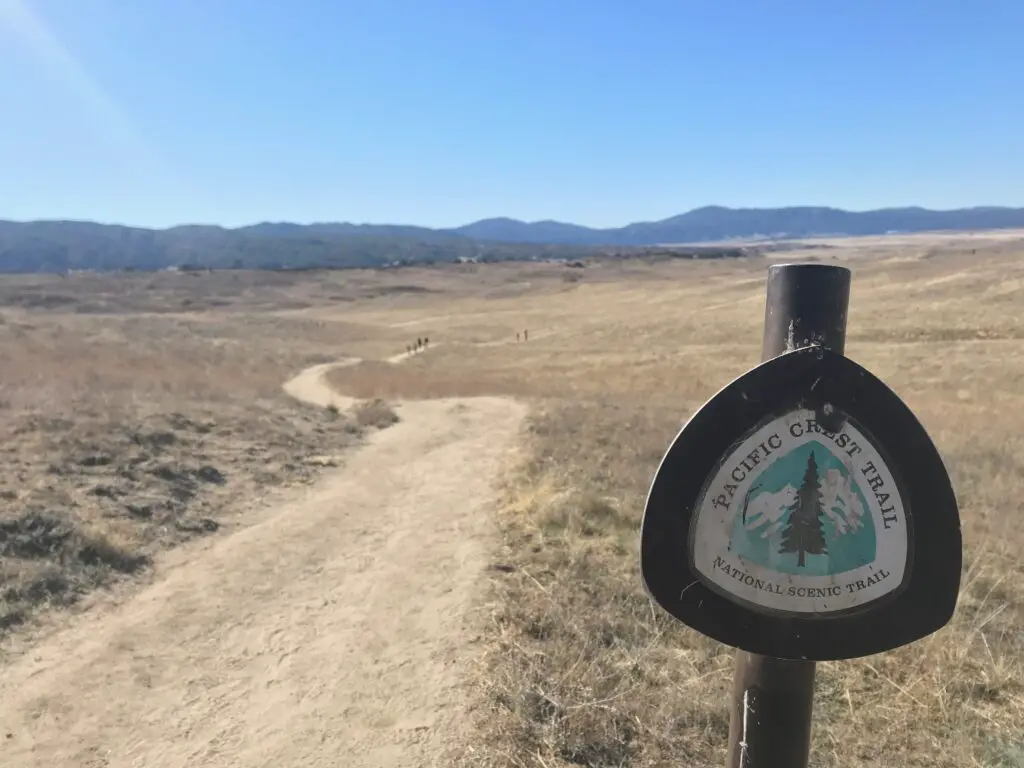 In case you don't know the PCT is a 2,650 mile hiking trail that goes through CA, WA, and OR. It takes about 5 months to complete the entire PCT. People come from all over the US to complete this hike and enjoy the outdoors.
Eagle Rock hiking trail is just 6.4 miles of the PCT. The trail has PCT markers to guide you along the way. Hiking the PCT is always a unique experience. While hiking Eagle Rock, I couldn't help but think about all the people who completed this great accomplishment.
Is Eagle Rock man made?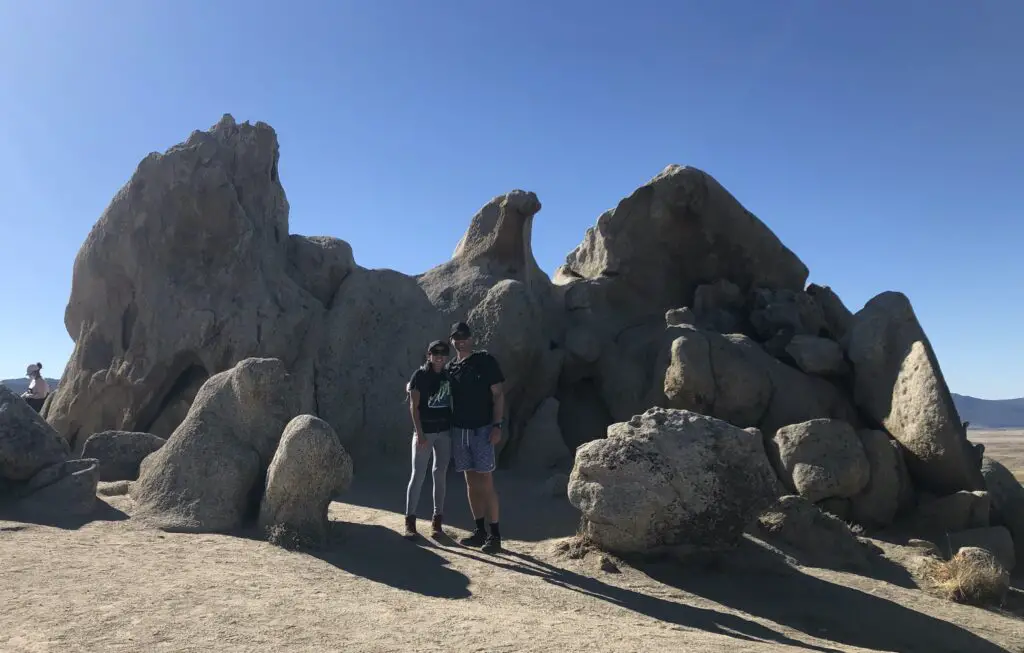 No. According to Hidden San Diego, Eagle Rock is not man made. It's a natural rock formation, and an amazing thing to see. The resemblance to an Eagle is undeniable. It's about 15 feet high, if not taller. On my hike, I saw some younger kids climbing all over the rocks. Although this is tempting, to keep Eagle Rock around for future generations, I highly recommend admiring the rock from afar.  
Post Brews and Burgers
Whether you're coming from north county or downtown, Julian is on the way home. Julian is home to great cideries, wineries, and breweries. Something to drink for everyone. Also famous for their Julian Pie!
If you take a slightly longer route home, passing by Escondido, I highly recommend Stone Brewery. Such great food and beers. Their outdoor seating area is awesome!
Hiking Newsletter
Sign up for my hiking newsletter below. I'll send you info on hiking trails, new blog posts, and any group hikes that I host.