Garnet Peak is a moderate hike located in Cleveland National Forest. The views at the top of Garnet Peak are breathtaking. This hike overlooks Anza Borrego Desert giving you 360 degree views of the desert and the surrounding mountains. 
There are multiple starting points varying in distance. This hiking guide is for Garnet Peak via PCT and Pioneer Mail. I decided to turn this into a camping trip by car camping off Sunrise Highway. Truly an unforgettable sunrise and hike.
Here are the Deets
Trailhead: Google Maps Link
Distance: 3 miles
Difficulty: Moderate
Dog Friendly: Yes
Parking: Dirt Lot
Fees: Adventure Pass Required
Keep in mind, there are multiple starting points for this hike:
Garnet Peak Trail: 2.3 mile hike (Adventure Pass Required)
Garnet Peak via PCT: 4 mile hike (Free)
Garnet Peak via PCT and Pioneer Mail: 3 miles (Adventure Pass Required)
All three hiking paths eventually converge into one trail. No matter where you start, you will end up at the same summit with great views.
Garnet Peak Hiking Fees
Unless you are parking in the Penny Pines lot, then you will need a $5 Adventure Pass. Day passes can be purchased online. Cleveland National Forest has made the Penny Pines parking lot free for visitors.
Both "Garnet Peak Trail" and "Garnet Peak via PCT and Pioneer Mail" require an adventure pass.
Pioneer Mail Trailhead
I initially planned to hike Garnet Peak via PCT. This route is 4 miles round trip. Parking is a small lot called Penny Pines on the side of the main highway (Sunrise Highway).
Instead we did Garnet Peak Trail via Pioneer Mail. We parked in the Pioneer Mail parking lot. Starting here made our hike closer to 6 miles round trip although All Trails has it listed as 3 miles round trip.
I think my phone might have tracked my hike too long, because the reviews on All Trails listed this hike as 3 miles.
What to expect hiking Garnet Peak Trail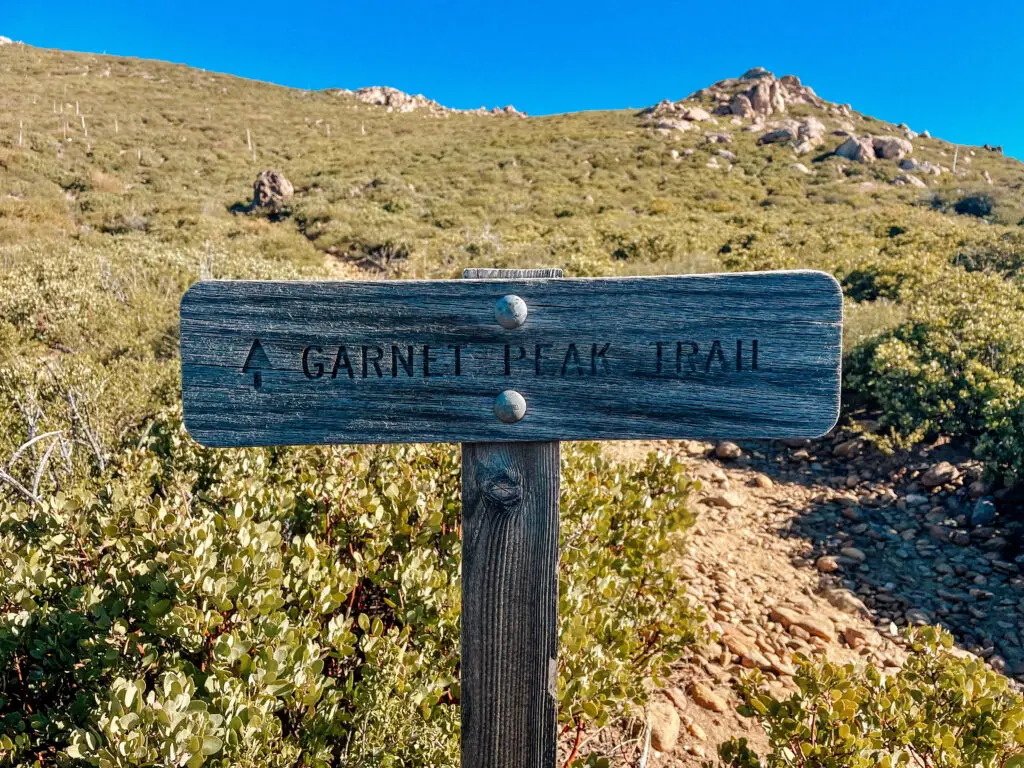 All in all, Garnet Peak Trail is a really straightforward hike. It's an out and back trail. It's really rocky so if you have hiking shoes bring them. At the summit there are bigger rocks/ boulders to maneuver around but very doable.
What I love about hiking Garnet Peak Trail in San Diego besides the views is the fact that it's part of the PCT.  The Pacific Crest Trail is a strenuous hiking path that extends from the Mexico border to the Canadian border. The summit itself is about 1/2 mile off the PCT but majority of the hike is part of this historic trail.
For an easy day hike along the PCT, check out Eagle Rock.
Summiting Garnet Peak Trail
The views at Garnet Peak are stunning. You really do get 360- views. The summit overlooks the Anza Borrego Desert and surrounding areas. You can see the Salton Sea, Cuyamaca Mountains, and other landmarks.
For such a short hike, Garnet Peak in Cleveland National Forest has big rewards. To see desert, forest, and) if you're lucky) the ocean all in one panoramic view is mesmerizing.
The 5,900 ft summit is nothing short of spectacular.
Regardless of the time of year, expect high winds at the summit of Garnet Peak! Hang on to your hat up there.
Hiking Gear Used
Hiking Boots– I always use my Danner Women's Hiking Boots. I was grateful for the extra ankle support on this rocky hiking path.
Osprey Daylite Hiking Pack– This is my go to hiking backpack. It holds my 3 liter water bladder and all my hiking goodies like first aid, snacks, flashlight, etc.
Hat or Beanie- Check the weather and dress accordingly. Plan for a windy summit, even on warmer days.
Trekking poles (optional)- These are helpful to navigate through the rocky sections of the hike but not necessary.
Nearby Camping
Car camping. An awesome and popular spot to car camp is off Kwaaymii Point Road. If you're taking the 8 East, get off on Sunrise Highway, then turn right onto Kwaaymii Point Road. It's a dead end road. You can park anywhere to spend the night. Make sure you have an adventure pass!
Laguna Campground. Campsites start at $28/Night for single unit. Reservations can be made online at recreation.gov
Glamping with Alter Experiences. This company sets up really big glamping sites at Laguna Campground as well. A great option for those who want to experience the outdoors and still have some luxuries from home.
7 Tips for Hiking Garnet Peak
Start early! If you're up for it, I would recommend a sunrise hike. Not only to avoid the crowds but the views at sunrise are awesome. There's a reason why this highway is called Sunrise Highway.
Plan for a windy hike. The summit is completely exposed to the elements, especially wind.
Pack plenty of water. I initially thought I was doing a 3 mile hike from Penny Pines parking lot but ended up tracking closer to 6 miles.
Pack a snack. Keep the hangry away by bringing some food to enjoy at the top.
Think twice before bringing fido. Although this hike is listed as dog friendly please take a look at the weather before bringing your furry friend along. In the summer Cleveland National Forest can get hot!
Plan for no cell service. Remember you're in a National Forest- service isn't a guarantee. Pick which route you want to take and have those directions ready to go before driving up the mountain.
Leave no trace. Pack it in, pack it out! Let's keep this hike beautiful.
Final Thoughts
Garnet Peak trail in San Diego is an awesome hike with great views. Come prepared for a windy summit and a snack to enjoy at the top. Although it's an easy hiking trail to follow, I always recommend having the map downloaded before hand. Service is spotty in Cleveland National Forest.
You can't beat the panoramic views from the summit 5,900 ft in the air.