By: Janice Moskoff, owner of Gather & Go Travel
There's plenty of trails in San Diego, ranging in difficulty and distance. There's something for everyone, including families. Hiking with kids is a major transition, so Janice from Gather and Go Travel has put together this awesome blog for tips on how to keep kids happy while hiking! She's a hiking enthusiast and mother of 4- she knows what she's talking about.
About the Author- Janice Moskoff
Janice has always loved hiking. Together with her husband, they have climbed mountains, camped backcountry, and hiked along the Grand Randonnee routes in Europe.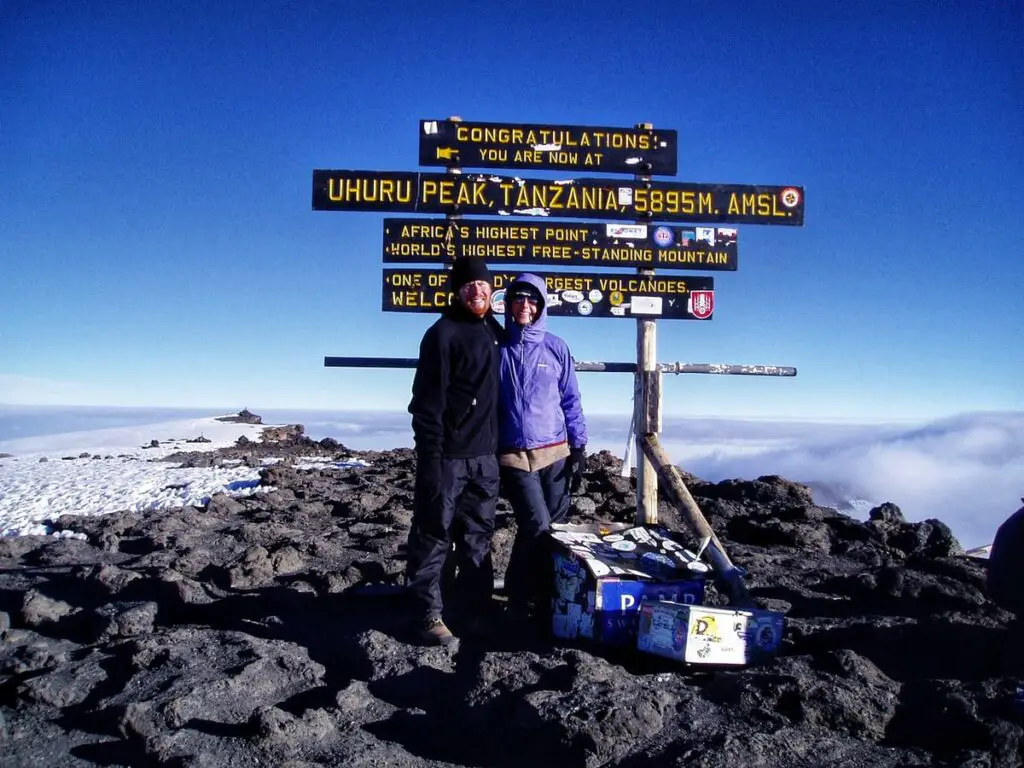 All of this changed, of course, when they had kids. 
For them, switching from independent world-traveling adults to new parents – discovering how to attend to the needs of a baby, was a rough transition. 
However, once they learned the ropes and recovered from the change – it took nearly a full year – they were eager to get back out into the world and onto the trail. 
First, as a family of three, then soon after, as a family of four. And they have been traveling and hiking ever since. Their "babies" are now young-teen and tween-aged. 
Here is what they learned about hiking with kids.
Babies Who Hike (Ages 6 months to 3)
For parents who love to hike, ages six months to three years old is an ideal age. Because if you can buy, or borrow, a kid backpack carrier, you can go anywhere you want for however long you can carry your precious cargo. 
Our children loved being in the carrier – and often fell asleep to the swaying motion of the hiking. And for the times they needed to move around, we took them out for short bursts and then put them back in. We found it was easy to tire them out quickly.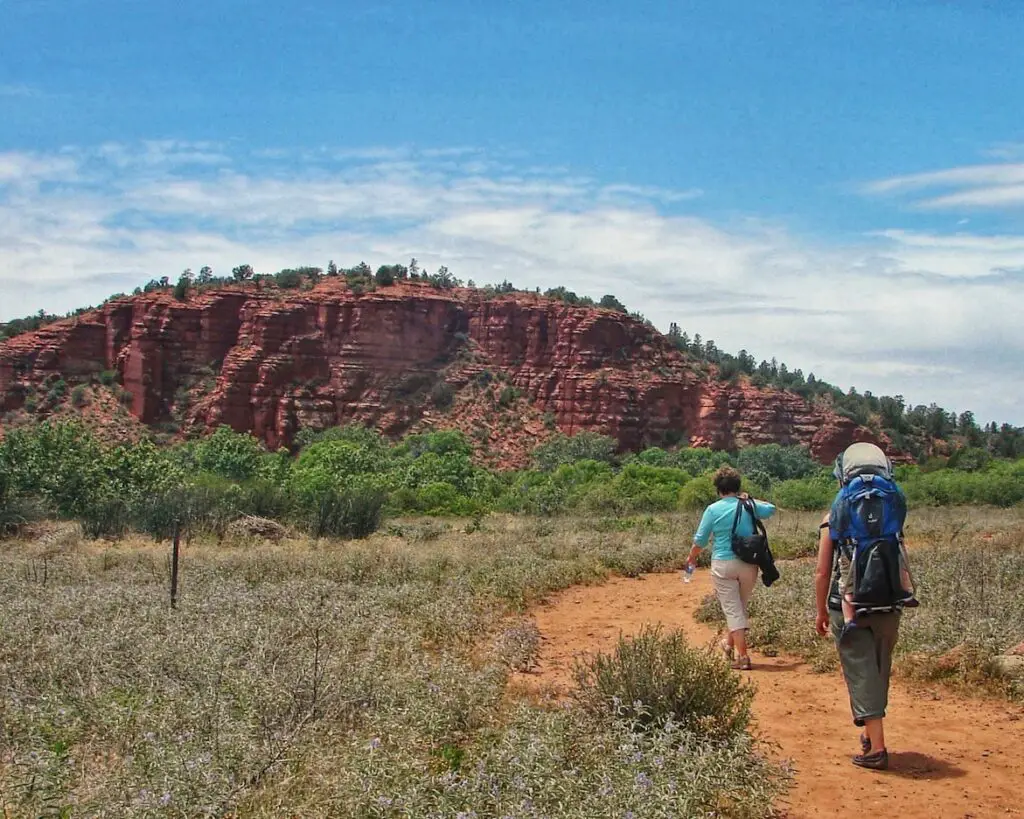 To ensure a smooth carrier hiking experience, bring along favorite soothing items, such as pacifiers, blankets, or favorite toys clipped to a secure attachment. 
Plus, for those little ones who have moved onto finger food, remember to bring along their preferred snacks to eat throughout the hike. Consider upping the ante – and including special-occasion foods that they do not usually get, which will help to make the carrier experience special.
And while thinking about lists of things to bring – remember to bring along trash bags to put diapers in, as well as a change of clothes for the inevitable blowout.
For the best carriers, our preferred brand for years has been Deuter. For those parents who find the price steep, look to pick one up second-hand, typically available from resellers in local parent social media groups. 
Parks Are Best For The Preschool Set (Ages 3 to 6)
The preschool stage is a rough age for parents who love to hike. 
Kids are often too big for the carrier and too little for the long trails. Plus, preschoolers tend to tire out quickly and be prone to complete meltdowns – especially when it's nap time. 
And unless you know you can carry a squirming child back to a trailhead in your arms, you'll rarely want to be too far from a stroller to set them down or a car to drive them home. 
For these reasons, when our kids were this age, we relied on stroller-friendly paved paths, which allowed naps to happen while we were on the go. Since these paths tended to be close to playgrounds – it was a huge plus.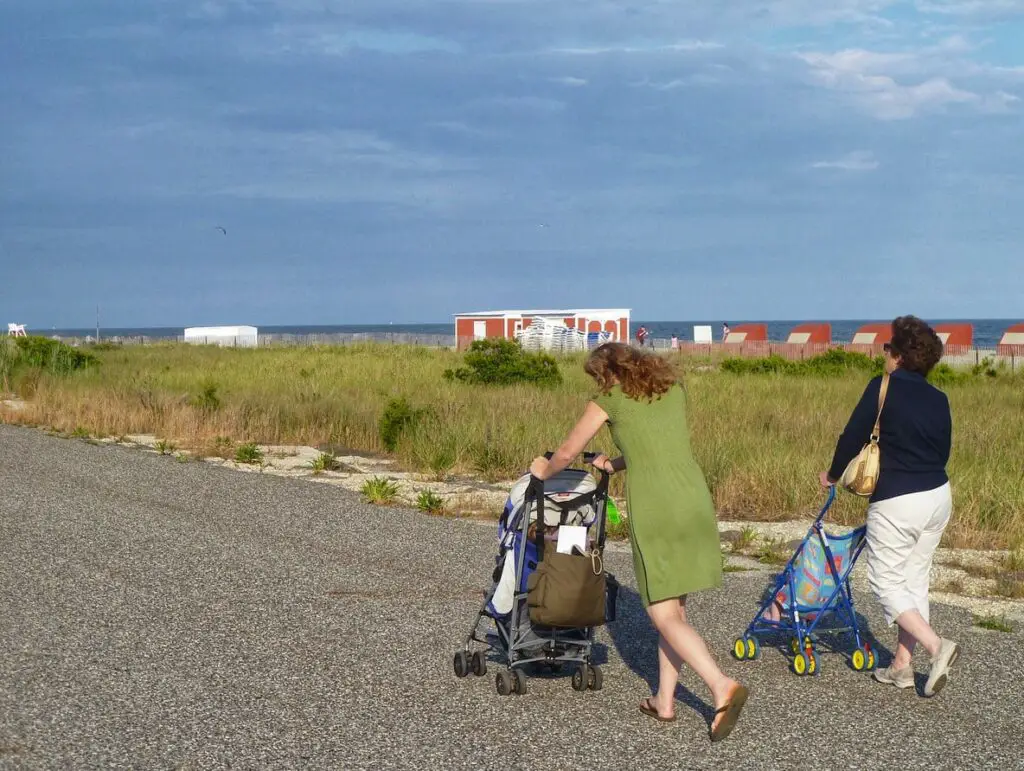 Explore arboretums, city parks, river walks – any place with a paved or well-graded walkway you can push a stroller. These family friendly hiking trails also tend to be close to convenient transportation or parking – and for potty training toddlers – restrooms.
Seventh Heaven: You Are Now Ready To Hike (Ages 7+)
Now that the kids are older, you have more freedom when it comes to hiking.
My tips below are for kids old enough to cover a bit of distance – depending on the child and disposition, usually ages seven and up.
Our Eight Favorite Tips for Hiking with Kids
1. Pick the right hike. My favorite resource for figuring out which trails are family-friendly is AllTrails. You can use the app or the website for free. To use it, search for hikes in your destination, and then use the filter, shown below, to select "kid-friendly" hikes.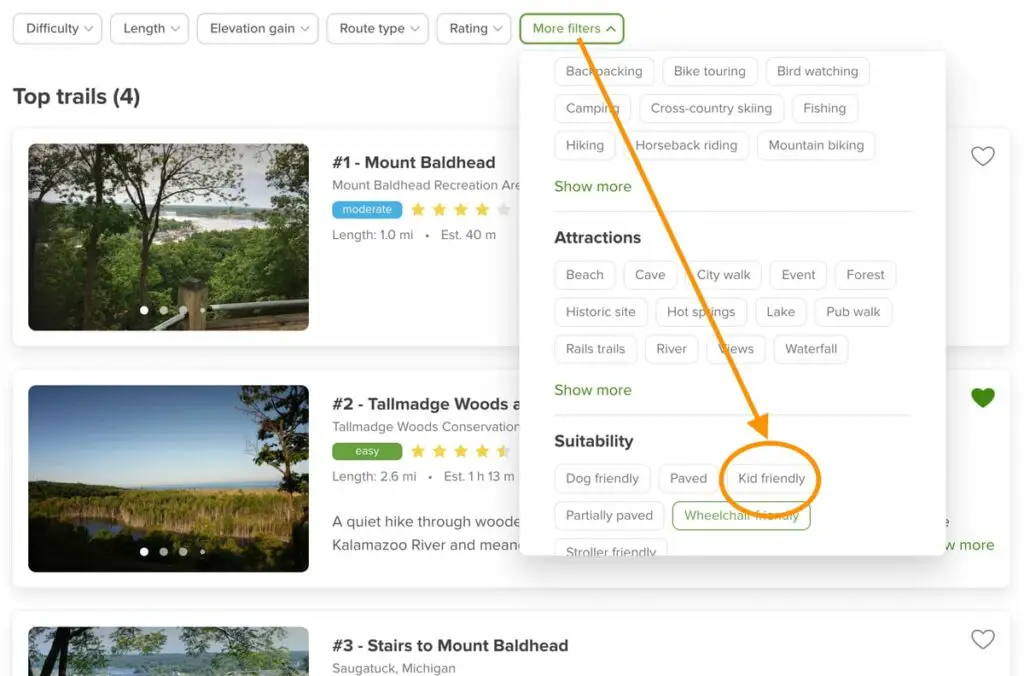 From the list of hikes displayed, choose a trail with the best distance and elevation gain for your crew. 
Ideal trails for kids are loops versus out and back. Loops avoid backtracking familiar territory, allowing kids to explore new areas as they go.
Or look for trails that give kids a chance to safely scramble up and down rocks. Our kids did this on the Skull Rock Nature Trail in Joshua Tree National Park and loved it.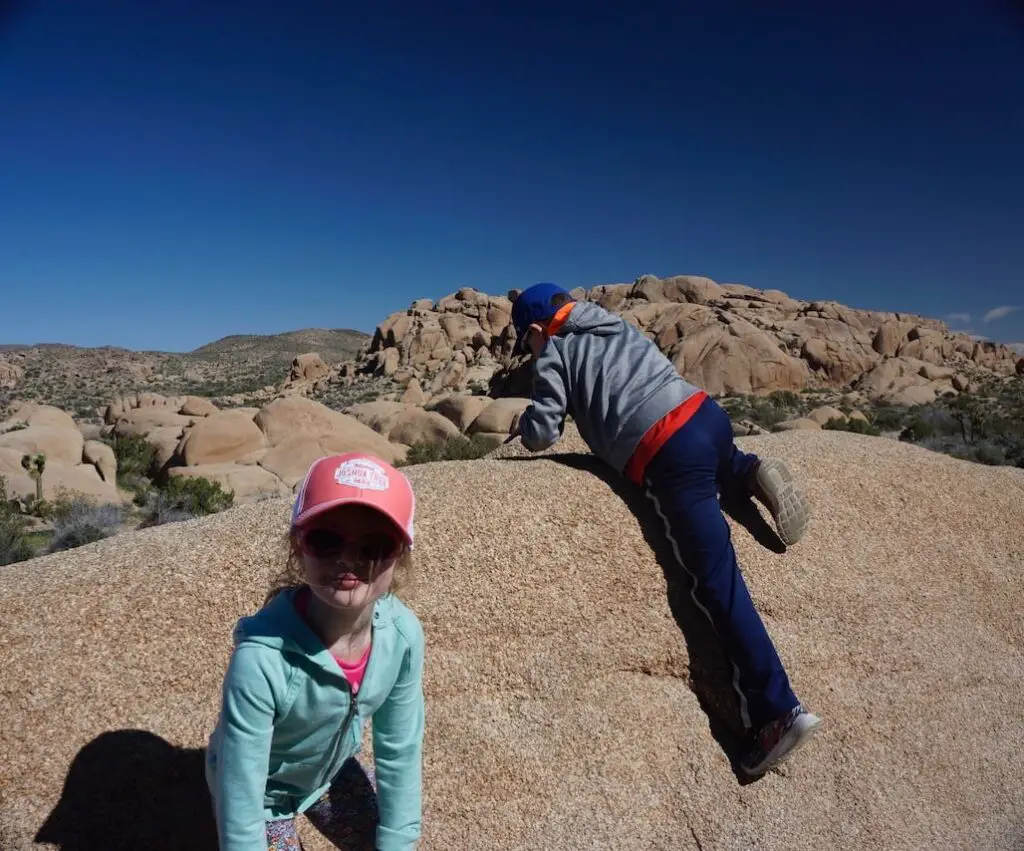 2. Lockdown trail logistics. Do your "trail" homework ahead of time. Knowing what to expect and exactly where to go will help minimize unwelcome surprises and delays, which will also curtail complaining. 
Here's a mini-checklist for what to look into before hiking with kids.
Know where the trailhead is and where to park. If a trailhead looks hard to find, locate the trail start on AllTrails, copy the coordinates, and drop a pin in Google Maps to see how to drive there. Here's my quick Youtube video explaining how to do this. 
Avoid crowded trail times if you can. Read over Alltrails user reviews to see when your trail might get crowded. Waiting for a spot to park your car to get out into nature will guarantee grumbling from the kids, so it is best to avoid the crowds when you can.
Figure out the bathroom and picnic spots ahead of time. Check if there are toilets or picnic tables at the trailhead. Google your trail name to look up details on state park or national park sites to see these details. If there aren't any facilities, adjust your plans as needed.
3. Bring on the games. A great way to occupy kids on hikes is to incorporate mobile games on the trail. 
Our family has loved puzzling out lateral thinking riddles as we hike the trail. Not only does it keep minds engaged (and not complaining), it is a sneaky way to get the kids to think creatively while having fun.
Here's a list of books we've used and loved in the past for these puzzles.
Other fun hiking games include word games, scavenger hunts, and making up song lyrics to songs everyone knows. 
4. School the hikers. For a lot of kids learning while on the trail can be fun too. Invest in a field guide or an app like PictureThis, my personal favorite, to have the family identify flora and fauna as you go. 
Although it only covers vegetation, I love the easy-to-use PictureThis app and use it on all of my hikes. If you've ever wondered – "What is that?" – while you are hiking, you may love it too.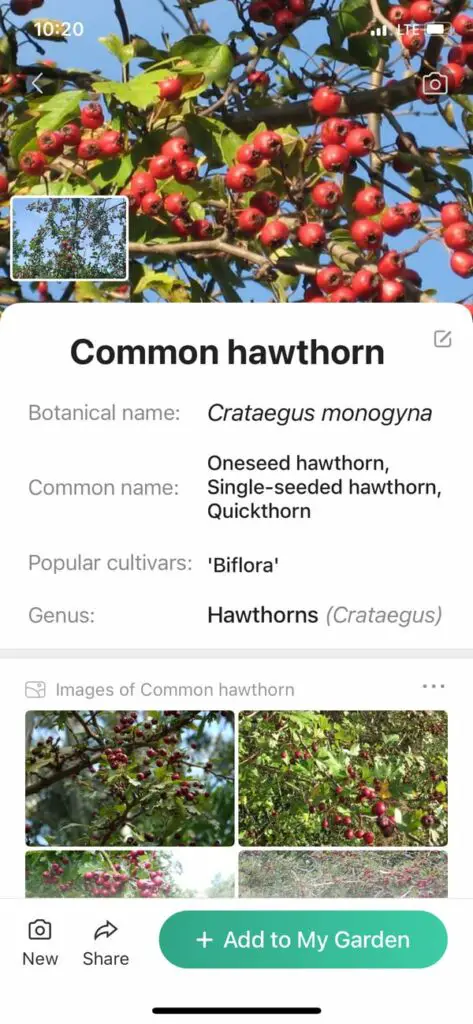 5. Take photos (and video), leave only footprints. A great way to occupy kids on hikes is to encourage them to take photos and videos. For kids not old enough to have a phone, consider buying an inexpensive digital camera for them – often available used – before the hike. 
Then, give the kids ideas ahead of time of things to film or photograph – insects, flowers, water, etc. Consider turning this into a scavenger hunt.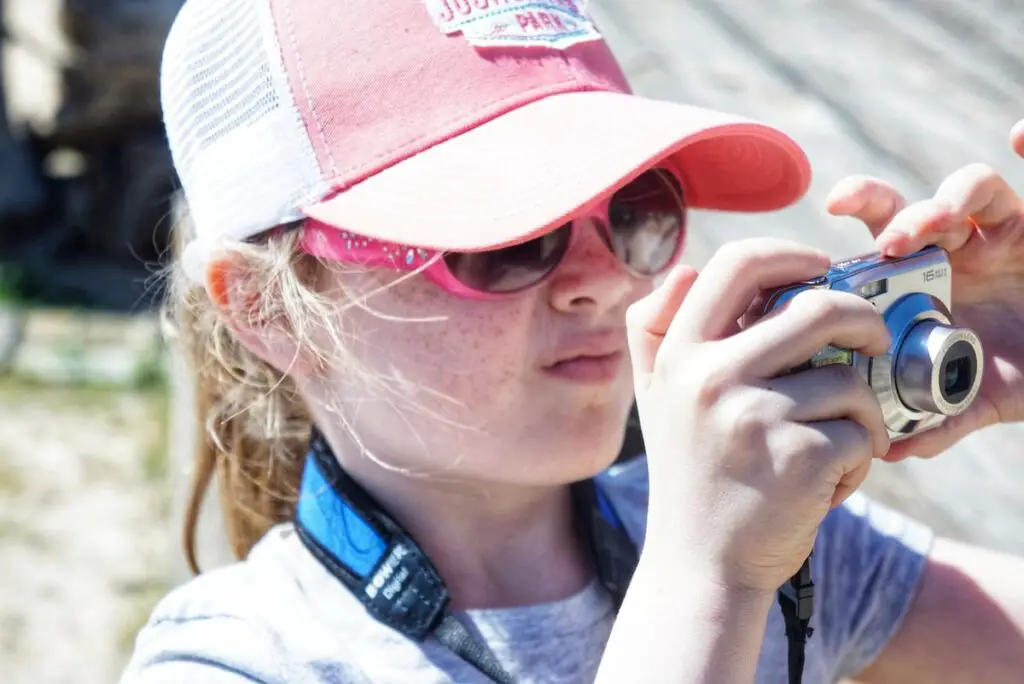 6. Make the food special. We love bringing picnics on our hikes. Before vacation hikes, we go to a local grocery store and have the kids help pick out the food, which is a fun family activity and gives the kids buy-in on the meal choice.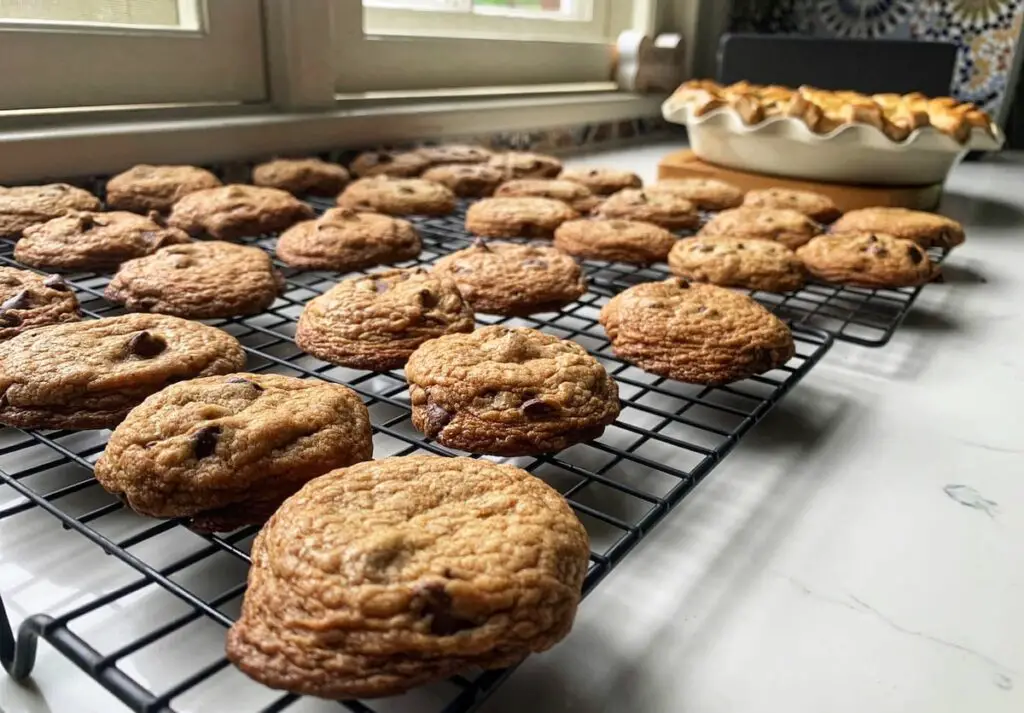 Additionally, if I have my act together before a hiking trip, I make chocolate chip cookies, a family favorite, to eat along the trail. Nothing motivates kids on a hike better than a homemade chocolate chip cookie snack. When I don't have time to make cookies, we let the kids pick out something absurdly sweet at the grocery store – which for our two, usually end up to be mini donut holes. 
7. Have the kids help navigate. One of my kids loves to lead and to know where we are going while we hike. If you have a child like this, involve them with trail navigation. 
Have them help you use the mapping app – if you are using one – or a paper map. Encourage the kids to read the trail signs and pick (with guidance) which paths to follow. 
Kids love being "in charge." It is a fun challenge for them and a good learning opportunity. Plus, it gives them some skin in the game. They go from being a passive participant who may be likely to complain – to an engaged and involved one.
8. Bring the family dog. My ultimate hiking tip for families is to bring along the family dog – if you have one. So many trails are dog-friendly for leashed pups. Look for dog-ok hikes on AllTrails using their search filters.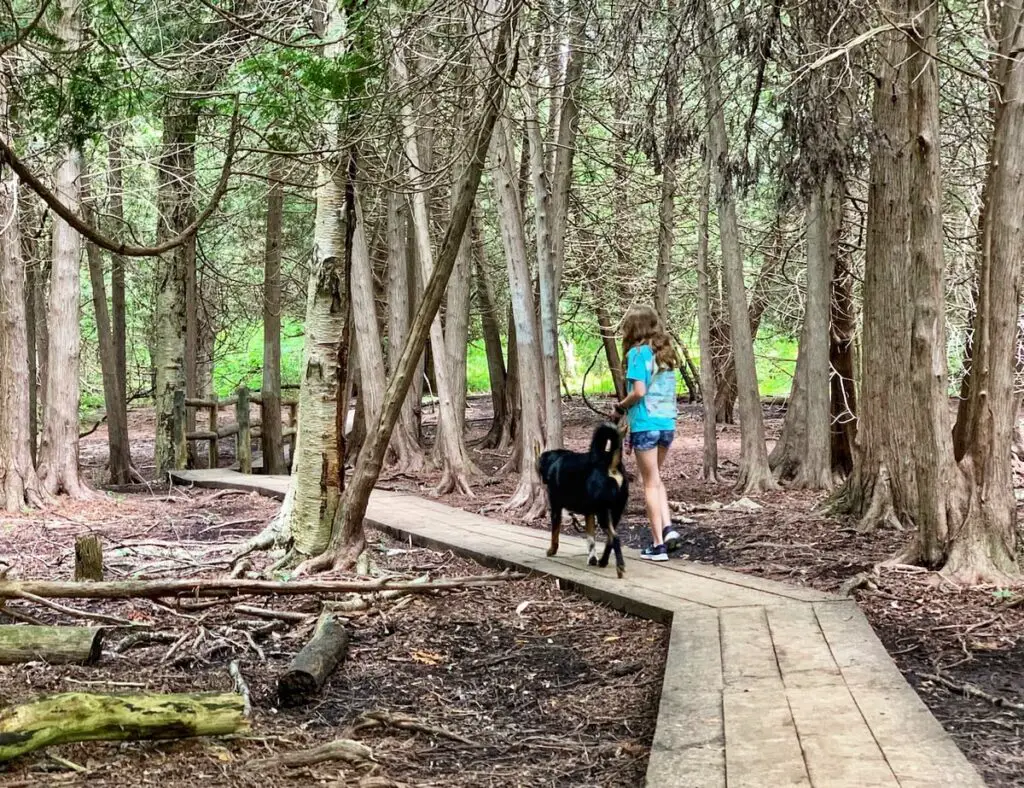 Whenever a kid is in a funk, have them be the one to walk the dog on the trail if they are big enough. Otherwise, have them pet your dog – or walk near him. Your family pup will likely be so happy to be there, that his infectious enthusiasm will rub off on your child. 
Happier Hikers, Guaranteed.
How do I know these hiking tips work? From first-hand experience. Employing the above helped us reduce kid-complaining on the trail and boost enthusiasm.
And my final confirmation? It happened this past summer. 
Both of my kids voluntarily and independently chose hiking as a summer camp elective over many other options. No parent was involved in their decision-making process. 
When I learned that they did this – as a lifelong lover of the outdoors and long trails – I played it cool while doing a celebration dance party in my head. 
I patiently saw through my kids' toughest trail years, eventually turning them into willing hikers. 
Dream achieved.
Check out Gather and Go Travel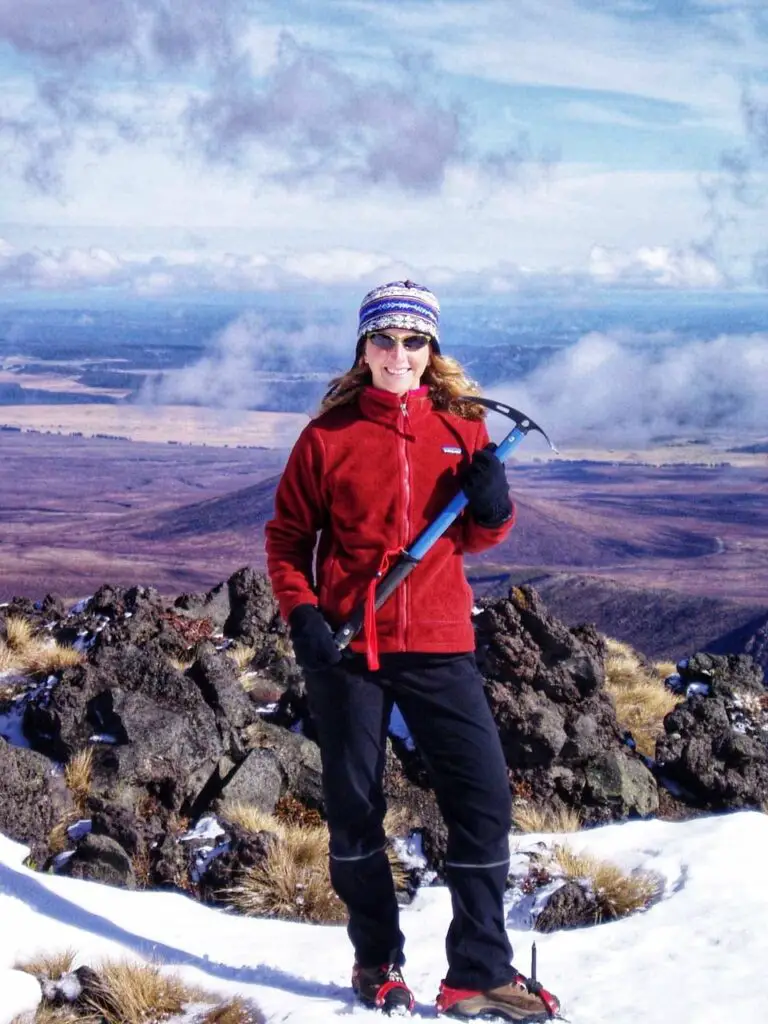 In addition to being a committed enthusiast of the outdoors, Janice Moskoff is a travel writer and founder of the Gather And Go Travel blog. On the blog, she loves to delight, inform, and go deep on all good things related to travel planning, learning, and doing. Find her on her website or all social media channels at @gatherandgotravel, and Twitter at @gatherngotravel.