Lake Calavera hiking trail is a family and dog friendly hike located in Carlsbad. Lake Calavera hiking trail features a diverse landscape including wetlands and rolling hills. The best part is the extinct volcano! This post will go over all the details of this hike including what to expect on the trail, best time to hike Lake Calavera, and tips to help make your hike more enjoyable.
The volcano at Lake Calavera can be hiked. It's extinct so it'll never "erupt." Keep in mind, Lake Calavera hiking trails can be a bit messy to follow. Prior to being a preserve, this area was used by locals for ATV riding and dirt bikes. People made their own paths, until the city of Carlsbad turned the area into a protected preserve. Now the 256 acres are under habitat restoration to bring back Lake Calavera's natural beauty. 
Here Are The Deets
Trailhead: Google Maps Link 
Distance: 1.8 miles
Est Time: 1 hour
Difficulty: Moderate
Parking: Free in a residential area
Dog Friendly: Yes
Family Friendly: Yes
Restrooms: Yes located by the lake
Hiking Lake Calavera reminds me a lot of Mission Trails Regional Park. There are multiple trails to choose from and you can kind of make your own hike. It's family friendly and dog friendly. Don't get me wrong, Mission Trails is drastically bigger than Lake Calavera Preserve by 1,000's of acres but it has that community feel to it. A lot of people come here before or after work to get their exercise in. Lake Calavera is a great urban hike!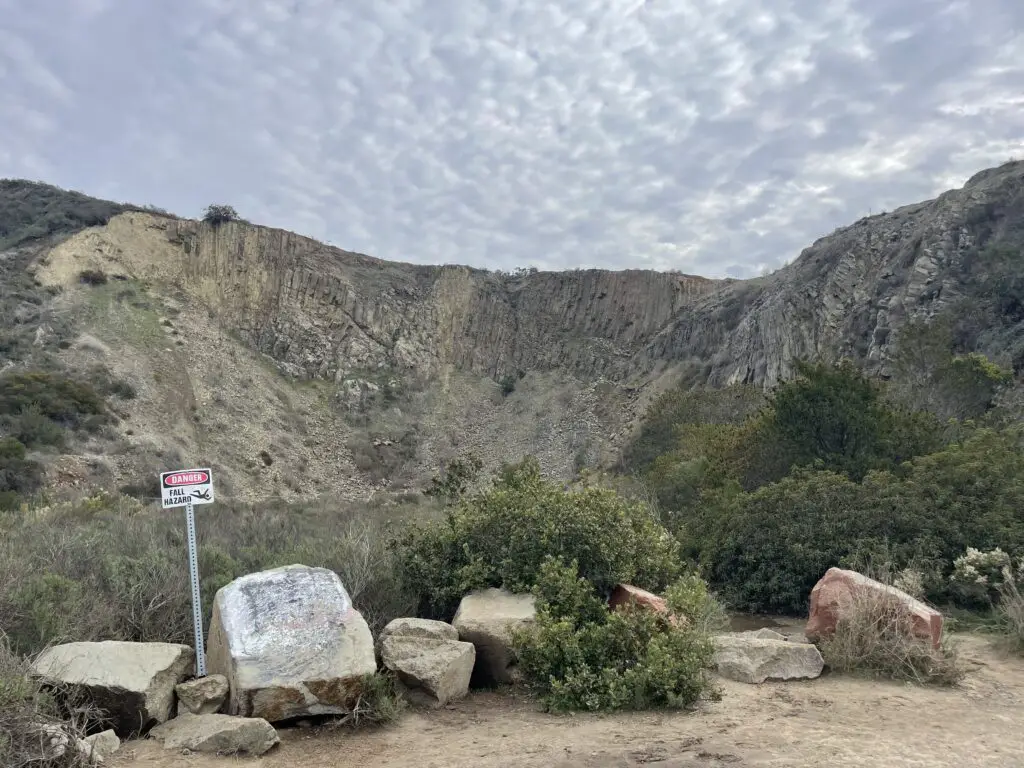 Hiking to the top of Lake Calavera volcano is not part of the 1.8 mile loop. It's a great addition to your hike if you want to work up a sweat and gain some elevation. When you get close to the volcano you'll need to be on the lookout for a hiking path that takes you up. It's really easy to spot, and typically there are other people hiking up the volcano that you can follow. 
What To Expect Hiking Lake Calavera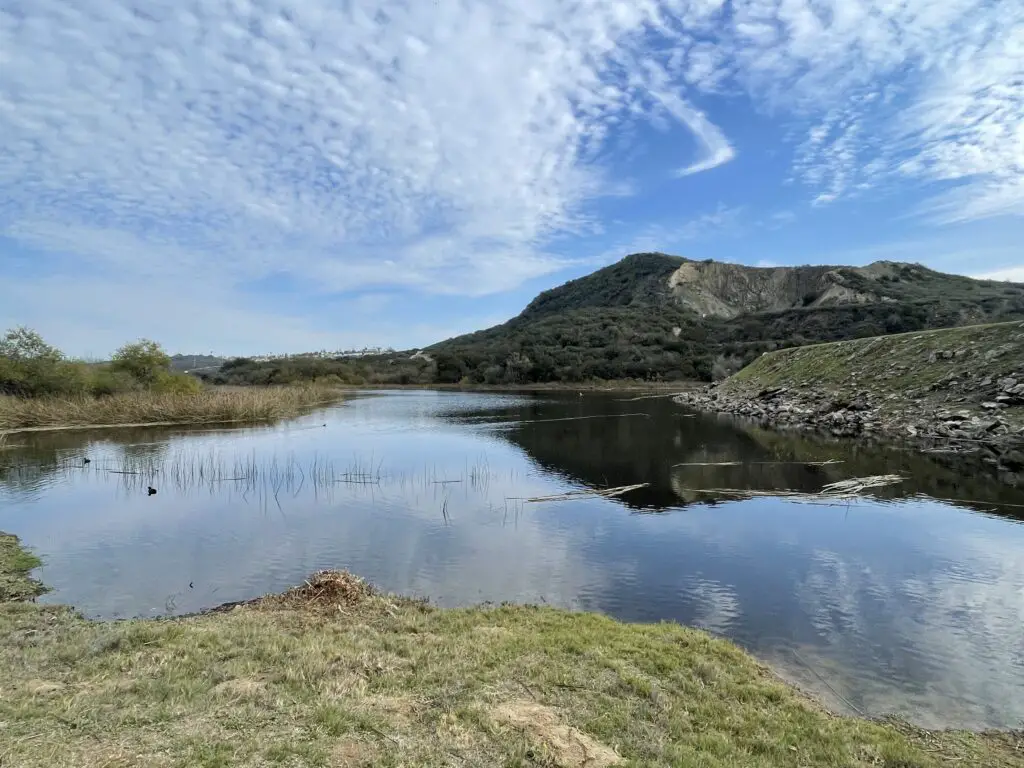 Lake Calavera hiking trail begins in a residential area. Parking is free in the neighborhood. All Trails has mapped out a big loop for you to follow.  You'll start hiking by the lake. Along the way, you'll hear lots of birds and in the spring there are a variety of flowers blooming. It's mainly your typical San Diego coastal shrub. 
The hiking path itself can be rocky in some places. Although it is mostly packed dirt. There are a few places where you need to watch your step because there are ruts in the trail. Lake Calavera hiking trail is not stroller friendly because of these divots but the little ones will have fun walking by the lake and spotting the residential ducks. 
I recommend keeping the All Trails map handy. I had service for the entirety of the trail, making it easy to look at the app when there were forks in the path. It's not the most straightforward hiking trail. Most of the trails do connect so even if you take a wrong turn, it won't be long before you're back on the hiking path. 
If you are looking for a longer hiking trail I highly recommend doing this 4.8 mile loop. This is my preferred hiking trail at Lake Calavera. My dog and I love the rolling hills on the east side of the preserve. It's beautiful to see all the greenery during winter and spring. 
The downside is part of the 4.8 mile loop takes you along some residential houses. It's a very short part of the trail. The barking neighborhood dogs were very excited to see my dog. You can always skip this part of the trail by finding a different path within the preserve to follow.
Is Lake Calavera Hiking Trail Dog Friendly?
Yes, Lake Calavera hiking trail is dog friendly! There are multiple trails throughout the preserve from easy to moderate. You can simply hike until you no longer want to and return the same way you came. There's a hike here for everyone including fido! 
All dogs must be on a leash, and picked up after. For other dog friendly hiking trails in San Diego check out this post: Dog Friendly Hikes in San Diego.
Can you swim at Lake Calavera? 
No, you cannot swim at Lake Calavera. The water in the lake is runoff rain water. Most lakes in San Diego cannot be swam in because they're reservoirs. There are a few exceptions like El Capitan Reservoir and Lake Jennings.
Best Time to Hike Lake Calavera
The best time to hike Lake Calavera is during winter/ spring when the rolling hills are nice and green. Spring is always my favorite time to hike because of the weather and blooming wildflowers. During February you'll find Lake Calavera at its fullest after a decent amount of rain. In the summer, like most San Diego hikes with bodies of water, the lake's water level dwindles. 
I imagine hiking Lake Calavera during summer can be very hot. The trail is completely exposed to the sun, offering no shade. If you are hiking Lake Calavera on a warmer day pack your hat and some sunscreen!
Tips for Hiking Lake Calavera
Plan your route ahead of time. Decide whether you want to try the shorter loop (1.8 miles) or the bigger loop (4.8 miles). Both hiking trails have different starting points. The bigger 4.8 mile loop starts here: Google Maps Link
Keep the map handy. If you want to follow the trail to a T, make sure you have the All Trails map available to help guide you through the different turning points. 
Expect crowds. Lake Calavera hiking trail is very popular for runners, families, and bikers. If you want solitude come early or come during the week. 
Pick up after your dog. Help keep Lake Calavera beautiful by picking up after yourself and your dog. Follow the golden hiking rule- pack it in, pack it out!
Look at the weather forecast. If it's hot, pack a hat and some sunscreen. There's no shade on either hiking trail. If it just rained, Lake Calavera hiking trail gets really muddy. Plan to bring proper hiking boots. Check out my post on Best Hiking Boots under $100.
Final Thoughts
I love hiking Lake Calavera and have no doubt that you and your family will too. It's on the easier side of a moderate hike. There are a lot of trails to choose from if you want to make this a bit more challenging or easier. Some reasons why people love hiking Lake Calavera include the biodiversity, the extinct volcano, the lake of course, and it's a short drive from North County! For these reasons, expect to see lots of people, families, bikers, and a few runners. 
All in all, this is one of the best North County hiking trails in San Diego. 
Hiking Newsletter
You can sign up for my hiking newsletter below. I'll send you info about hiking trails, new blog posts, and any group hikes that I host.