Hiking the Monserate Mountain Trail Loop is a fun challenge. Without construction, Monserate Mountain Trail Loop is a 4 mile hike located in Fallbrook, CA. Monserate Mountain is normally done in a loop but part of this hike is currently closed for construction. For now, Monserate Mountain is a 3.2 mile out and back hike. 
For north county locals, Monserate Mountain Trail Loop is a go to hike. It's dog friendly, easy to get to, well marked, and offers panoramic views of the surrounding mountains. In this guide, you'll find the exact trail head and I'll let you know what to expect on the trail.
Here are the deets
Trailhead: Google Maps Link
Distance: 3.2 mile out and back. The 4.2 mile loop is temporarily closed.
Elevation Gain: 1,490 ft
Difficulty: Moderate
Dog Friendly: Yes
Parking: Free by the trailhead
Est time: 2.5 hours
This is a great hike for beginners looking for something a bit more challenging. The elevation gain makes for a doable, rewarding challenge.
Related: Check out my list of Dog Friendly Hiking Trails in San Diego here.
What to Expect Hiking Monserate Mountain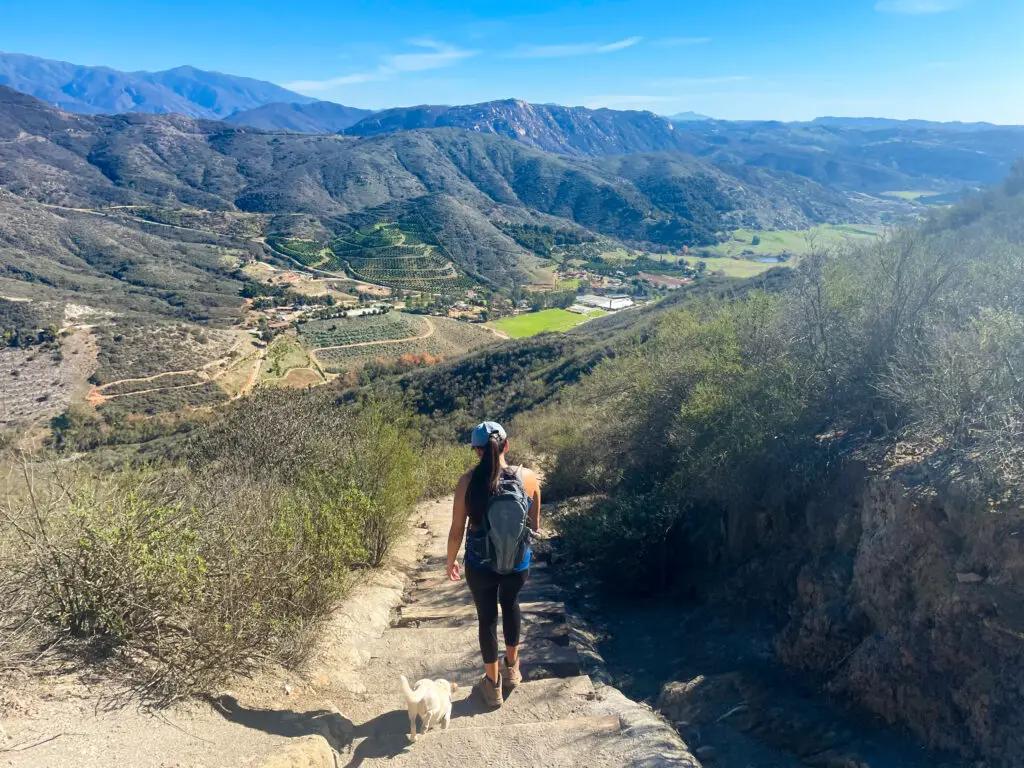 The out and back trail is pretty straightforward. The hiking path is a mix of hard packed dirt and paved road.
Some sections of the trail can get really rocky so I would recommend bringing your hiking shoes to be more comfortable. 
After 0.75 miles you will come to a split in the trail. There will be a small sign/ trail marker telling you which direction to go for the summit. Due to construction, you can only go left to the summit. From here you have a little less than 1 mile to get to the top. 
Although it's only 1.6 miles to the summit, you gain about 1,200 feet in elevation. That's more than Cowles Mountain (950 feet) and similar to Iron Mountain (1,200 feet).
It's important to take breaks as needed and pack enough water. There's an additional 200 feet to climb on the way back for a total ascent of about 1,400 feet. 
Current Construction Closures on Monserate Mountain Trail Loop
On the way up to the summit, you'll see several signs about the trail closure that's currently in effect through Dec 2022. The loop is closed off for construction.
You can still reach Monserate Mountain Summit but you won't be able to do the loop. Instead you'll be hiking Monserate Mountain on an "out and back" trail for a total of 3.2 miles. 
Once construction is done, I highly recommend checking out the loop. You get different views than the way up. You're able to see the surrounding mountains when hiking Monserate Mountain Loop rather than just the 15 freeway.
Monserate Mountain 9/11 Trail Markers
A unique feature of hiking Monserate Mountain are the trail markers. The trail markers are a tribute to 9/11. There are 11 total markers on this hike.
Each one represents 10 stories of the World Trade Center. Every time you pass a marker, it's like you've hiked up 10 stories. 
Best Time to Hike Monserate Mountain
The best time to hike Monserate Mountain Trail Loop is in the fall, winter, or spring. After a good rain the hills are nice and green!
In the summer, any inland hikes like Monserate Mountain get really hot during the day.
If you're planning to hike Monserate Mountain Trail Loop in the summer, come early! You can avoid the heat and the crowds by getting an early start.
As always, check the weather and plan accordingly!
Nearby Eats
The main part of town is about a 15 min drive from the trailhead. A beer and a burger is never a bad idea after a hike.
After hiking Monserate Mountain Trail Loop, you'll work up an appetite. There's different options in town to get some grub from a cafe, deli, Mexican food, and your typical American restaurant. 
On this particular day I was in the mood for a good beer and sandwich so we checked out a restaurant called 127 West Social House. They had a great beer selection with local brews and their Turkey Melt hit the spot. Next time, I'll be ordering one of their pizzas. They looked delicious. 
Recommended Gear List
You don't need a lot of gear when hiking Monserate Mountain Trail. Here's what I brought:
My go to Osprey Hiking Day Pack– it's the perfect size for my day hikes. It holds my 3 liter bladder with plenty of room for my dog's bowl and snacks. 
Hiking Shoes- recommended but not required. Proper hiking shoes would make the rocky sections of this hike a lot more comfortable. These are my Danner Hiking Boots that I use for most hikes.
Hiking Poles (optional)- Hiking up 1,490 feet is tough and so is coming down. If you'd like the extra support or are recovering from an injury I would recommend hiking poles to help stabilize you when hiking downhill.
Summary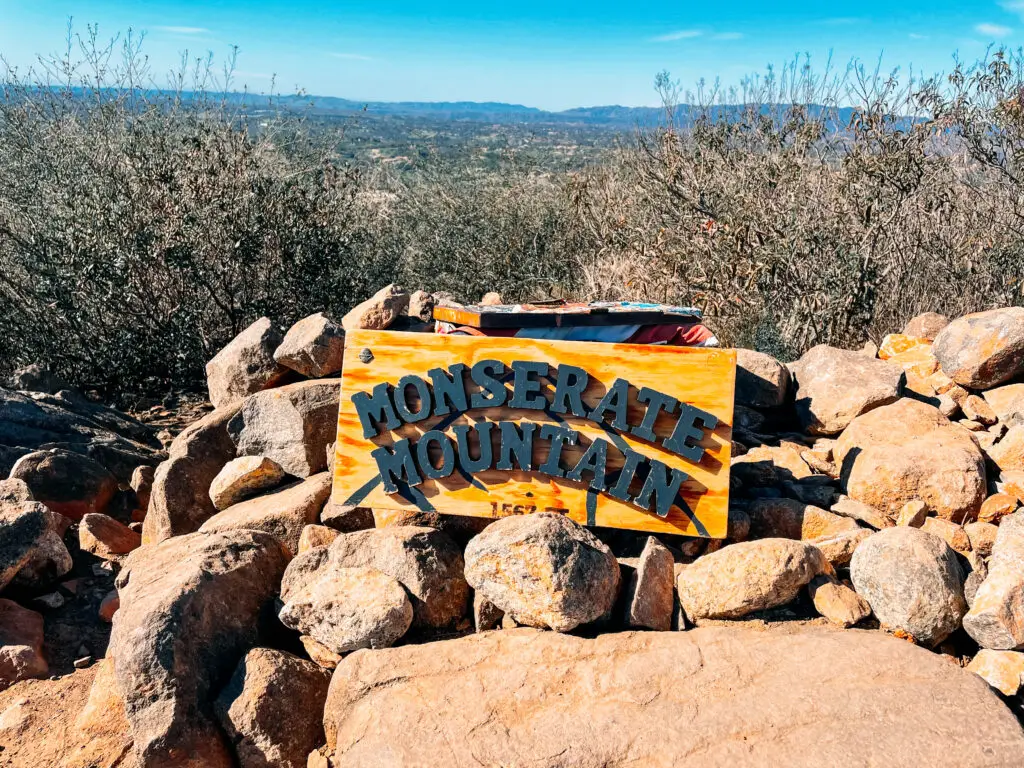 Hiking Monserate Mountain Trail Loop is a fun challenge. Although it didn't make my "top hikes in San Diego" list, it's still a rewarding hike.
The views at the top are great, and I love that I'm able to bring my dog.
On the downside, it's a very popular hike in North County San Diego. There's a lot of foot traffic and there was too much litter on this hike for me to enjoy.
The other con was how close the hike was to the 15 freeway. You can hear the highway the majority of the hike. Regardless, it's never a bad day to be outside.
Like most popular hikes in San Diego, the best way to beat the crowds is to come early. I would still like to come back and hike Monserate Mountain Trail Loop at sunset. The pictures at the summit look awesome!