South Clevenger Canyon is a great hike away from the city. At 4 miles roundtrip, it makes for a good challenge with rewarding views. And it's dog friendly! 
South Clevenger Canyon hiking trail is a fun adventure. This hiking trail is known for the 2 lawn chairs that have been cemented into a boulder. Take a seat and enjoy the view overlooking the canyon!
In this guide, I'll go over the specific details (location/ parking), what to expect on the trail, and the hiking gear I used when I completed this hike. Hopefully this helps you plan your next hiking adventure.  
Here are the deets
Trailhead: Google Maps Link
Distance: 4 miles
Difficulty: Moderate
Dog Friendly: Yes
Fees: None
Parking: Gravel lot
South Clevenger Canyon is an easy hike to get to. It makes for a nice half day hike. I went early on a Saturday morning during the winter and it was surprisingly pretty breezy.
Check out this post for a list of other Dog Friendly Hikes in San Diego.
What to Expect Hiking South Clevenger Canyon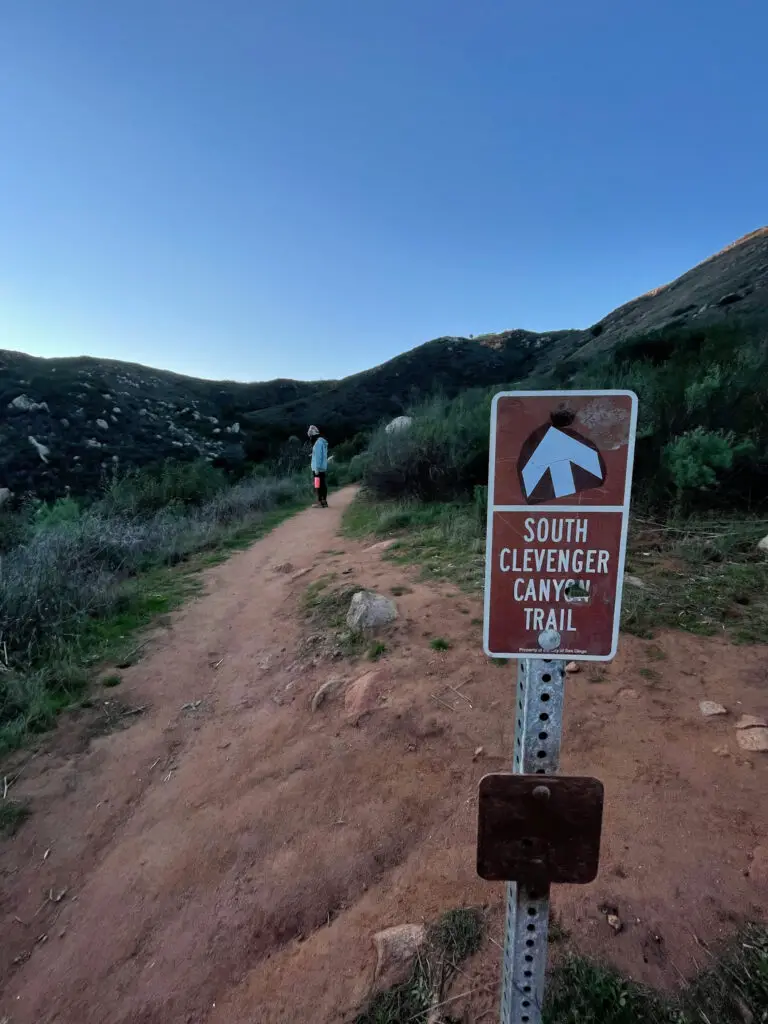 The trail is pretty straight forward. It's an out and back hiking path for a total of 4 miles. After parking in the dirt lot, you'll pass through a gate and start making your way up.
The hiking path is packed dirt and it's fairly easy to hike. The incline on the way up is gradual but take your time and take breaks as needed. Some sections have a bit of rocks on the path. All in all, it's very doable. 
I loved hiking in this canyon because of the views and solidarity. We only saw one other person on the trail while we were hiking early Saturday morning. I imagine this trail gets pretty crowded later in the day though. 
There are trail markers to guide you along the way but I would always suggest keeping a map on you anyways. We actually hiked past the chairs without even realizing. The chairs are before the summit.
Best Time to Hike South Clevenger Canyon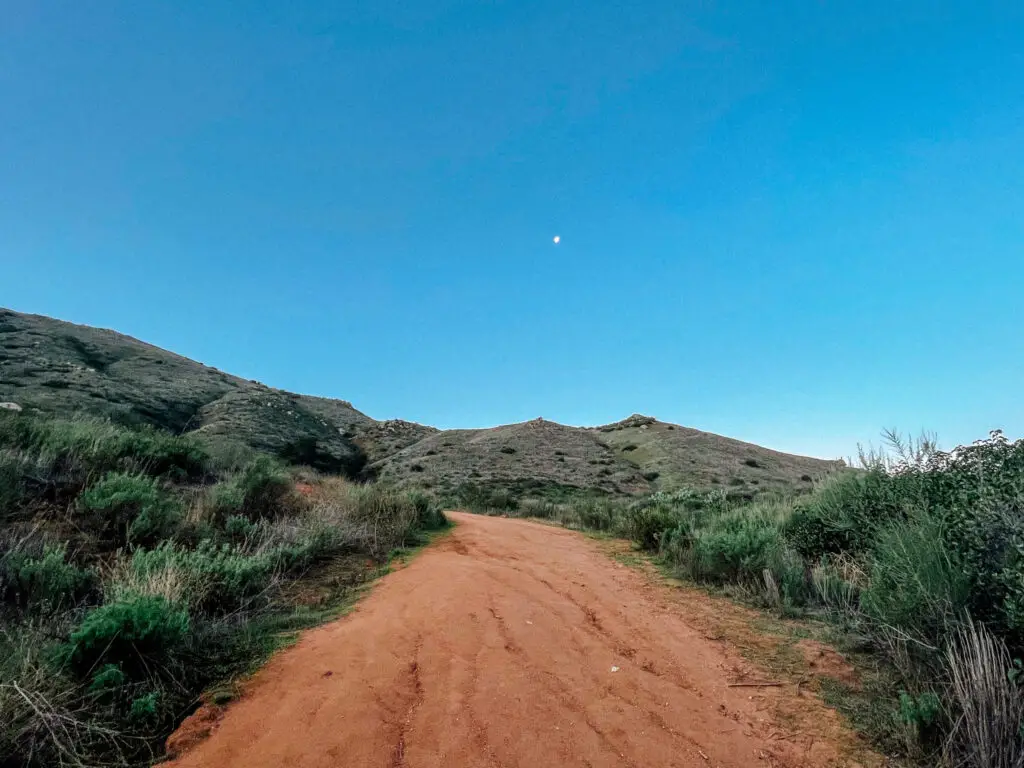 South Clevenger Canyon is best during the winter/ spring when the hills nearby are nice and green. 
During the summer, this area gets very hot. As always, check the weather before hiking. 
If weather permits, I highly suggest hiking South Clevenger Canyon closer to sunset. The chairs face west so I can only imagine what a sunset here would look like. 
I did this hike at sunrise which was awesome, and the temperatures were cooler. I definitely want to come back and catch a sunrise from those chairs. 
South Clevenger Canyon Chairs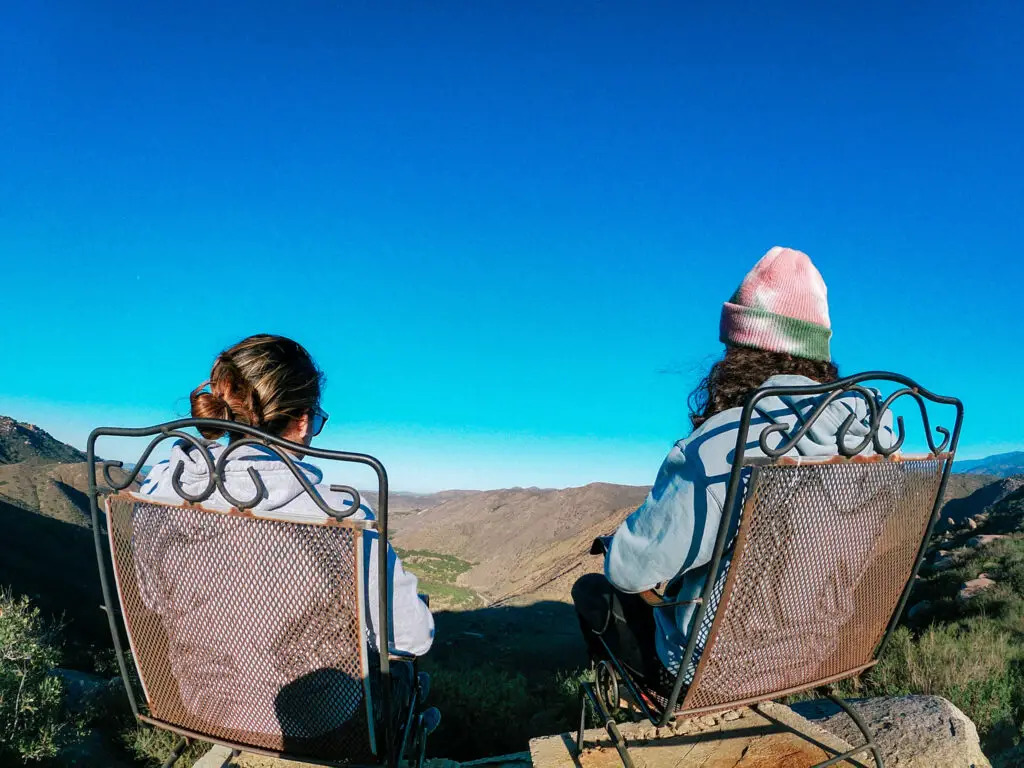 The chairs at the summit of South Clevenger Canyon add a fun little photo op to the hike. The summit itself is actually a bit past the chairs. The views overlooking the canyon and hills are awesome. 
The chairs are cemented into a boulder and there's a rope to help yourself up. I have no idea who put the chairs there. So sit at your own risk. I didn't know this but the chairs rock. It's unnerving at first, but a few minutes in I felt more comfortable.  
We started hiking South Clevenger Canyon at about 7am and we had the chairs to ourselves for about 25 minutes before the next group came up. Starting early definitely has its perks! 
Hiking Gear Used
Here's a list of the hiking gear I used for South Clevenger Canyon:
Osprey Hiking Day Pack– This pack is the perfect size for my day hikes. It holds my 3 liter bladder with plenty of room for my dog's water and snacks. 
Hiking Shoes- recommended but not required. I use my Danner Hiking Boots on most hikes. My friends did well with their workout shoes though. 
Hiking Poles (optional)- If you'd like the extra support or are recovering from an injury I would recommend hiking poles to help stabilize you when hiking downhill from the summit.
Tips for Hiking South Clevenger Canyon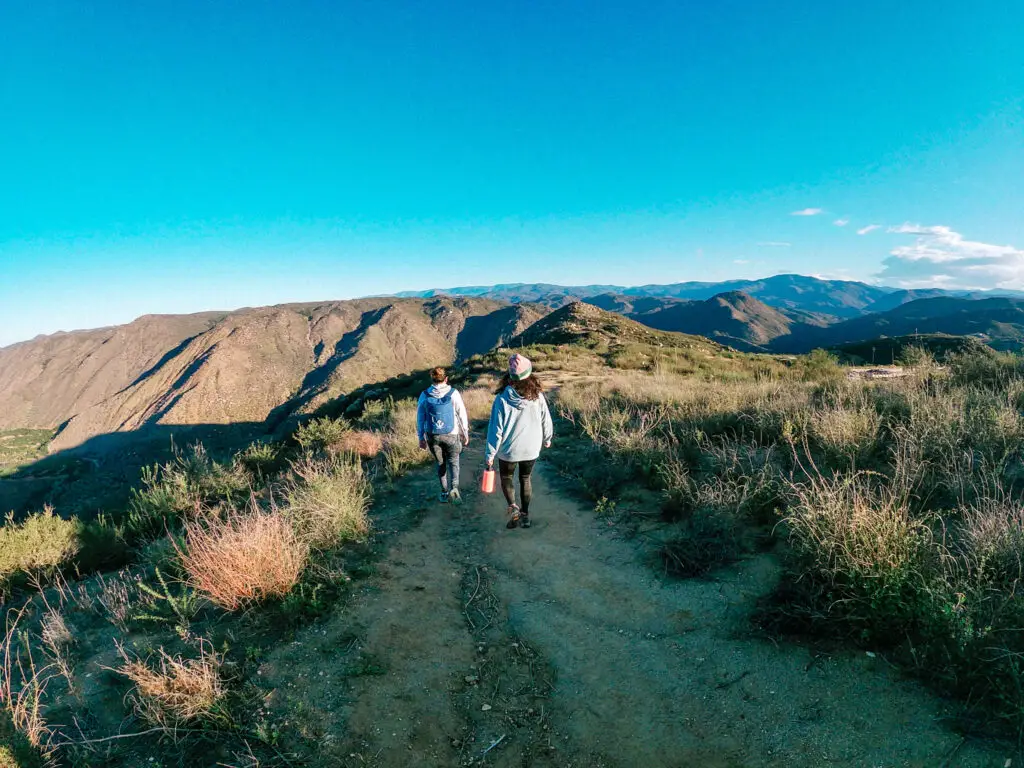 Check the weather. During the winter/spring this is a nice, cool hike. During the summer/ early fall it can get hot. Dress accordingly!
Pack a hat/ beanie depending on the time and season you go. Early morning there's some shade, but very little. If your hiking on a warmer day expect a lot of sun and a lot of wind at the top!
Expect crowds on the weekend. This hike can get busy. 
Plan for no cell service. I had service but I'm not sure if that's the case for everyone. You're a bit remote being in a canyon, but you're not too far from Fallbrook. 
Final Thoughts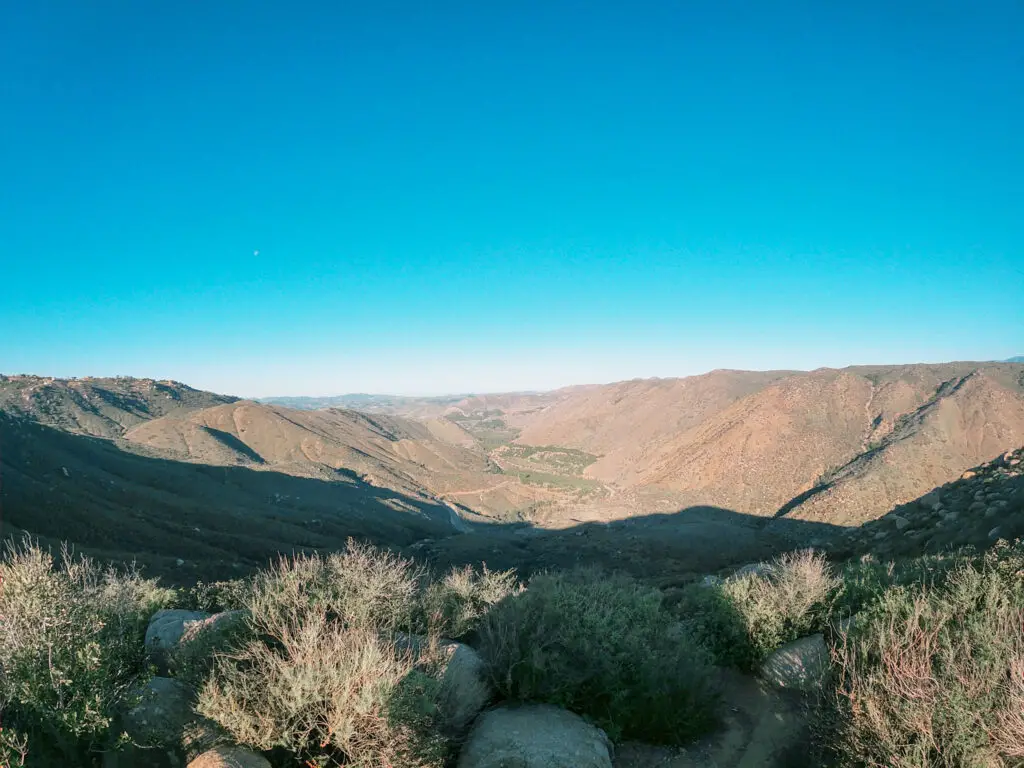 South Clevenger Canyon is a great hike away from the city. The canyon has some great views and the chairs are fun. It's dog friendly so bonus point there! My 15 pound beagle mix did well on this hike.
The hike itself is well maintained and has trail markers to help you along the way. 
The distance (4 miles) and incline make for a nice challenge. Check the weather, pack extra water, and as always pack it in, pack it out. 
Don't Take This For Granite
Sign up for my hiking newsletter below. I'll send you info about hiking trails, new blog posts, and any group hikes that I host.