Is Mother Miguel hiking trail open? YES, from sunrise to sunset. After seeing so many hikers post their infamous Rock House photo, I decided it was time to check out the Mother Miguel hiking trail for myself. I was not disappointed! The views were awesome. If you can hike Cowles, you can hike Mother Miguel.   
Located in Chula Vista, Mother Miguel hiking trail is great for beginners looking for a challenge. This hike is dog friendly and family friendly (for older ones). It offers great views of Sweetwater Reservoir, downtown San Diego, the Pacific Ocean, and San Miguel mountains.
Here are the deets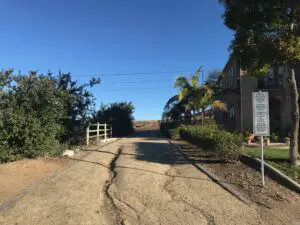 Trailhead: 32.671870 -116.972070
Distance: 4 miles (All Trails Map takes you past the summit adding an extra .4 miles- optional)
Difficulty: easy to moderate
Dog friendly: yes, bring fido!
Parking: in the neighborhood and nearby park
Mother Miguel hiking trail starts at the end of a cul-de-sac. The trailhead is next to a home in a residential area. Be respectful of the neighborhood and always remember-pack it in, pack it out! Once you pass the house, you'll come across a split in the trail. There are multiple ways to get to Mother Miguel summit. I opted to follow the All Trails map and went right.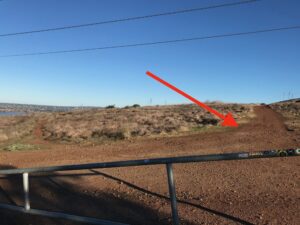 Mother Miguel hiking trail is well maintained and well-marked. There are trail marker signs that make it easy to follow. The hike starts to incline pretty quickly with some switchbacks. This hiking trail is also shared with mountain bikers, so be on the lookout and remember the person going up has the right of way.
*A note if you're planning to hike with your family: I don't have little ones of my own, but as a teacher and an aunt I have a lot of experience with kids. I always make sure to see how families do on the trail so I can report back to you. The older kids (about 10+) and teenagers I saw hiking Mother Miguel did great! I noticed the younger ones not so much. I didn't see many younger kids on this hike- the one that I did see was being carried out. This hike is not stroller friendly by any means.
About Mother Miguel/ Rock House
Mother Miguel is also known as the "Rock House" because of the pile of rocks at the top of the summit. Typically, the American and POW/MIA flag are waving proudly from the summit. Great photo opp! But when I recently went on January 30th, the flags were missing. The views were still great! When I return, I hope the flags have been replaced. To whomever replaces the flags- THANK YOU.
Mother Miguel Summit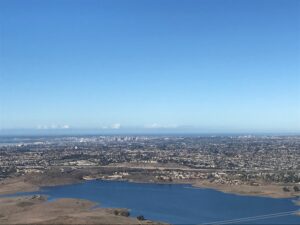 The summit sits at 1,527 feet, offering amazing panoramic views. From the top of Mother Miguel, you'll see Sweetwater Reservoir. I was lucky enough to have clear blue skies and could see downtown and the Pacific Ocean from the summit! I can only imagine how beautiful the sunset is from the top of Mother Miguel. If you're doing a sunset hike, don't forget your headlamp! It's so much better than your phone flashlight. Click here to see the one that I personally use.
The summit is a great place to catch your breath while appreciating the views. When you're ready, you'll head back the same way you came.
An alternate hiking trail up Mother Miguel starts at Sweetwater Reservoir. For those looking for a less crowded hiking trail to Mother Miguel this is a great choice! This hiking trail is longer with a total distance of 5.6 miles.
Tips on hiking Mother Miguel
After hiking Mother Miguel myself, I put together a few tips to help other hikers enjoy their hike even more:
Bring a hat– there's no shade
Come early to avoid crowds and the heat. Mother Miguel is a very popular hike in Chula Vista.
Trekking poles would be useful but not necessary. I did fine without.  Near the summit the hiking trail gets rocky but nothing crazy.
Hiking Etiquette 101– wear headphones if you want to listen to music. I passed one too many hikers blasting their music on speaker for the whole mountain to hear. I promise- you are the only one who wants to hear your music on a hiking trail
Always remember pack it in, pack it out! Let's keep Mother Miguel beautiful. Pick up after yourself and your pet.
Post Hike Brews
Novo Brazil Brewing is just 5 minutes away from the trailhead. After hiking Mother Miguel, I highly recommend checking out this brewery to reward yourself. They are local to San Diego– started brewing in 2015. They have unique flavors and even offer hard kombucha! My all time favorite beers that you can find in stores are
The Mango Beer
Baby Mango
Super tasty! Check out their website and give em a call to see what their COVID precautions are before heading in.
Other Hiking Trails in Chula Vista
Researching hiking trails in Chula Vista, I came across many beginner trails. Which is awesome if you're just starting out! Sweetwater Reservoir is one of those beginner hiking/ walking trails. They have an out and back trail that takes you along the reservoir. Click here to see a map.
Some facts about Sweetwater Reservoir:
Sweetwater Dam was completed in 1888
The reservoir can hold up to 28,079 acre feet of water
This is enough water to serve about 56,000 families in the city of Bonita for about a year
If you're looking for something more challenging, I recommend Dictionary Hill. It's on the shorter side of about 2.2 miles. But a leg burner nonetheless. Great option for an after-work hike.
Hiking Gear Used
I packed my Osprey Day Pack for hiking Mother Miguel. I use this daypack for all of my hikes. Just the right amount of pockets for what I need and it includes a separate area for a hydration pack.
On almost every hike, I'm using my Danner hiking boots. The only time I don't use these is when the hike is paved. They provide a lot of support and are waterproof. Nothing I hate more than wet socks on a hike.
Quite a few hikers were using trekking poles to help navigate the rocky parts of this hiking trail. I did fine without, but if you have them might as well bring them.
Click here to see my full list of Beginning Hiking Gear.