What is the 5 Peak Challenge? If you just moved to San Diego, one of the first hikes you'll probably do is Cowles Mountain. It's a great first hike if you're new to the area. It's part of Mission Trails Regional Park. The park itself is only 20 minutes from downtown San Diego. But there's so many more hiking trails in this park besides Cowles Mountain. 
The 5 Peak Challenge is a hiking challenge that was started by Mission Trails Regional Park. The purpose of it was to encourage hikers to explore other hiking trails besides the popular Cowles Mountain. That's only one of 5 peaks in the park. The other 4 peaks are Pyles Peak, North Fortuna, South Fortuna, and Kwaay Paay Peak. 
They vary in length and difficulty but all hikes will take you to a 1,000 ft + summit. The park used to hand out pins to every hiker that completed the challenge. Hiker #15,0000 was the last to receive a pin. Once the visitor center re-opens, the park plans on selling 5 Peak Challenge t-shirts. Can't wait to get mine!
It's a fun challenge and a great excuse to put your hiking shoes on and get outside! Your couch will always be there. 
It's up to you how you want to complete each of the 5 peaks. Some people do one peak at a time, and others combine 2 peaks in a day. Extreme hikers up for the challenge, do all 5 peaks in one day! Then I imagine they spend the next day recovering on the couch! I personally opted for combining 2 peaks in a day and completing the challenge over 3 different days, totaling 16 miles. 
Why is Cowles Mountain so popular? 
Cowles Mountain is the highest point in the city of San Diego. The summit sits at 1,592 ft high! At the top you'll find a lookout map that points out other mountains and points of interest. On a clear day, you can see downtown San Diego, the Coronado bridge, and so much more. 
Cowles Mountain + Pyles Peak from Barker Way
Trailhead: 32.810053, -117.020995
Distance: 5.5 miles
Est Time: 3.5 hours
The most popular hiking trail in Mission Trails Regional Park. You're going to come across a lot of people on this hike, and some don't know proper hiking etiquette- like don't blast your music on a speaker. It is what it is. The city views at the top are still nice.
There's several different hiking trails to get to this summit. I recommend taking the service road or hiking Cowles Mountain via Barker Way. There's still a good amount of switchbacks this way, but less people. You'll reach Cowles Mountain first before Pyles Peak. 
Once you're done taking in the views at Cowles, you'll continue on to Pyles Peak. It's about 1.5 mile past Cowles Mountain. You'll start going downhill before the trail takes you up to the summit. This summit sits at 1,379 ft. You'll find less people on your way to Pyles and some more solitude. Depending on what time you go, the mountains might provide you with a little shade as well. 
North Fortuna & South Fortuna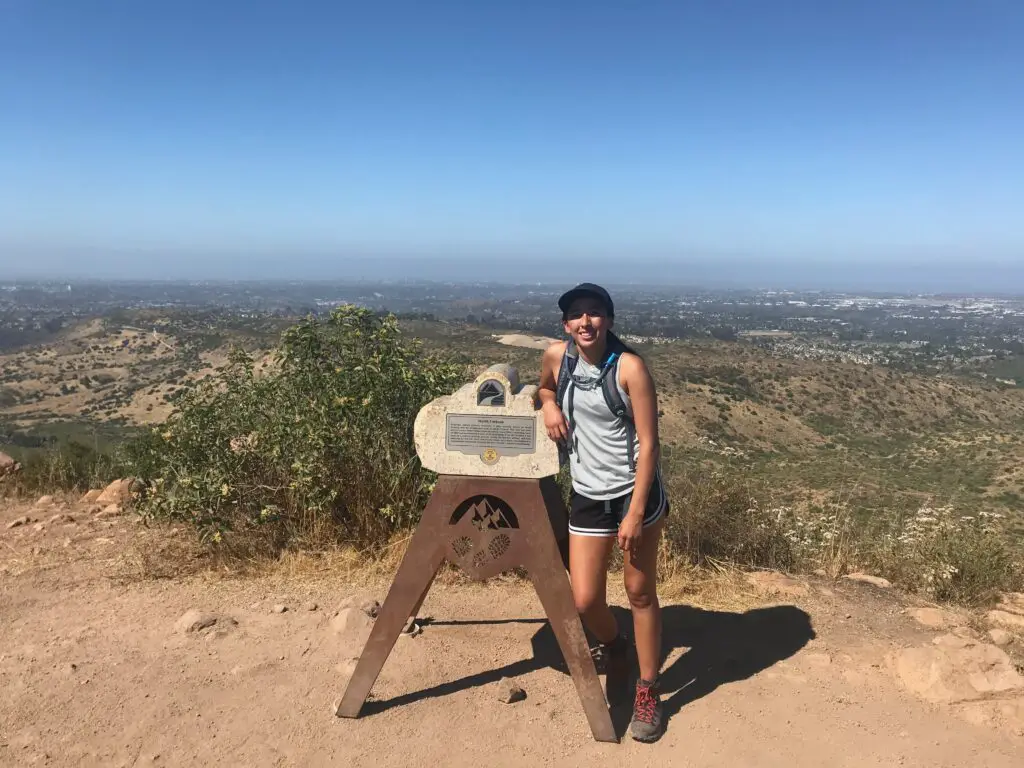 Trailhead: 32.817732, -117.059799
Distance: 8 miles
Est time: 3.5- 4 hours
There's tons of different routes you can take to do this hike. If you're using the All Trails map you'll hit South Fortuna first. It takes about 2.5 miles to get to South Fortuna. South Fortuna is the smallest in the 5 peak challenge, sitting at 1,094 ft. From there, it's a little over 1 mile to get to North Fortuna. North Fortuna is right in the middle of all 5 peaks in terms of height at 1,291 ft. 
Parts of this hiking trail will take you along the San Diego River. Pay attention to the signs along the way and keep a map on you. This hiking trail is a mix of dirt paths and loose rocks. Pack a hat and sunscreen since there's no shade. It's a great workout with some awesome views at both summits. Definitely a sense of accomplishment completing these 2 peaks. 
Kwaay Paay Peak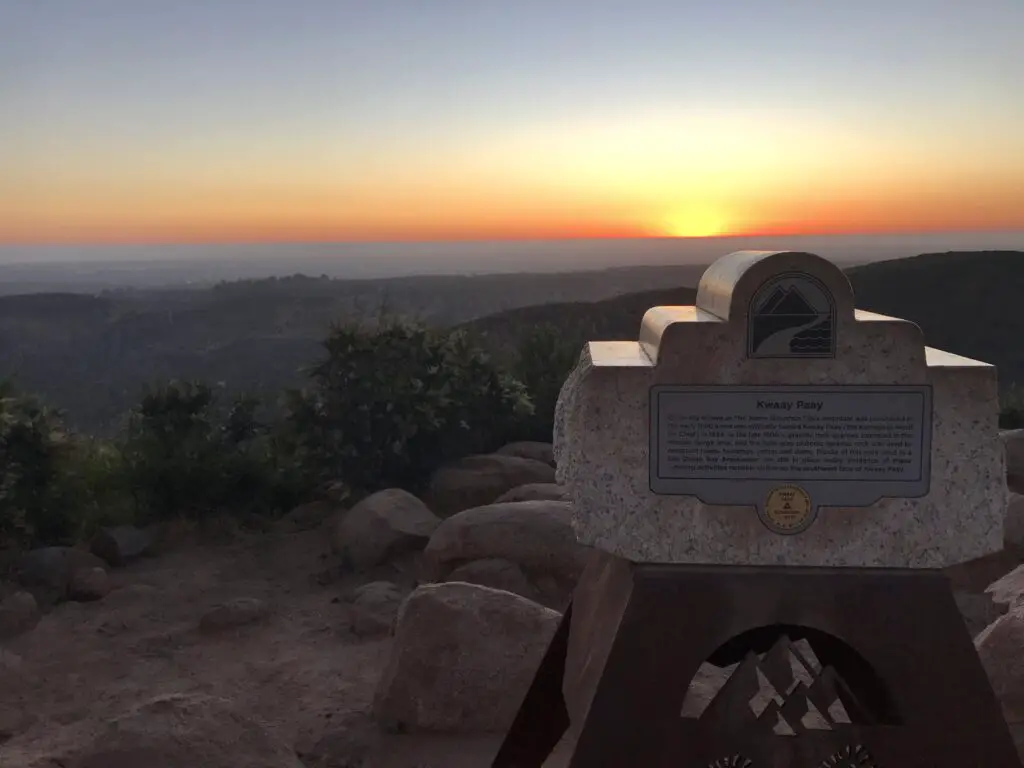 Trailhead: 32.839016, -117.034127
Distance: 2.5 miles
Est Time: 1.5 hours
Kwaay Paay is the shortest hike in the 5 Peak Challenge. It's only 2.5 miles roundtrip. Depending on where you park, you might add an extra ½ mile. But don't be fooled by the short distance. The steps on the way up to the summit are a butt burner! This is the 4th highest peak at 1,194 ft. 
Highly recommend doing this hike at sunset. Kwaay Paay is one of my top sunset hikes in San Diego. The views are just amazing. If you are doing a sunset hike, I highly suggest packing a head lamp. It gets dark pretty quickly on the way back. Another great sunset hike I've done is Black Mountain Summit 
Out of all 5 peaks, Kwaay Paay Peak was my personal favorite. It's short enough that I can do it after work and the views are killer. I've done this hike several times now and it never disappoints. 
There are tons of other hiking trails in Mission Trails Regional Park. There's a total of 65 miles of hiking trails. The park is over 7,000 acres. Rumor has it, after a good rain there's a little waterfall somewhere. If you're looking for something easy and family friendly check out Old Mission Dam.
Completing the 5 Peak Challenge in One Day
It's not unheard of to complete the 5 peak challenge in one day. In fact on the MTRP's website, they have photos of groups who have driven from LA and other part of SoCal to do just that.
Depending on the route you take, it's estimated to be about 15 miles. You definitely don't want to save Kwaay Paay for last. The quick incline is a leg burner that's best to get done early.
Some other tips:
Start early! The earlier the better to minimize hiking in the heat
Should be done by experienced hikers only
pack plenty of water and snacks to refuel along the way
where you start is not where you finish. You'll need to arrange a ride back to your car
Check out this blog for full details on completing the 5 Peak Challenge in one day
Is Mission Trails Regional Park dog friendly?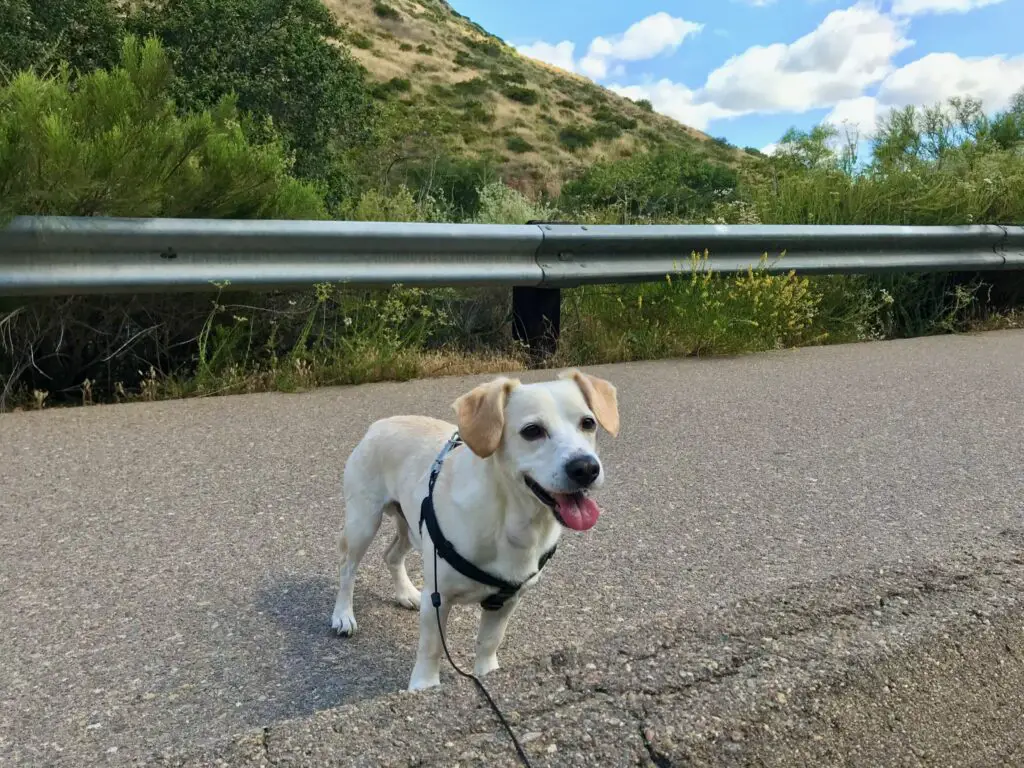 Yes, Mission Trails Regional Park is dog friendly. Feel free to bring fido, but all dogs need to be on a leash. Please keep in mind, the weather here in summer can be very hot- too hot for your pup. Plan accordingly. 
For a complete list of dog friendly hikes in San Diego, click here.
Other Things to do at Mission Trails Regional Park
Lake Murray is part of Mission Trails Regional Park. Lake Murray has an easy walking/ running path that goes along the lake. It's dog friendly too. Some other fun things to do at Lake Murray include:
Fishing
Boating
Kayaking
Picnic
Although it's currently closed because of COVID, you can also camp at Kumeyaay Lake Campground. Normally, there are 46 campsites available. The campground is still open for day use. Check their website for current updates.