Hiking El Cajon Mountain trail has been on my to do list since 2020. I am so happy to say I've officially conquered the beast not once, but three times! I've done a lot of difficult hikes in San Diego, but El Cajon Mountain trail tops the list.
Located in Lakeside, El Cajon Mountain trail (aka El Cap) is one of San Diego's toughest hiking trails for good reason. This hike is uphill both ways. It's 11.3 miles roundtrip with 4,000 ft in elevation gain. It takes about 6-7 hours to complete. This hike is not for beginners.
Quick Overview: El Cajon Mountain Trail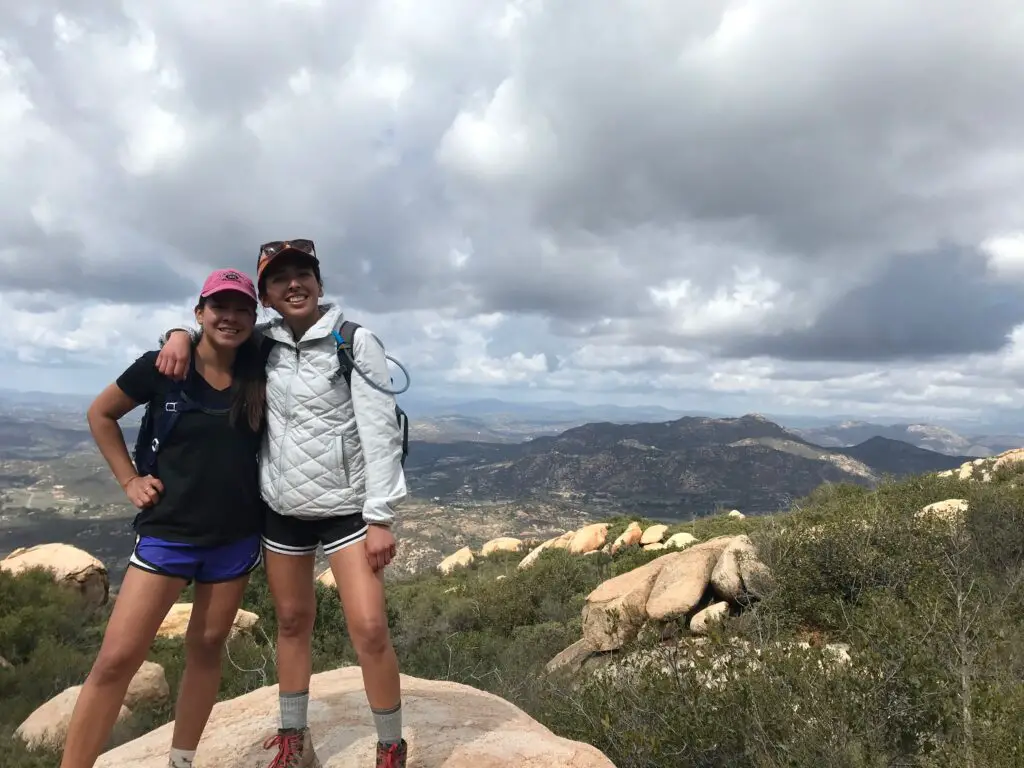 El Cajon Mountain Trailhead: Google Maps Link
Distance: 11.3 miles round trip
Hike Time: 6-7 hours
Difficulty: Very Challenging
Elevation Gain: 4,000 ft
Parking: Free in the dirt lot. Gates close at 5:30 pm
Dog Friendly: Yes, but not recommended
So why do people do this hike? Because hikeaholics are addicted to the challenge and outdoors. Simple as that. The views are great but the bragging rights are even better.
El Cajon Mountain trail is also part of the "Six Pack of Peaks Challenge." Another hike part of this challenge is Cuyamaca Peak (the second highest mountain in San Diego).
El Cajon Mountain trail is only about 30 minutes away from downtown San Diego. The length of this hike and the elevation gain makes this a really challenging hike for anybody. 4,000 ft in elevation gain is like hiking Cowles Mountain 4 times.
What sucks is this hike is uphill both ways. Thankfully, majority of the uphill/elevation gain is on the way there, but you still have a few hills to hike on the way back to the parking lot.
This hike is not to be taken lightly. In April of 2023, a hiker died on El Cajon Mountain Trail from heat exhaustion. Always pack extra water, sun protection, and educate yourself on heat exhaustion/ heat stroke. Remember that the summit is optional! You can always try again another day.
Where to Park
About El Cajon Mountain Trailhead parking:
The google maps link above will take you to a dirt parking lot outside the trailhead. It's free to park in the lot but is only open from 7am – 5:30 pm. If you plan on hiking El Cajon Mountain trail before 7am, you can park on the side of the main road. If you do park in the lot know that those gates close at 5:30 pm, so plan accordingly.
The parking lot is actually 1/2 mile away from the trailhead. This distance is included in the total of 11.3 miles. On your way to the trail head you'll pass the Blue Sky Ranch Fruit Stand where you can buy some oranges, lemons, and avocados. They take cash and Venmo. On our way back all the avocados were gone!
What To Expect on El Cajon Mountain Trail
At the trailhead you'll find a nice, shaded picnic table and some outhouses. It should be noted, this is the last bathroom you'll see for the next 6-7 hours.
Pro tip: pack some TP or wipes for when the moment strikes on the trail.
There are mile markers along the hiking path. The mile markers also show where you are in terms of elevation. It's a double edge sword to see how far you've gone and how far you still have to go, haha. The first 5 miles are well marked and easy to follow. In case you do take a wrong turn, there's plenty of people hiking El Cajon Mountain trail to guide you along the way.
The last bit to the summit is a very rocky and narrow path. If you have trekking poles, bring them! They will come in handy when hiking El Cajon Mountain trail.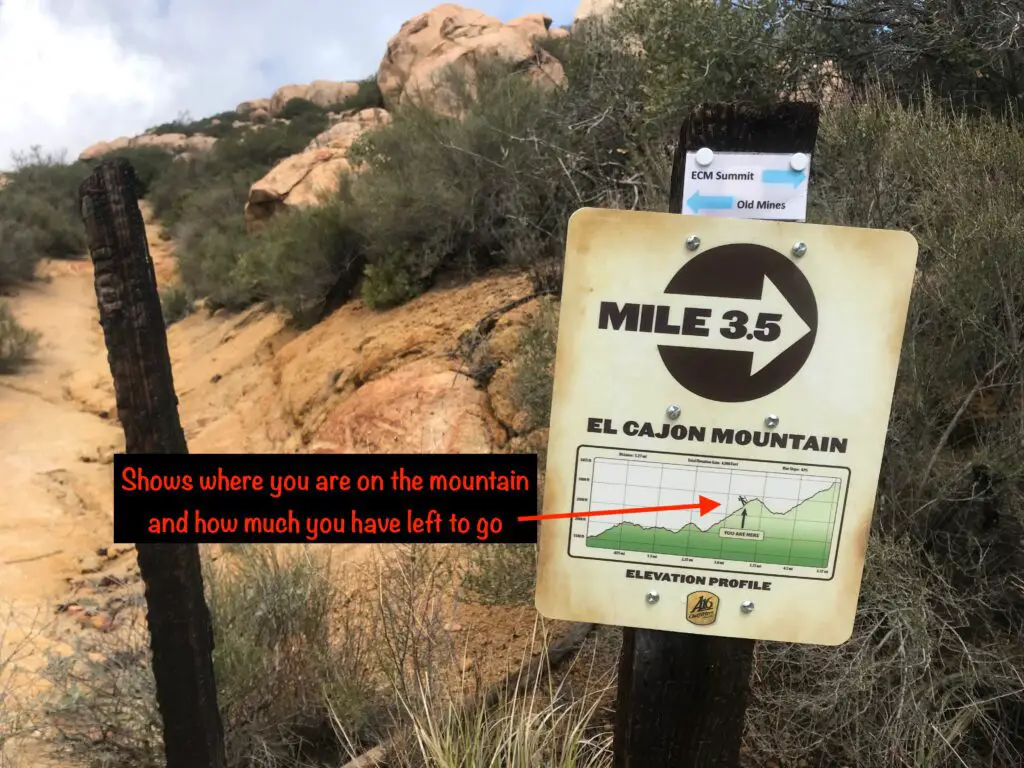 How Long Does It Take to Hike El Cajon Mountain trail?
Hiking El Cajon Mountain takes about 6-7 hours depending on your pace. We were a group of 7 and it took us about 6 ½ hours to hike, with plenty of stops and rest breaks. If I did this on my own, I could probably complete it in 5 ½ hours.
El Cajon Mountain is a long, challenging hike for anybody. I wouldn't plan to do anything after hiking El Cajon Mountain. The hike takes 6-7 hours, but your body will need a full 48 hours to recover! After this hike, we picked up some delicious ramen and watched a movie at home. Avid hiker turned total couch potato.
El Cajon Mountain Summit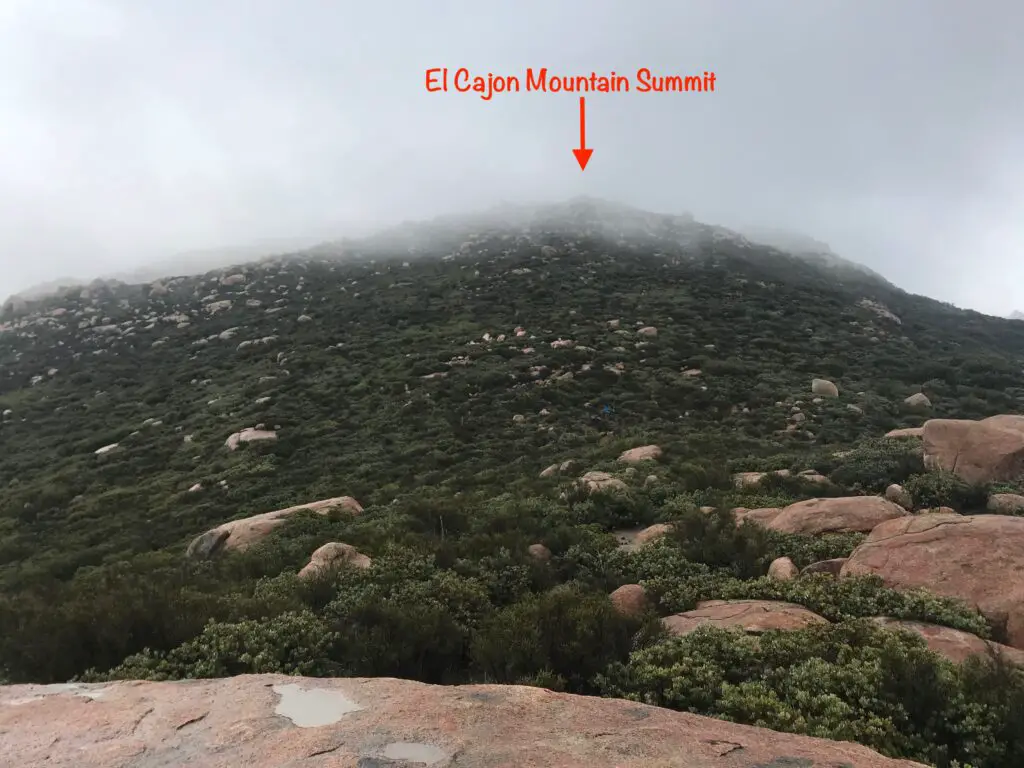 The summit sits at 3,648 ft. The views on this hike are absolutely amazing. I went on a foggy day and the summit was covered in clouds, but the whole way up was clear and offered great views. Thankfully, the clouds kept the sun from beating on my. However, I plan to come back on a clear day and see the view from the top.
10 Tips for Hiking El Cajon Mountain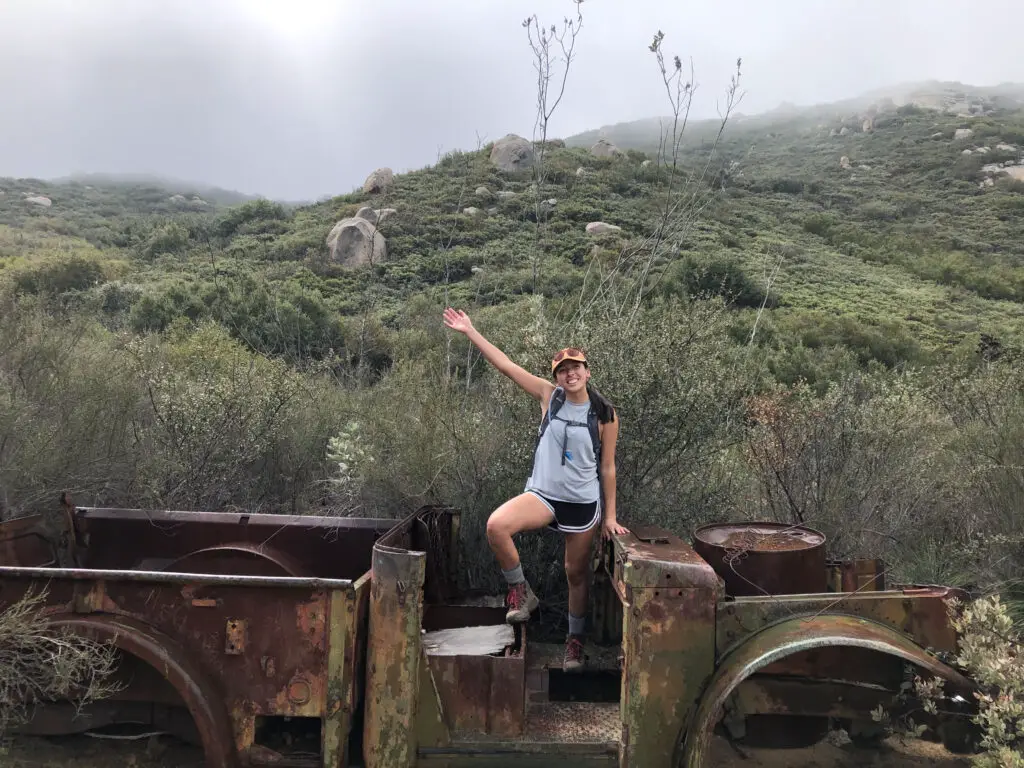 Check the weather– do not attempt to do hike El Cajon/ El Cap Mountain on a hot summer day. It's extremely long and challenging even for the experienced hiker. No hike is worth the risk of heat exhaustion and a trip to the hospital. Come on a cooler day and start early.
Pack extra water– you need at least 3 liters if not more. Personally, I drank 2 liters of water and a bottle of Gatorade. This was on a cooler day too, when the weather was in the 50's. However on a warmer day, I'm sure I'd drink at least 3 liters (same as 6 water bottles).
Pack lunch– you need something to refuel before heading back from the summit. I packed a BLT, 2 Clif bars, and some blueberries. Without a doubt, everything was devoured 😋
Leave fido at home– although this hike is dog friendly, I highly suggest leaving your pup at home unless your dog is an experienced hiker and has done a similar hike to El Cajon Mountain.
Wear proper hiking shoes– Your feet will thank you for it later. Parts of this trail are very steep and have some loose rocks. If you don't have them already, I highly suggest buying proper hiking shoes. Also, make sure you give yourself time to break them in before hiking El Cajon/ El Cap Mountain.
Trekking poles– If you have them, bring them! The steep hills you have to go up are also very steep going down. Trekking poles are nice to have to keep your balance and maintain your footing.  
Take as many breaks as you need– At 11 miles, this hike is a marathon not a sprint. Pace yourself and take advantage of the benches along the way as a rest stop.
Sign your name in the registry– The old, rusty jeep right before mile 5 makes for a good photo opp and has a registry in the glove compartment! You can't miss it!
Pack it in, pack it out– Like always, take your trash out with you. Let's keep our hiking trails clean and beautiful.
Check out El Cap– do the extra 2 miles roundtrip to see El Cap Summit. Hiking El Cajon Mountain and El Cap brings the total distance to 13 miles. My group decided not to because it started to hail on us at the summit. Yes, literal hail. Weather forecast didn't show any rain, but I learned the hard way that the weather can change at the summit very quickly. When I come back, I'll be checking out El Cap for sure.
Check out this blog post about hiking etiquette.
Hiking Gear Used
Osprey Daylite Daypack– Huge plus to have this hiking backpack when doing long hikes. Fit my 2 liter water bladder, plus extra water bottles, a Gatorade, snacks, my first aid, and my jacket. It was definitely a full pack.
Danner Hiking Boots– thankfully these are waterproof! It hailed and sprinkled on us out of nowhere and my feet stayed perfectly dry. The trail got wet and slippery and my boots kept me from slipping. If you don't have hiking shoes yet, I highly suggest investing in a pair. Good quality boots last years.
Incrediwear Ankle Sleeve– I had an injury to my ankle in high school that never fully healed. This ankle sleeve does wonders for me, personally. It's not bulky and still allows me to get full range of motion on my ankle, which is great for hiking. I know a lot of people who also use their knee sleeves. Very affordable too! $30
Here's my full list of hiking gear for beginners
Final Thoughts on El Cajon Mountain Trail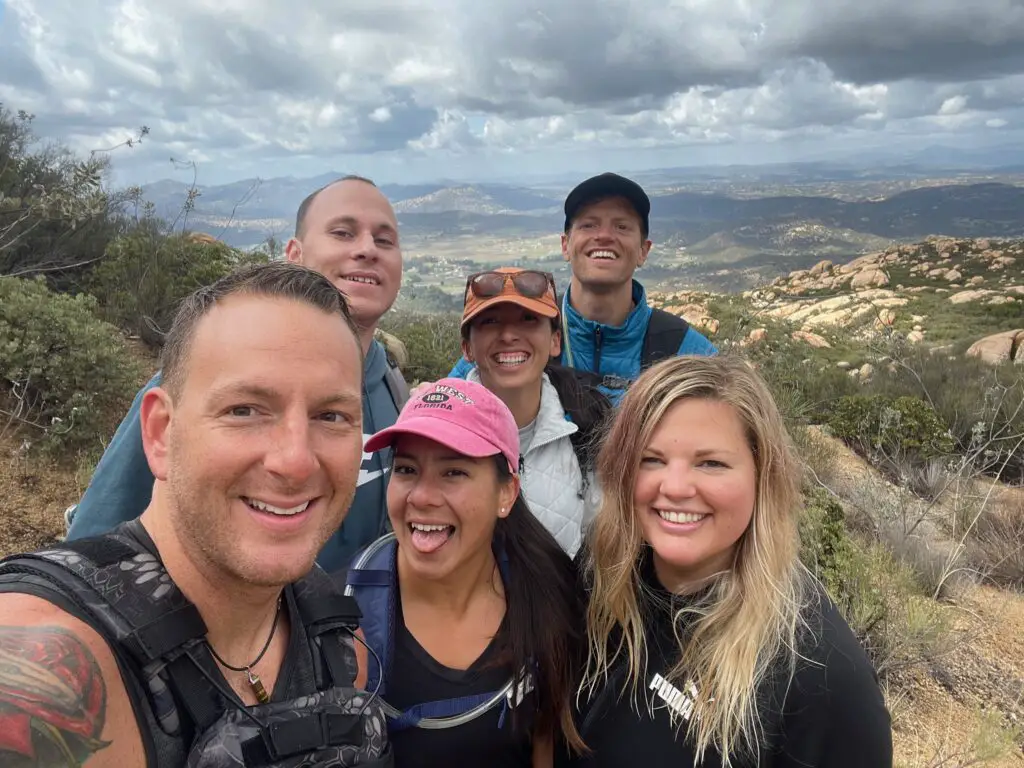 If I had to pick one word to describe hiking El Cajon Mountain it would be- fulfilling. As difficult as this hike is, it's also extremely rewarding. The views are awesome, but the best part is completing the challenge. Finishing one of San Diego's most difficult hikes is an awesome feeling.
Come prepared physically and mentally for a challenge. This hike is no walk in the park by any means, but you'll be proud you did it. You'll forever have bragging rights to say you conquered El Cajon/ El Cap Mountain.
If you're looking for another hiking challenge, try the 5 Peak Challenge in ONE DAY.