Viejas Mountain is located in Alpine, just 35 minutes from downtown San Diego. This was a great sunrise hike! We started at 6 AM and made it back to our cars at 8:30 AM, with a 30 min break at the top. Sunrise hikes in San Diego are great to avoid the crowds and the heat.
Viejas Mountain is a challenge for the average hiker. The trail has a lot of loose rocks so proper hiking shoes are definitely a plus. It's a steep uphill trail to the top. Definitely a leg burner! On the way down, my knees were feeling it. The views make it all worth it! On a clear day, from the summit you can see across the southern border into Mexico and as far north as Mt Baldy.
Right before the summit you'll come across an American Flag that a local set up. This is not the summit. You have to pass the American Flag about 1/4 mile to reach the Viejas Mountain Summit. Then you're done!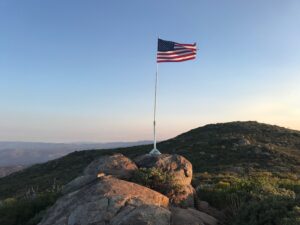 Here are the deets:
Trailhead: Copy and paste these coordinates in your maps 32.856717,-116.74223
Distance: 3.1 miles
Est. time: 2- 2 1/2 hours
Parking: Right in front of the trailhead
Dog friendly: Yes
Tip: Pack a hat and sunscreen if you're coming during the day. There's 0 shade.
If you want something easier with coastal views, check out Mushroom House in La Jolla.