On a whim, we decided to take advantage of working from home and visit Bend, OR. We were there for a total of 10 days and it was so much fun! Worked during the week and explored all of Bend after work and on the weekends. Even thinking about making a second trip back this winter. There's so many different activities to do in Bend including hiking, mountain biking, camping, paddle boarding, and if you're good enough you can try surfing in the Deschutes River! Not to mention all the good eats and breweries. To say the least, I was definitely a happy camper.
Visit Smith Rock State Park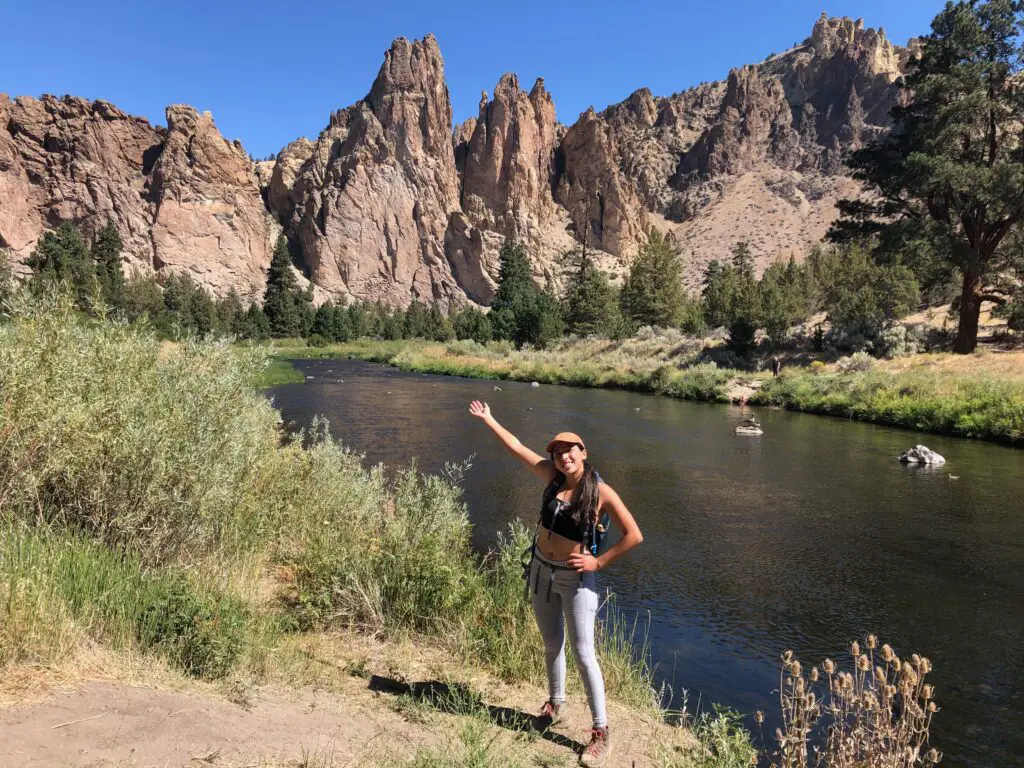 Popular among climbers, mountain bikers, and hikers for good reason. The views are great with the river running through the park. Such a different scenery from San Diego. There's hikes for all levels. Unless you're staying at the top of the park by the welcome center you have to go down a decent sized hill to explore the rest of the park. After our 7-mile hike, this small hill didn't seem so small. We hiked Misery Ridge and Summit Trail Loop. Click here to get the All Trails Map. It says it's 5.5 miles, but it's actually closer to 7 miles. If I were to do this again I would've skipped Summit Trail Loop and hiked Misery Ridge to River Trail. It would've been nice to walk along the river some more. This hike was completely exposed, so sunscreen is a must.
All in all, Smith Rock State Park should definitely be on your list. After getting your workout in, stop at General Duffy's for lunch and brews after! They have outdoor seating available, with multiple different food trucks, and depending on the day they might even be playing a concert on their outdoor stage.
Hike Tumalo Falls
A must see waterfall in Bend! You'll be rewarded with an impressive view of the main falls after only a short ½ mile trek. At the top, there is a viewing platform looking down on the 90 foot Tumalo Falls. These great views are easily accessible so expect heavy crowds during weekends and peak hours. I recommend going early morning to catch a sunrise or late afternoon when the trail is not as busy. Once you reach the top, you have the option to continue your hike for another 3 miles. Along the way, you'll see more beautiful Bend waterfalls and there's a few calm places along the river where you can take a swim. But be warned, the water is freezing! Click here for the All Trails map. Tumalo Creek Falls hiking trail is maintained really well and the trees provide you with some nice shade.
Know Before You Go:
Dog friendly, on a leash
Last 2.5 miles to the parking lot is a gravel road
$5 day use permit is required
Keep a lookout for mountain bikers!
Downhill Mountain Biking Paulina Plunge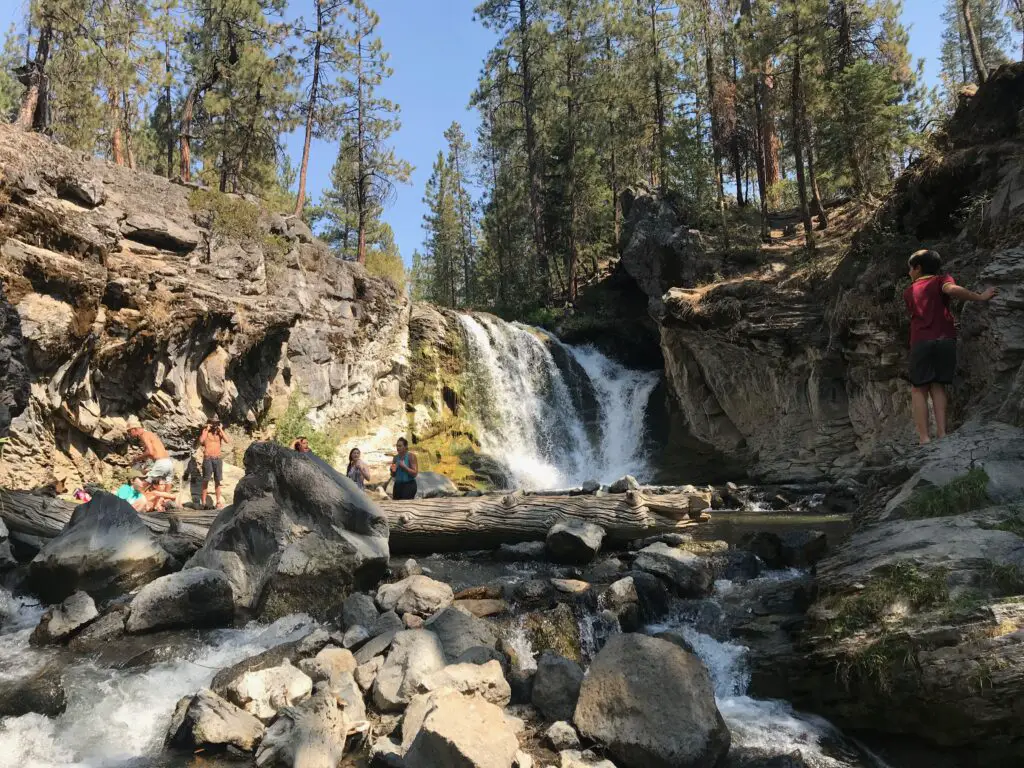 This was one of my favorite activities because it was so different from anything I'd ever be able to do in San Diego. For one, waterfalls in San Diego are very rare. But in Oregon, seems like waterfalls are everywhere! It was a guided tour that we had to book in advance. They sell out so book your reservation early! The mountain bikes themselves are in good shape and have some fat tires to make it an easier experience. It's 99% all downhill. There's a portion in the beginning you have to walk your bike. They call it the "minute of misery." No pain no gain. Kidding- it was a breeze the kiddos on this tour had no problem.
We stopped at 3 different swimming spots mixed with waterfalls and natural water slides! Our guides were really knowledgeable about the forest and made it fun for everyone. 10/10 would do this again. Click here for the website.
Know Before You Go:
The water will be cold!
1 stop for lunch early on. Pack your own or buy it from the guides.
Bring some cash to tip your guides at the end, they do awesome work!
Short walking involved to 2 swimming spots (only about a ½ mile each way)
Floating/ Tubing the Deschutes River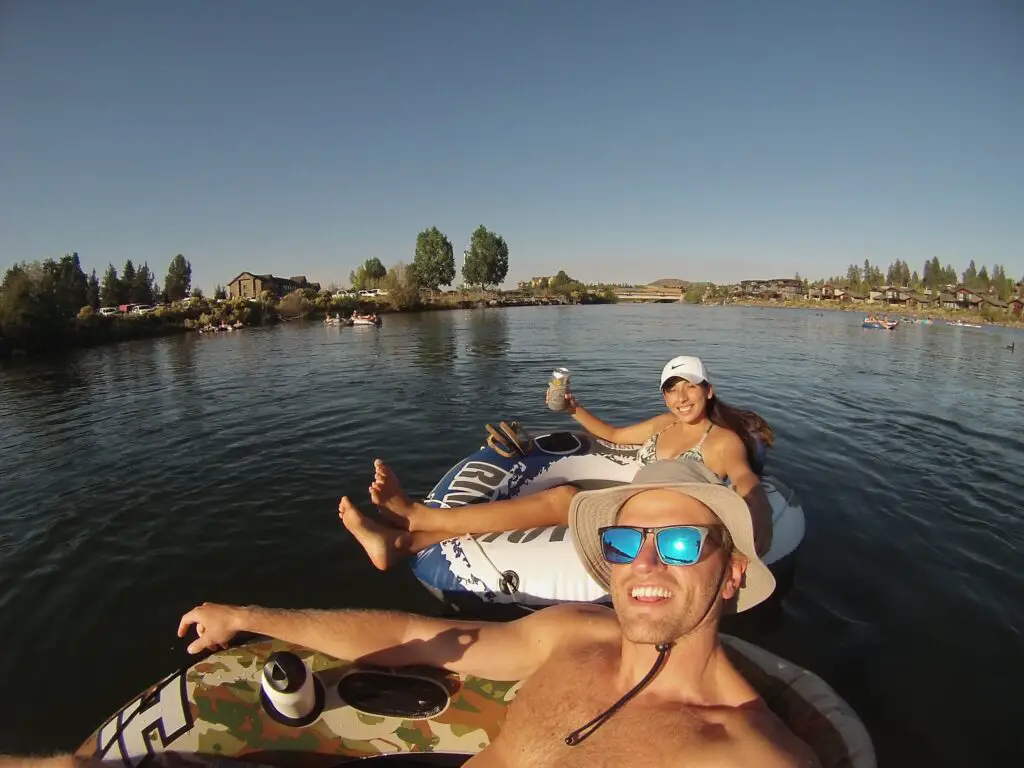 So much fun! Floating in the river was a nice relaxing break from all the activities in Bend. It gets packed on the weekends so if you can, try to go during the week. Plan for it to take around 2 hours. We started at Riverbend Park and got off at Drake Park. We dropped off our tubes at our place and took an uber back to our car at Riverbend Park. You can also walk the 1.5 miles back if you're okay with walking the streets with your tube and suit on. You won't be the only one! Another option is to get out at Bend Whitewater Park and walk back to your car for a shorter route. There are some fun really small rapids you'll go through here too. Nothing to crazy.
Know Before You Go:
Tube rentals are really limited and will sell out on the weekends
The river is shallow in some places so watch your bum
No lifeguards on duty, so keep an eye on the kiddos
Pack it in, pack it out!
Shuttle is not running (COVID)
Hiking Broken Top Trail to No Name Lake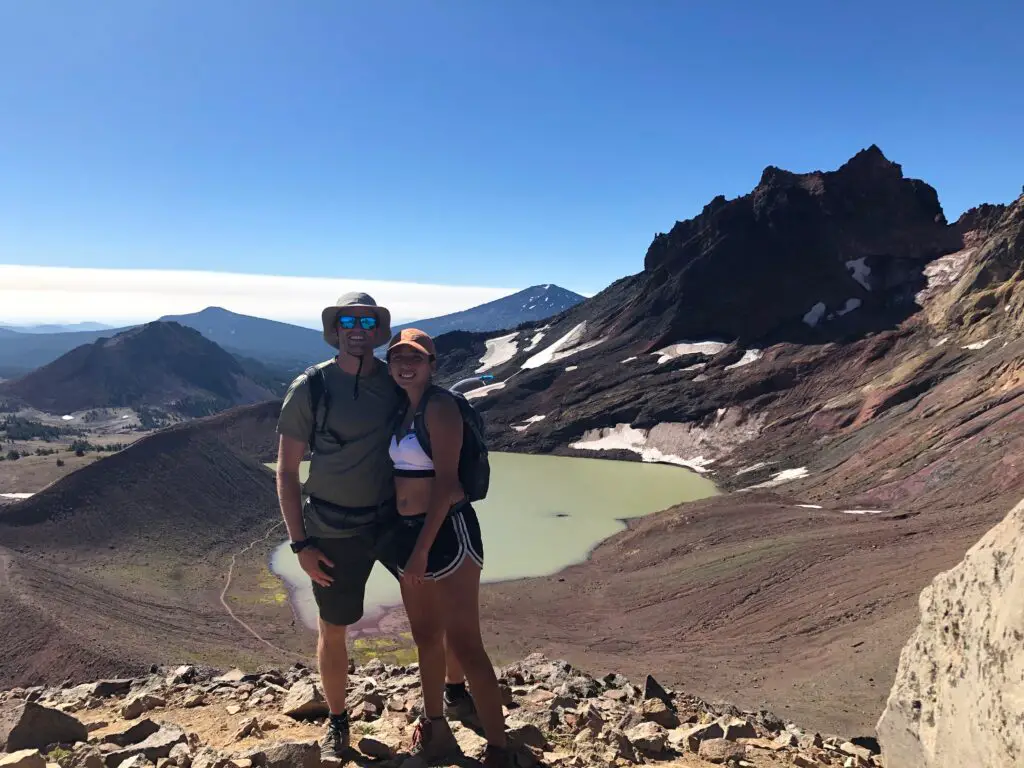 Coming from San Diego, the elevation hit me hard on this one! Not to mention the guys were hauling ass, while I was huffing and puffing in the back. Felt like a grandma! Well worth the views though! 5.5 miles roundtrip and 1,420 ft in elevation gain. Took us about 2.5 hours. Here's the link to the All Trails Map. Very important to know- you do some off roading to get to the trailhead. Definitely need a vehicle with high clearance and 4 wheel drive. We did it in a Jeep Cherokee and still hit the bottom in one of the gnarly potholes. An alternative route is to start from Todd Lake. This hiking trail is 14 miles roundtrip and will take all day.
Know Before You Go:
Need a high clearance vehicle
No cell service
Most of the hike is exposed- hat and sunscreen!
If you have em, trekking poles are definitely a plus! Slipped on my ass twice even with my hiking boots.
Pilote Butte Sunset Hike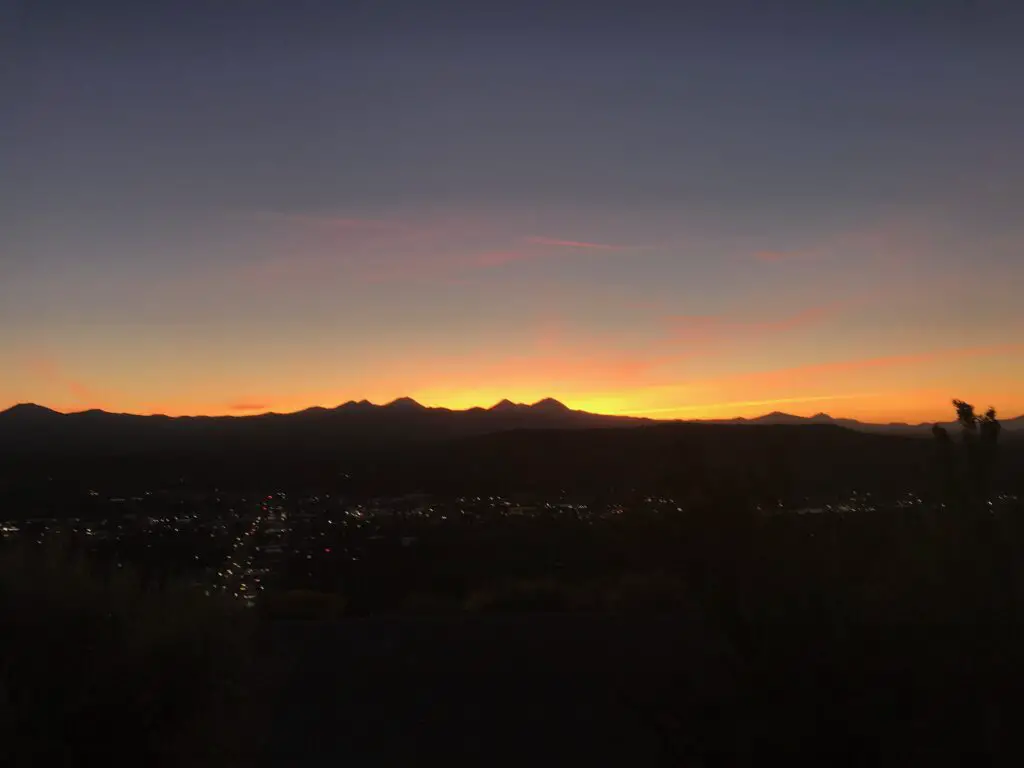 West coast sunsets are really freaking hard to beat, but this was one didn't disappoint. You get a great view of the city. We packed a few beers and some snacks to have a picnic at the top of Pilot Butte. You'll get panoramic views of Bend, OR. Only 1.8 miles roundtrip. Click here to see the All Trails Link. It was a great way to start our trip.
Know Before You Go:
Main parking lot closes at 8pm
Dog friendly, on a leash
Pack it in, pack it out!
The road leading to the top is closed (COVID)
Eating and Drinking our Way Through Bend, OR
The options are endless! There's 22 breweries in Bend. Food situation at each place is different. Some breweries have food trucks, others have full on restaurants, and others with limited menus. My favorite brewery was Crux. Loved the lawn seating they have and it's dog friendly. The beer was great, and the food trucks were solid. Highly recommend getting tacos from El Sancho. You will not be disappointed.
Know Before You Go:
Most places close by 10pm
Indoor and outdoor seating is available
Bend Oktoberfest 2020 has been cancelled (COVID)
Depending on the place, flights might not be available (COVID)
Our top restaurants in Bend:
Spork
El Sancho
Jackson's Corner
El Sancho has a restaurant with indoor and outdoor seating, and tasty margs. We didn't get to try Sparrow Bakery. Every time we went there was a line wrapped around the building.