Catalina Island is open! My boyfriend and I did a weekend getaway (Fri-Sun) this summer to Catalina Island and had a blast! Since traveling international is not an option this year, we've decided to travel within the US. I had such a great experience for my first time.
In this guide, I'll be going over several things to help you plan your trip there. Click on the title to go to that section.
How To Get There
Where To Stay
Things To Do
Where to Eat and Drink
The Catalina Express is a ferry that takes people to Catalina Island from the following locations:
Long Beach
Dana Point
San Pedro
Cost: $76.50 round trip per person
Approx time: 1 hr each way
There's 2 ports at Catalina Island to choose from depending on which location you leave from: Avalon and Two Harbors. The ferry from Dana Point only goes to Avalon, which is where we stayed and explored for our mini getaway. The ride itself was very smooth. There was a bartender serving up Bloody Mary's and White Claws when we left at 9:30 AM. They also had a small selection of beers available. Because we went during the pandemic, they were requiring everyone to wear a mask the entire ride.
The ferry itself has outdoor seating available on the second deck so you get unobstructed views of the Pacific Ocean. We were lucky to see a school of dolphins swimming and playing in the water. All the kids on the ferry were so stoked. It was cute.
We booked a private place through Air B n B just a block away from the shore and the town's main street. Here's the link to the Air B n B we stayed at. It was clean and cozy. Many amenities were provided- like coffee, water, wine glasses, beach towels, and a mini fridge. It was perfect for us since it was just the two of us.
There are also many hotels to choose from if you want to go that route. When we went, Air B n B's and hotels were the same price. We opted for the air b n b because we wanted something more private and homey.
Things To Do at Catalina Island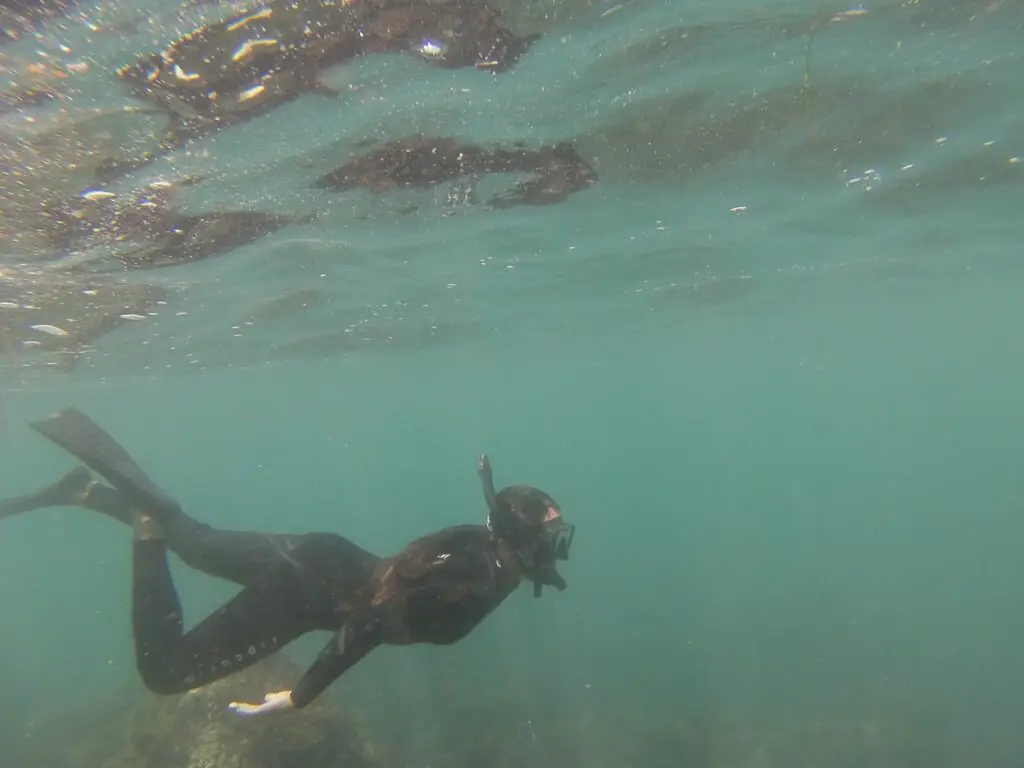 Look beneath the surface.
There's an endless list of things to do here! Ziplining here is very popular but unfortunately we missed out because it was all booked up! If you're thinking about zip-lining make sure to reserve in advance. They are open during COVID.
Here's what we did:
Hiked Hermit Gulch Trail. We got a little lost on the way to the trail but we figured it out! The hike itself is 6 miles but walking to the trail head and back added an extra 1.5 miles. Click here to check out the All Trails Map.
Kayaked & Snorkeled. Descanso Beach Ocean Sports offers a really affordable kayak and snorkel package. They provide all the equipment and even have wetsuits for you. Since my boyfriend and I both surf, we decided to bring our own wetsuits. Depending on the weather, you could do without them. We packed some snacks and beers to picnic at the beach before heading back. It was a lot of fun, but beware this was an arm workout! On the plus side when you get back you can plop down at a table and order some delicious cocktails!
Parasailing! This was my favorite part of the trip. I have never done it before this. I was nervous because I HATE heights. Regardless, I would do it again- it was so amazing to see Catalina Island from this angle. We were lucky to book a spot on the same day with California Parasail.
Rented bikes and cruised around. Golf carts are also available to rent. We opted for the bikes because we were on a time crunch. It was a lot of fun riding around the town. We cruised along the water and explored the town. So many people here use golf carts to get around. People still drive cars but it seemed like golf carts were a lot more convenient to use since the island is so small and the streets were pretty narrow.
Other things to do here include: Bison tours, boat rentals, paddle boarding, golfing, fishing, camping and so much more.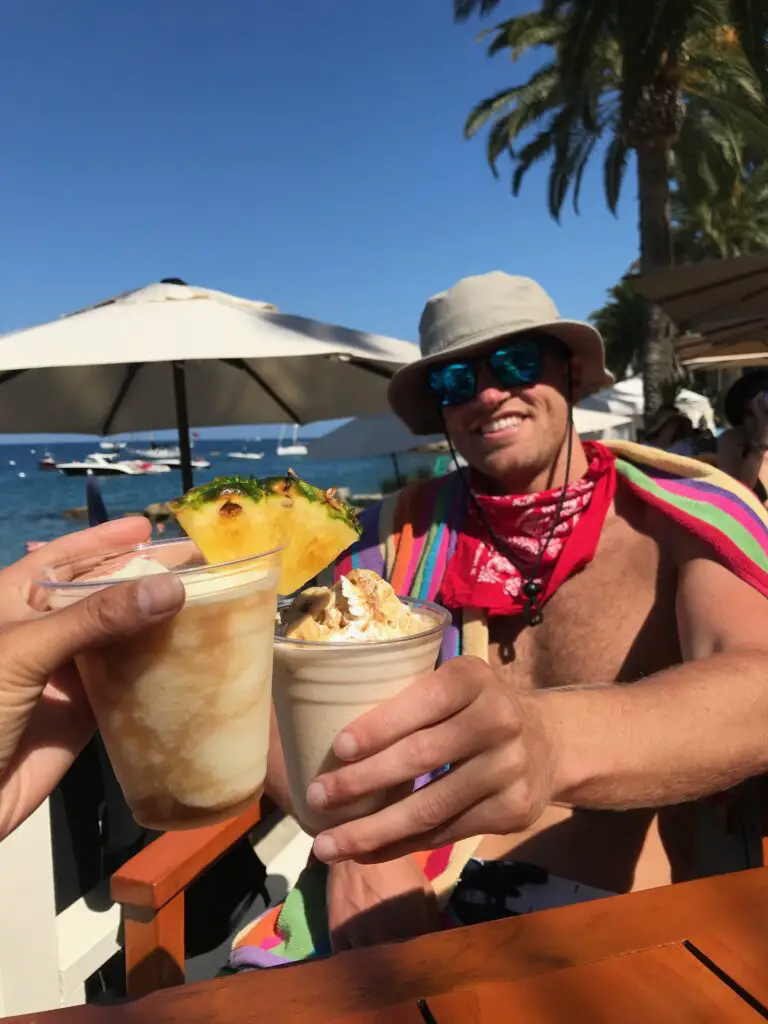 My favorite drink is the next one!
Who watches their calories on a diet? No body fun– that's who. Which is why we pigged out and enjoyed many cocktails from Descanso Beach Club. We attempted to try all 16 of their cocktails over our 3 day trip. We were short 2 cocktails. So close. They were all very tasty but our favorites were their Bloody Mary and the Original Buffalo Milk. Their mojito was also spot on!
There's all sorts of food to choose from in Avalon. Seafood here is really good! If it's open, put it on your agenda to get a lobster roll from Lobster Trap. Before we left we had some good sushi too from NDMK Fish House.
All in all, this weekend getaway was a blast! 10/10 recommend. With a lot of international travel being restricted right now, this is such a fun and easy way to get out of the house and take your mind off all the hustle and bustle of everyday life. Nothing to worry about here besides what drink you're going to order next. 🙂