If you're new to hiking in San Diego, welcome! Before you go on your next hike, I highly suggest you read this through. This page serves as a friendly reminder on how to properly share our awesome San Diego hiking trails with other hikers and bikers. There's also some top tips for hiking included. This could save you from a few dirty looks in the future.
10 Do's of Hiking in San Diego
Pick up after yourself. The world is not your living room. Pack it in, pack it out. Did you know that in 2013, CA spent half a billion dollars just on picking up litter? Let that sit in.
Be aware of your surroundings. Step to the side for faster hikers and/or runners. Uphill hiker has the right of way. Be aware of animals too. Tis the season (spring- summer) for rattle snakes! Educate yourself and keep your ears open.
Say something if you want to pass someone else. A simple "behind", "on your left", or "excuse me" will do.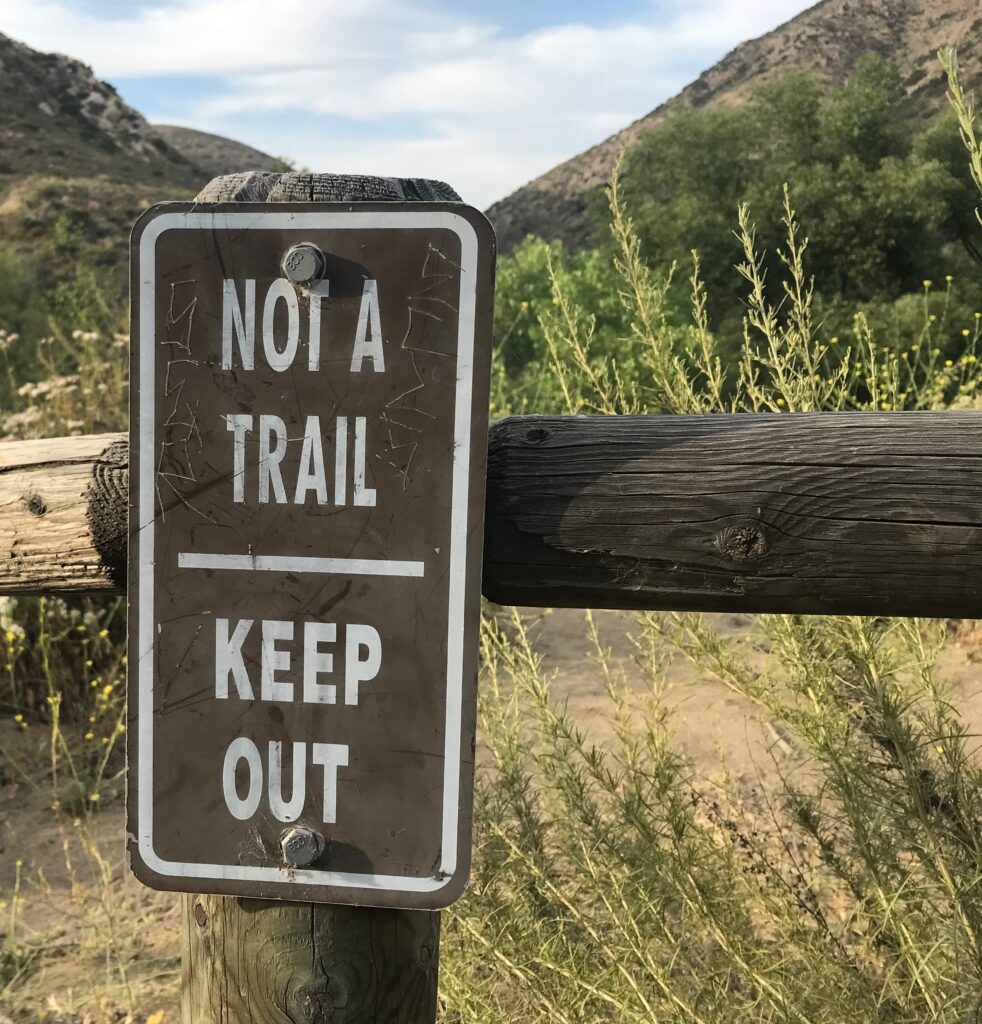 4. Stay on the designated trail
It's all fun and games exploring, until it's not and you're lost. This also applies to switch backs- don't try to cut through the trail. It could be dangerous and you'd be damaging the plant life.
Listen to your body. Take as many breaks as you need, and if it's too much know when to stop and turn around. You can always come back.
Smile. Say good morning to the other hikers you pass by. We're all part of the same community 🙂
Bring extra water. No such thing as packing too much water.
Check the weather. What's the weather going to be like on your way back? You might plan to start at 9am when it's 70° out, but by 11am it could be 80° +
Let someone know where you're going. Especially if you're hiking alone. Safety is key.
Enjoy it. We truly are blessed to live in such a beautiful place.
10 Dont's of Hiking in San Diego
Don't play your music on a speaker. I promise you- nobody else but you wants to hear your music while hiking. Bring headphones.
Don't bring your dog hiking when it's hot. Dogs can over heat and die. I bet your best friend would have a lot more fun at the dog beach on a hot day, than over heating on a hiking trail.
Don't piss off the animals. Rattle snake bites are very rare, but when they happen it's because someone wanted to show off.
Don't talk EXTREMELY loud. Your friends are literally a foot away from you. The hiker across the trail doesn't need to hear the details of your life.
5. Don't leave your dogs poop in a bag on the trail.
But you promised to pick it up right? So many people forget. Just don't do it.
Don't block the path. If you're hiking in a group, make sure you're leaving enough space for hikers and bikers to pass by.
Don't smoke. It's illegal. All San Diego parks, including state parks, are smoke-free.
Don't let your dog off leash. Believe or not, not everyone likes dogs (sadly).
Don't stack rocks. Before it was cool on IG, stacked rocks were typically used as trail markers. So stacking your own rocks can potentially result in another hiker getting lost.
Don't play your music on a speaker. Can't stress it enough.
I wish someone had told me some of these things before I started hiking. We all make mistakes every now and then, but don't make it a habit. We're here to enjoy nature. If you take away only 2 things from this please pick up after yourself, and wear headphones. Happy Hiking! 🙂
To see up to date info on open hikes click here.